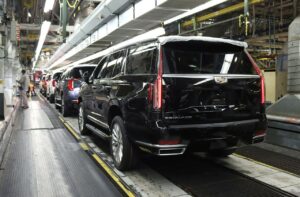 General Motors and POSCO Future M have announced the second phase of their Ultium CAM joint venture — an investment that will produce a key battery cell material. GM has also shared plans about large investments in two of its internal combustion engine (ICE) vehicle manufacturing plants.
The Ultium CAM joint venture is projected to exceed $1 billion and, the companies say, will increase production capacity of a battery material called CAM in North America and integrate precursor materials production. CAM represents about 40% of the cost of a battery cell.
Precursor material (pCAM) is a specifically engineered combination of processed raw materials necessary to produce CAM. Currently, CAM and pCAM processing is highly concentrated in Asia. The Ultium platform is the foundation of GM's EV strategy including the battery cells, modules, and pack, plus drive units containing electric motors and integrated power electronics.
GM is executing plans to install 1 million units of annual electric vehicle (EV) capacity in North America in 2025, supported by four U.S. battery cell joint venture plants with 160GWh of capacity, and grow from there in subsequent years.
The Ultium CAM joint venture will support the production of approximately 360,000 Chevrolet, Cadillac, GMC, Buick, and BrightDrop vehicles annually in the 2025-2030 timeframe in North America, according to a joint news release from the company.
"Increasing CAM production capacity and adding pCAM to our joint venture is another significant step in building a more secure and sustainable North America-focused supply chain to support GM's fast-growing EV production needs," said Doug Parks, GM Global Product Development purchasing and supply chain executive vice president. "We started by establishing battery cell production in the U.S. From there, we have been working through the entire battery supply chain, all the way to raw material recovery. We're building higher levels of vertical integration, driving expanded investment, and helping create jobs across North America."
The companies established the joint venture in July 2022. It is majority-owned by POSCO Future M. Site selection will be announced later.
"We are experiencing rapid growth of the EV battery materials market across North America," said Kim Joon-Hyung, POSCO Future M president. "I believe our joint venture will fortify its position in the secondary battery material industry with this proactive decision to increase CAM production and bring pCAM production to North America. POSCO Future M's advanced technology and experience is supported by our expanding partnership with GM. We are aiming to play a key role in the eco-friendly mobility market with our products."
ICE manufacturing investments
GM has also shared that it will invest more than $1.1 billion between its Arlington Assembly and Fort Wayne Assembly plants in Texas and Indiana.
The automaker plans to invest more than $500 million in the Arlington plant to prepare it for the production of future ICE full-size SUVs. And $632 million will be spent on the Fort Wayne plant to prep it for future ICE full-size light-duty truck production.
Product details and timing related to GM's future full-size SUVs and trucks haven't been released.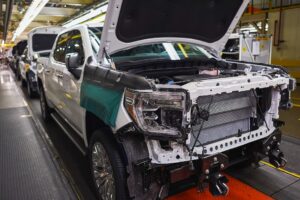 GM says the investments highlight its commitment to continue providing customers with a strong portfolio of ICE vehicles for years to come.
Arlington Assembly builds GM's entire portfolio of full-size SUVs including Chevrolet Tahoe and Suburban, GMC Yukon and Yukon XL, and Cadillac Escalade, Escalade ESV, and Escalade-V. The plant will receive new tooling and equipment in its stamping, body shop, and general assembly areas.
Fort Wayne Assembly builds the Chevrolet Silverado 1500 and GMC Sierra 1500. The plant will receive new conveyors and tooling and equipment in the plant's body and general assembly areas.
Images
Featured image: Cadillac SUVs in the Arlington Assembly plant in Arlington, Texas. (Provided by GM)
GM's Ultium platform (Provided by GM)
Trucks on the line at Fort Wayne Assembly plant in Fort Wayne, Indiana. (Provided by GM)
Share This: