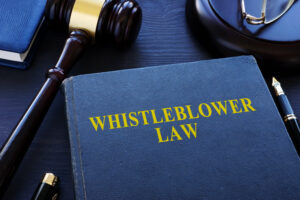 NHTSA proposes rules to incentivize whistleblowing
By on
Market Trends
The National Highway Traffic Safety Administration (NHTSA) is proposing rules to reward whistleblowers who tip them off to vehicle safety infractions.
It's doing so through the Motor Vehicle Safety Whistleblower Act (Whistleblower Act). It was enacted by Congress in 2015 under the Fixing America's Surface Transportation (FAST) Act, which required the Department of Transportation to finalize the whistleblower rules by July 6, 2016.
It's not clear why NHTSA took seven years to bring the proposed rules forward, however, a spokesperson told Repairer Driven News that the FAST Act itself had already established "important protections and incentives for motor vehicle safety whistleblowers" and authorized the U.S. Department of Transportation (DOT) to pay a reward to eligible tipsters.
"NHTSA's rulemaking proposes to further implement these statutory provisions that are already in effect, including by defining certain statutory terms and establishing procedures. The Safety Act's whistleblower protections and incentives have been in effect since adoption of the FAST Act in 2015," the administration said. "As explained in NHTSA's proposed rule, NHTSA has received and considered more than 150 whistleblower submissions.
"The information NHTSA has learned from whistleblowers has helped the Agency identify and investigate safety issues and violations of law. In one instance, a whistleblower's critical assistance to the Agency resulted in two consent orders with civil penalties totaling $210 million. In 2021, NHTSA granted the whistleblower the maximum award authorized under statute for the significant contributions leading to that enforcement action. "
Its proposal would establish a new part 513, within title 49 of the Code of Federal Regulations, to house NHTSA's whistleblower rules. Proposed changes include:
Providing a general description of NHTSA's whistleblower program, including a description of rules the whistleblower must follow to be eligible for an award;
Ensuring former contractors and employees are eligible for the program, as well as current employees;
Defining "dealership" to means "a person selling and distributing motor vehicles or motor vehicle equipment primarily to purchasers that in good faith purchase the vehicles or equipment other than for resale," and ensuring used dealers are included in the description;
Expanding the definition of "motor vehicle defect" to include defects in motor vehicle equipment; and
A number of other changes in languages for clarity.
Congress previously said the intent of the bill is to "incentivize a motor vehicle manufacturer, part supplier, or dealership employee or contractor to voluntarily provide the Secretary of Transportation information relating to any motor vehicle defect, noncompliance, or any violation of any notification or reporting requirement that is likely to cause unreasonable risk of death or serious physical injury."
It also contains protections to guard the whistleblower's identity, as well as "limited situations" where the federal government could reasonably expect to reveal the tipster's identity.
Under the terms of the legislation, whistleblowers who contribute information to the federal government could receive "discretionary" awards if the information they provided led to "recoveries of monetary sanctions" exceeding $1 million.
NHTSA sought comment from interested stakeholders from April to last week, ahead of proposed rulemaking on the act.
It said in its notice of proposed rulemaking that it relies on a wide variety of sources of information to track down safety issues and law violations.
"Whistleblowers from the motor vehicle industry have particularized knowledge and access to information and can identify issues that otherwise may not come to light," it said. "Such whistleblowers can and have provided critical assistance to the Agency in understanding and investigating safety issues."
In a Reuters guest column, Stephen M. Kohn, a founding partner of the whistleblower law firm Kohn, Kohn & Colapinto LLP, said the new rules "will be pivotal in determining the overall success of the Auto Safety Whistleblower Program in incentivizing auto manufacturing insiders and preventing deadly motor vehicle safety defects."
"Overall, the rules proposed by the DOT largely mirror the rules of the hugely successful SEC Whistleblower Program. This makes sense given that the whistleblower provisions of the auto-safety whistleblower program were largely modeled off those found in the Dodd-Frank Act, which established the SEC program," Kohn said.
"There are three major areas in the proposed rules, however, which could potentially undermine the success of the auto-safety whistleblower program. In their proposal, the DOT requests comments from stakeholders on these areas. The direction the DOT chooses to go will have major consequences."
His concerns include NHTSA's administrator having the ability to deny qualified whistleblowers from receiving an award at their discretion, requiring whistleblowers to fill out a disclosure form, and a provision that would disqualify whistleblowers from receiving an award if they did not report their concern through the proper channels.
"The DOT rightfully highlights that many of these rules will be hugely consequential and thus requests comments from stakeholders," he said, before the public comment period closed. "It remains to be seen whether the DOT will learn from other whistleblower award programs and adopt rules which instill the largest levels of faith in the program among whistleblowers."
Images
Featured image credit:  iStock/designer491
Share This: