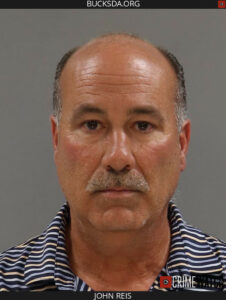 Pennsylvania repair shop owner sentenced for falsifying nearly 300 claims
By on
Legal
A Pennsylvania repair shop owner has been ordered to pay $435,000 in restitution to five insurance companies he admitted to defrauding throughout an eight-year time span.
John Paul Reis, owner of Chalfont Collision Center, was sentenced Monday in a Bucks County, Pennsylvania court for damaging customer vehicles to inflate repair estimates.
The 56-year-old previously pleaded guilty to insurance fraud, deceptive business practices, forgery and theft by deception, which are all third-degree felonies. He was sentenced Monday to 84 months of restricted probation, with the first four months to be served on home confinement with electronic monitoring.
"Insurance fraud is not a victimless crime," said Bucks County Deputy District Attorney Marc J. Furber. "The defendant's actions had a cost that greatly exceeded the high dollar figure with which he was charged. This cost trickled down to all consumers.
"The defendant's actions over the course of eight years were part of a crime spree that had the effect of increasing insurance premiums and costs across the board."
The charges are the result of a four-year investigation by the Insurance Fraud Unit of the DA's office.
The probe began in September 2018 after a referral from Erie Insurance's Special Investigations Unit. Erie alleged that Chalfont "was enhancing and or creating damage to customers' vehicles to inflate insurance estimates," the DA's office said.
During the investigation, Bucks County detectives contacted other carriers.
Of the nearly 300 claims deemed fraudulent, Liberty Mutual reported that it had identified 185 estimates that contained artificial or inflated damages incorporated into the estimates for a total of more than $312,000. Nationwide Insurance and CSAA Insurance Group also reported what they believed were falsified claims, the DA's office said.
Executing a search warrant at Chalfont Collision on March 25, investigators seized evidence that included photographs, files, and computers.
"Because Chalfont Collision Center was a direct repair center for Erie Insurance and numerous other insurance companies, the collision center's credentials meant they were verified by the insurance companies and were authorized to write estimates, complete the repairs, and submit the estimate/billing documents for payment, speeding up repair time for customers," the Bucks County District Attorney's office said in a press release.
"As a result of this investigation, the collision center's credentials have been suspended."
Reis was ordered to repay $435,246.69 to the companies he defrauded, which also included NJM Insurance.
He did not respond to a request for comment from Repairer Driven News.
IMAGES
Featured image credit: John Paul Reis/Courtesy of the Bucks County District Attorney's Office
Share This: