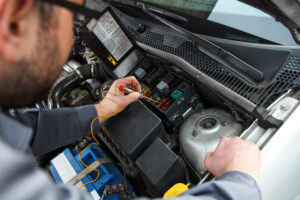 Thatcham Research has rolled out an electric vehicle (EV) safety program that it says will educate the public on the "unique safety challenges" posed by the vehicles.
Called EV Safe, the U.K.-based initiative is geared toward protecting public sector workers who "interact with high voltage vehicles as the volume of EVs on the road continues to grow," Thatcham said in a press release.
Dean Lander, Thatcham's head of repair sector services, told Repairer Driven News that while EV Safe training is aimed at the public sector, it is part of a wider effort to help other sectors, including collision repair.
"It's important that all staff working in a body shop have the requisite awareness of the potential dangers posed by EVs, can confidently identify them, and know basic safe handling procedures," Lander said.
"It doesn't matter if staff are office-based or don't have regular contact with EVs; it's crucial for everyone to have this vital knowledge in order to keep themselves, their colleagues, and their customers safe."
He added Thatcham's EV Aware course provides tailored training according to a person's job responsibilities and is suitable for any repair-related business.
"As we highlighted in our recent joint research report on the Impact of BEV Adoption on the Repair and Insurance Sectors, a competent understanding of EVs is also vital for reducing 'key to key times,' which in turn ensures an improved ownership experience for EV drivers."
Thatcham recommends the program for anyone who will come into contact with EVs, including emergency response workers who, in some regions, have begun incorporating them into their response fleets, it said.
The organization offers a two-day, in person course that teaches participants how to tell whether an EV is live, and how to identify different types of EVs as well as their different handling requirements.
Thatcham said it also addresses potentially dangerous scenarios encountered by public sector workers.
"This includes first responders who need to understand how to safely shut down an EV following a road traffic collision and how to identify safe cutting points to enable extrication," it said. "It also includes Border Force and Police who need to be aware of safe handling considerations while searching EVs, including the importance of using appropriate PPE."
Thatcham said it is uniquely positioned to offer the training given its access to "highly-qualified instructors" and the necessary technology and equipment.
More information about the program and how to register for it is available online.
Images
Featured image credit: Point Images/iStock
Share This: