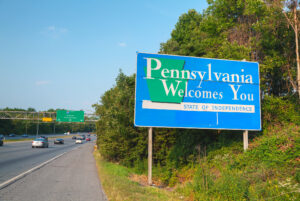 Pennsylvania senator calls to end annual vehicle inspections
By on
Legal
A Pennsylvania lawmaker is seeking to end the state's mandatory annual vehicle inspections, saying he sees "no benefit" in requiring them on a yearly basis.
Sen. Marty Flynn (D-Lackawanna/Luzerne) introduced a co-sponsor memorandum last week in which he laid out his argument for discontinuing the requirement.
"Pennsylvania is quite literally the birthplace of vehicle safety inspections, with the nation's first statute dating back to 1929," Flynn said. "Despite all of the advances made in the past near-century, we are one of only [15] states that still require annual vehicle safety inspections."
The state's Department of Transportation said it requires safety inspections to ensure "vehicles are maintained for safe operation."
"Safety Inspections can prevent vehicle failure on the highways and crashes that may result in injuries or death," it says on its website.
Vehicle safety inspections are performed at official Pennsylvania Department of Transportation Stations, which are often repair shops or service stations.
In the memorandum, Flynn cited a 2015 Government Accountability Office (GAO) report that found the value of vehicle inspection programs was "hard to quantify."
"State officials told GAO that inspections help identify vehicles with safety problems and result in repair or removal of unsafe vehicles from the roads," its report said. "…Nationwide, however, estimates derived from data collected by the Department of Transportation's (DOT) National Highway Traffic Safety Administration (NHTSA) show that vehicle component failure is a factor in about 2 to 7 percent of crashes.
"Given this relatively small percentage as well as other factors—such as implementation or increased enforcement of state traffic safety laws— that could influence crash rates, it is difficult to determine the effect of inspection programs based on crash data."
Flynn said the report indicates that vehicle inspection mandates don't translate into safer roadways, meaning they're an "inconvenience to vehicle owners and their wallets."
"Even more, the Motor License Fund, which is in dire need of additional funding, sees no benefit of requiring annual safety inspections," he said. "The only funds that are sent to PennDOT from the auto repair facility and vehicle owner is for the cost of the windshield sticker."
He said he's planning to introduce legislation that would modernize the state's vehicle inspection process to save drivers money while increasing revenue for the Motor License Fund.
Flynn added that he would do so by only requiring vehicle inspections when a vehicle is sold or its title is transferred.
"This will save a vehicle owner approximately $30 annually, not to mention the time and aggravation of having to schedule these excessive and, oftentimes, unnecessary inspections," he said. "This will also provide new consumer protections to ensure that used vehicles are roadworthy prior to purchase."
The proposed legislation would also generate revenue through a new $15 fee on the annual cost of vehicle registrations, which Flynn estimated would generate $120 million of funds annually.
The bill would not affect vehicle emissions testing, which is required on a per-county basis under Environmental Protection Agency (EPA) guidelines, he added.
Most states do not require periodic safety inspections. Aside from Pennsylvania, those that do are Delaware, Hawaii, Louisiana, Maine, Massachusetts, Missouri, New Hampshire, New York, North Carolina, Rhode Island, Utah, Vermont, Virginia, and West Virginia.
Texas became the most recent state to drop the requirement earlier this year.
Under House Bill 3297, signed into law by Gov. Greg Abbott in June, annual inspections will longer be necessary beginning in January 2025.
The bill passed the Senate with a 20-11 vote during a May 21 meeting despite strong objections from Sen. Nathan Johnson (D-Dallas), who said lawmakers were putting people's lives at stake by no longer making safety inspections a requirement.
He cited a University of Texas study from Oct. 31, 2018 that showed the average costs related to vehicles with defects are more than $2 billion per year. The university said that those defects would have caused a vehicle to fail a safety program inspection.
Johnson also referenced a separate study by the American Society of Civil Engineers that found states with safety inspection requirements have 5.5% fewer fatalities per year than states that don't have inspection programs.
Texas Rep. Cody Harris (R-Palestine), who authored the bill, likened vehicle inspections to a scam in a statement to ABC News.
"These inspections are a waste of time for Texas citizens and a money-making Ponzi scheme used by some shady dealerships to upsell consumers with unnecessary repairs," Harris said. "Texans are responsible, fiercely independent, and I trust them to keep their cars and trucks safe while on the road."
Images
Featured image: AndreyKrav/iStock
Share This: