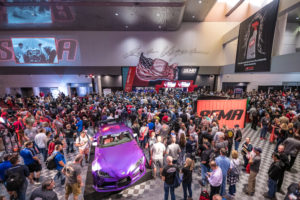 2023 MSO Symposium, SCRS IDEAS Collide Showcase lineups announced
By on
Announcements
This year's MSO Symposium, an exclusive one-day conference created by and for multi-shop owners and operators and their industry partners, will be held in Las Vegas on Oct. 30 during SEMA Week and ahead of the Automotive Aftermarket Expo (AAPEX).
The program begins at 9 a.m. PDT with a welcome breakfast and networking hour, sponsored by Original One Parts. The Automotive Service Association (ASA) holds the symposium every year to provide insight on "critical topics to the leaders and executives of the industry's most influential collision repair operators in North America and beyond."
Opportunities to network will also be during a formal luncheon, sponsored by PPG; a refreshment break sponsored by Axalta Coating Systems, and an exclusive industry reception, sponsored by Sherwin-Williams.
Below is an overview of the 2023 MSO Symposium agenda:
9-10 a.m. – Networking hour and breakfast
10-10:15 a.m. – Introductions and overview – Crash Champions and CCC Intelligent Solutions
10:15-10:45 a.m. – "Trends and Metrics Impacting the Repair Facility Market." CCC Vice President of Consulting & Services Bart Mazurek will cover factors affecting the collision repair industry and how repairers can prepare for those shifts.
10:45-11:15 a.m. – "Consolidation 2023: The Big Consolidators and the Fast Track MSOs Chasing Them." Focus Advisors Managing Director Dave Roberts will share key data about the state of consolidation in the collision repair industry and growth trajectories of the five largest consolidators as well as eight other private equity-backed platforms and some of the fastest growing independent MSOs across the industry.
11:15-11:45 a.m. – "Private Equity and Consolidation Trends Across the Collision Landscape." Stifel Nicolaus Investment Banking Head of Auto Aftermarket Investment Banking Managing Director Joe Sparacino will share how consolidation through M&A "continues to be a major trend impacting all facets of the collision repair industry," according to the presentation description.
11:45-12:30 p.m. – "Broken Narratives and Busted Bumpers – 2024 Outlook for the Auto Repair Market," presented by Beacon Economics Founding Partner Christopher Thornberg.
12:30-1:45 p.m. – Formal luncheon
1:45-2:30 p.m. – Panel discussion: "After the First Location: Challenges and Opportunities in Growing an MSO" with Collision Leaders, Eustis Body Shop, Martin's Body Shop, and Midwest ADAS. The panel will be moderated by Collision Advice President Mike Anderson.
2:30-3 p.m. – "Beyond Consolidation" with Jeffries LLC Automotive Aftermarket Investment Banking Global Co-head Rex Green
3-3:45 p.m. – Networking break
3:45-4:30 p.m. – Panel discussion: "Evolving Scanning & Calibration Business Models" with Caliber Collision, Gerber Collision & Glass, and LaMettry's Collision. The panel will be moderated by Dan Risley.
4:30-5:15 p.m. – "Using Big Data for Accurate Collision Assessments." Richard Elberger, head of Amazon Web Services IoT Ecosystem Services will cover how Big Data techniques can bridge legacy and assessment data for more accurate collision assessments.
5:15-7 p.m. – Industry reception
To attend, an online application must be submitted. Attendance is limited to those who qualify including multi-shop operators of all sizes, insurers, OEMs, and single-location repair facilities with revenue exceeding $3 million in annual sales. Limited attendance by equipment or service providers is still available.
For more information, visit msosymposium.com.
Occurring on the same day ahead of the SEMA Show will be the annual Society of Collision Repair Specialists (SCRS) IDEAS Collide Showcase. For the first time, the showcase will be held on Monday from 3-5 p.m. rather than on Friday at the wrap-up of SEMA Week.
The unique Ted Talk-type showcase includes 10 fast-paced presentations, each around 10 minutes long. This year's topics range from employee health plans, mentoring opportunities during the labor crisis, and growth through acquisition to estimating vs. repair planning, improving booth cycles, and liability insurance information.
To kick off the showcase, Gravie Chief Strategy Officer Ben Simmons will cover the company's health plan, offered through SCRS, and how it's an option for small businesses in "A Health Plan Your Employees Can Love: Fantasy or Within Reach?"
Touting prioritization of ease and simplicity in customer service plus great health benefits, Gravie will cover the great benefits that are offered along with reduced premiums and claim expenses.
Benefits, offered on the Aetna and Cigna networks, include $0 deductibles; employee choice of out-of-pocket maximum ranging from $3,000-$7,900; no-cost primary care, specialist, and urgent care visits as well as labs and X-Rays, and free generic prescriptions and mental health services.
Next up, K&M Collision Vice President Michael Bradshaw will discuss workplace culture — "the real job market currency." Bradshaw will highlight how leaning on a team-centric culture is a must for success in today's competitive collision repair landscape at a time when the technician shortage has reached at least 35,000, according to the most recent data from 2021.
Listen to this session to find out how you can increase productivity and make your repair center stand out in the job market by operating a successful workplace that encourages career growth.
Tracy Dombrowski, Collision Advice director of training, will cover the subject as well based on "Culture Code" by Daniel Coyle. Dombrowski will share how to implement Coyle's concepts in collision repair centers from how to develop a healthy group culture that facilitates interconnection, teamwork, and consistency to learning the key attributes and benefits of each concept. She'll also cover the consequences of ignoring the concepts.
The lineup also includes a couple of topics from 3M Collision. Application Engineering Specialist Richard Desvousges will share tips on tackling vehicle repair validation as vehicle designs and technology grow more and more complex, complicating the documentation and validation process.
"The steps to research repairs to the OEM standard, capture repair procedures, and document repair costs can be time-consuming," the presentation description states. "As insurers continue to handle claims virtually, body shops and their staff are being burdened with a burden of proof. Recent trends are moving towards 1:1 ratio of technicians to estimators to document proper repair procedures."
Desvousges will discuss how to document procedures, validate safe repairs, and ease the burden of proof in the body shop.
On another topic in the collision repair industry — paint booth cycles — 3M Application Engineer Jason Garfoot will share how to avoid overcomplicating paint shop efficiency. He'll provide details on what efficiency really means and how to maximize it in booth cycles, including at least one more cycle per day.
Looking for ways to step up and do something about the labor crisis? Mentor Mentee CEO Ryan Weber and Business Development Manager Marc Brune will share how on-the-job training, mentoring, and hiring entry-level technicians are ways to achieve long-term business success.
"To succeed you need a plan on 'how' to achieve long-term success," the presentation description states. "Learn about assessing the right people for your program (from managers to mentees), developing technician-specific career paths, how to set actionable goals using task lists, and how to build engagement with your mentors."
Also looking at the shortage of workers, specifically collision repair technicians, will be Career Technical Education Center Auto Body Instructor Alex Crays. He says solving the shortage starts at the source to pull next-generation techs into the industry.
"We need to build a culture of technology-minded auto enthusiasts, at both the education and industry level who relate to the ever-changing and highly rewarding career they are about to embark on in the collision industry," the session description states. "Alex will share his experience as an auto body instructor deeply involved in fostering talent in young men and women who are interested in the industry and the strategies he's learned to foster interest and growth at the local level."
The presentation promises to help your repair center and community contribute to the industry "for the betterment of the next generation of workers in America."
Another ongoing challenge in the collision repair industry — understanding the difference between estimating and repair planning — will be touched on in a sneak peek of Pacific BMW Collision Center Body Shop Manager Andrew Batenhorst's "Death of the 'Estimator' Role" course. The full course will be held on Tuesday, Oct. 31 from 12-1:30 p.m.
Batenhorst will share solutions on how to transition away from a now-antiquated job role that he calls "an obstruction to accurate, safe, comprehensive repair planning." Gain perspective as well on why your repair center might consider implementing the shift to more thorough repair planning.
Looking for an update on acquisition trends in the industry? Then be sure to catch Collision Builders Managing Partner Bing Wong's presentation "Growth through Acquisition." He'll cover the main things body shop operators need to know when considering growing their business through acquisition including the benefits, what businesses should have that you might consider acquiring, how much you should pay, deal structure tips, and three things to avoid when buying a shop.
And don't forget about repair center insurance! SPARK Underwriters Senior Underwriter Shaughn Kennedy will cover how to ensure your business has proper garage liability insurance. Kennedy will teach you how to create a "build sheet" of the core coverages needed to protect your collision repair business including:
A core understanding of required coverages that are necessary;
Understanding insurance distribution and how it affects your ability to get coverage;
Be your own advocate to make sure you know what risk exposures exist to have the correct coverage limits;
Avoid common pitfalls; and
Determine if you need optional coverages.
To register and add the IDEAS Collide Showcase to your "My Show Planner" calendar, click here. The cost to attend is $100.
Check out previous year showcases and Repairer Driven Education sessions at rde.scrs.com.
Images
Featured image: SEMA 2019 is shown. (Provided by SEMA)
Share This: