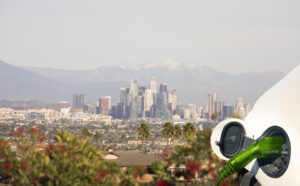 California's electric vehicle sales represented more than one-fifth of all passenger vehicles sold throughout the state during the first nine months of the year, data shows.
The California New Car Dealer's Association's Q3 auto outlook report shows that EVs represented 21.5% of market share year-to-date. That compares to the national EV market share of 7.4%.
EV registrations in the state reached 34.8% year-to-date, the data shows. For repairers, the rise in EV popularity in the Golden State could underscore the importance of ensuring their facilities are prepared for the models, and that employees are trained to safely handle them.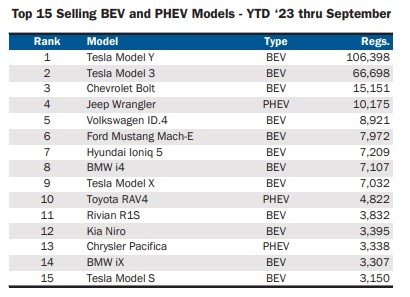 However, the latest figures may not be surprising for some given how Gov. Gavin Newsom has announced plans to phase out internal combustion engine (ICE) in California by 2035.
Among the new EV registrations in the state, the majority were Tesla models Y and 3, followed by the Chevrolet Bolt and Volkswagen ID.4. The most p
opular hybrid plug-in models included the Jeep Wrangler, Toyota RAV4, and Chrysler Pacifica.
A recently-released J.D. Power report said that nationwide, EV sales are reaching a "critical mass."
In its October E-Vision Intelligence Report, J.D. Power said that while it took five-and-a-half years for EV retail sales to hit 1 million sales, sales have quickly accelerated since. Since reaching the 1 million sales mark, it took just 18 months to reach two million sales, JD Power said, adding that three million sales will likely be logged by December.
By Q3 2024, the U.S. is likely to hit four million EV sales, it said, adding that total EV market share is now approaching the 9% mark.
"The stage is set for rapid-fire growth," its report said. "Exactly when those sales will happen—and which OEMs and dealers will be the biggest beneficiaries of the transformation—will come down to strategic use of incentives and a concerted effort to educate consumers on the intricacies of EV pricing."
One factor that could hinder short-term EV sales is the price gap between EVs and ICE vehicles in the SUV segment, J.D. Power said. It noted that the average EV SUV sells for $52,000, compared with $34,000 for a comparable ICE SUV. As it relates to the premium SUV market, EVs are selling for at least $60,000 while ICEs are selling for about $53,000, it added.
"This has created a dislocation where price-sensitive shoppers in the compact SUV market could likely be cross-shopping a mass market EV against a premium ICE vehicle," it said. "Based on the latest J.D. Power 2023 U.S. Electric Vehicle Consideration (EVC) Study, 67% of new-vehicle shoppers who are currently considering an EV are also considering non-EVs. Until the pricing differential between mass market and luxury EV and ICE vehicles is more balanced, many of these buyers may be swayed to choose ICE."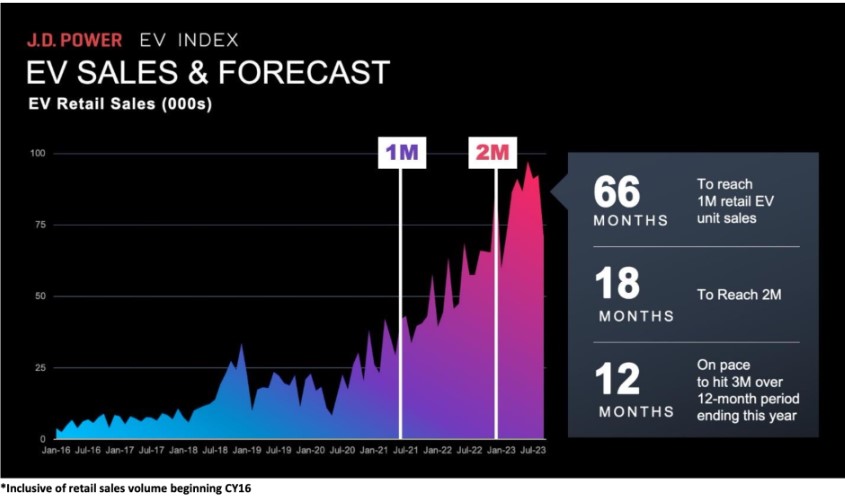 Although EV sales are on the upswing, it hasn't been an easy space to enter for some automakers, including General Motors (GM) and Ford, who recently announced plans to scale back production.
Paul Jacobson, GM's chief financial officer, told investors during a Q3 call that the OEM is dropping its previously-announced 100,000 EV target it for the second-half of 2023 and a separate 400,000 EVs goal it hoped to meet by the first half of next year.
Mary Barra, GM's CEO, called the road to EV transformation "a bit bumpy, which is not unexpected."
Meanwhile, a Mercedes-Benz executive said during the OEM's Q3 earnings call that the current EV space is neither healthy nor sustainable moving forward.
"EV is a very competitive space," said Harald Wilhelm, Mercedes' chief financial officer. "I mean, come on, with price discounts or some of the other guys, more than 30%, some of the traditional players selling best vehicles below the pricing level of ICE [internal combustion engine] with variable costs probably sitting above, as you know. I would say this is a pretty brutal space."
A separate J.D. Power report released in September found that while EV vehicle sales were up 1% during the first half of the year, a "stark division is emerging" between states where adoption is growing, and others where it's stalled, according to a new report.
Its E-Vision Intelligence Report indicated that while California is expected to reach 94% EV share by 2035, North Carolina's EV market share might remain below 20%. Michigan is expected to reach a 41% adoption rate during the same period.
"To the long list of literal and figurative lines of demarcation that illustrate the sharp geographic, political, socioeconomic and cultural divisions between states in the United States, we may now add the EV adopters and the EV holdouts," J.D. Power said. "…EV adoption in America is growing increasingly divided, with the most active states for EV adoption already on the path to parity with internal combustion engine (ICE) vehicles and consumers steadily pulling back on EV purchases in the least-active states."
Images
Featured image courtesy of stellalevi/iStock
Share This: