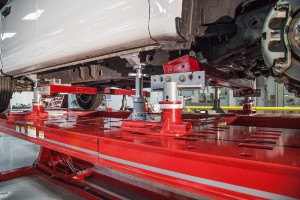 Chief University to offer class on aluminum damage, repair
By on
Education
Auto shop technicians and insurers are invited to attend the one-day Chief University "Aluminum Damage Analysis and Repair Technology" class this year at various locations around the county.
The $325 class, offered through Chief Automotive Technologies and Elektron, will teach students about aluminum damage and repair techniques as well as explain more about the metal itself.
A two-day course on welding the metal, gaining attention as a primary component of the 2015 Ford F-150, is being prepared.
More RDN coverage

Aluminum and the F-150:

Education:
"At Chief University, we are continuously updating our course offerings to help collision repair technicians and insurance professionals keep up with the vehicle structural changes that are taking place at an increasingly rapid rate," Chief University global training manager Ken Boylan said in a statement. "With the launch of the aluminum-intensive Ford F-150 pickup truck and announcements from other OEMs that they will be using more aluminum in their new vehicles, it is important that industry professionals understand how to properly analyze and repair vehicles that include aluminum components."
Students will receive a workbook, classroom and hands-on education, and a certificate of completion.
The first two classes are planned for Jan. 22 in Irvine, Calif., and Feb. 20 in Charlottesville, Va. For a more detailed schedule, check here.
Share This: