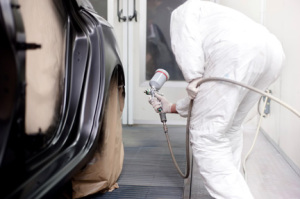 National AutoBody Research plans to survey body shops in all 50 states this year to bolster its Variable Rate System research portfolio with the goal of the first independent, real-time labor-rate database.
NABR started surveys in Florida, Georgia, Idaho and Texas late last year. On Tuesday, it announced Three-C Body Shops Inc. owner Bob Juniper would take the inaugural Ohio survey and be its partner in that state.
The survey itself can be found here.
According to NABR, its Variable Rate System process would update its database of "market-based" prices for shop labor and materials as shops contribute to the survey. VRS' pricing accounts for factors like equipment, certifications and training, NABR says.
NABR hopes to "restore rates to higher, free-market based levels," the company said in a press release.
"We are extremely enthusiastic to partner with Bob Juniper, a real leader and advocate for the collision repair industry, who truly desires to make a difference for both Ohio shops and the industry," NABR CEO Richard Valenzuela said in a statement. "In adopting any new technology like the VRS, someone has to go first, and Bob has the courage to do that for all of Ohio. He's a visionary who understands that free market based labor rates are mission critical to the future viability of the body shop business, that a change needs to be made, and the time to act is now."
Three-C has four locations in the Columbus, Ohio, area.
"Where I come from, if you're not part of the solution, then you're part of the problem," Juniper said in a statement. "It's going to take active participation from all of us, and it's going to take some time, so we all need to make the long-term commitment now. The industry needs market based labor rates to earn a fair and reasonable profit, so shops can invest in the right training, certifications, and equipment to properly repair today's vehicles and keep consumers safe."
The survey was founded by and named for industry activist Ray Gunder of Lakeland, Fla.-based Gunder's Auto Center, according to NABR.
Share This: