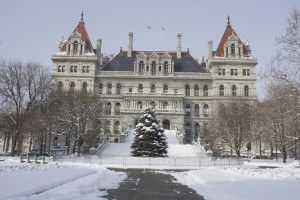 Legislative Watch: New year means new auto-, collision repair-related measures
By on
Legal
The 2015 Legislative season has started, with elected bodies convening in states across the country.
Repairer Driven News will continue to offer quick snapshots for local repair shows on what to keep an eye on in some statehouses and state codes. Like what's happening? Hate it? We've included links to each statehouse so you can contact your delegation. (If you don't know who represents your district, you should take the time to learn.)
We'll post more on what those in your capital are up to as we find them. For now, check out these:
Idaho
Tax-loathing Idaho might take a shot at raising gas taxes and car fees this session to pay for what KTVB analyst Jim Weatherby called "thousands of roads that are beyond repair." Better roads could lead to less strain on and damage to cars, meaning your shop could see a drop in business from potholes and the like.
Be heard: Idaho legislator contact information can be found here.
Montana
Montana lawmakers are proposing allowing drivers to go much faster — raising the speed limit from 75 mph to 85 mph — and traffic fatalities dropped 16 percent last year, the Missoulian reported. Studies seem to have mixed answers on if raising limits does or doesn't cause more accidents and business for Montana shops.
Be heard: Montana legislator contact information can be found here.
New York
State Sen. John DeFrancisco prefiled New York Senate Bill 30 on Wednesday, legislation that is definitely of interest to body shops in that state.
The bill mandates collision repair shops (and insurers) use original equipment manufacturer parts for the first three years of a car's life or the length of a relevant warranty — whichever is longer. It also requires them to tell customers what replacement parts they used after that time and get customer approval to do so. Insurers would also be responsible for the extra labor costs required to install a non-OEM part if it's not the easiest fit.
It's been sent to the Transportation Committee.
Be heard: New York Senate contact information can be found here and Assembly information here.
Utah
Utah officials are also taking a look at allowing more taxes to pay for road repairs, the Salt Lake Tribune reported, noting that the state has completely given up on some rural highways. Some are also looking at going after "green" cars for revenue since they're getting to use the roads without paying a gas tax.
Be heard: Utah legislator contact information can be found here.
Washington
In a twist from the usual "how can we get road repair dollars from those freeloading EV drivers," Washington officials will debating even more breaks for hybrid and totally electric vehicles, the Yakima Herald reported. Democratic Gov. Jay Inslee would like to continue the sales tax exemption on the first $60,000 of a hybrid or totally electric vehicle, give government financial support for charging stations, and take ferries and toll lanes for free. Meanwhile, he'll tax carbon emissions for $12 billion in transportation projects. Legislative leaders seemed particularly skeptical of the free rides on ferries and toll roads, according to the Herald.
Be heard: Washington legislator contact information can be found here.
Wisconsin
Wisconsin is also looking at hitting "green" drivers with a $50 fee for roads, Milwaukee Public Radio reported.
Be heard: Wisconsin legislator contact information can be found here.
Wyoming
As lawmakers look at altering the Hathaway Scholarship Program's payouts to keep pace with rising tuition, state Rep. Hans Hunt, R-Newcastle, has floated the idea of also offering more flexibility for students seeking a technical education, the Casper Star-Tribune reported. The program helps pay college and community college tuition if students stay in Wyoming. Though there appears to be a little provision for vo-tech study, Hunt would like to see a specific scholarship track devoted to it. That could certainly help alleviate the problem of getting new blood into the collision repair industry — as well as preparing mechanics who can repair increasingly complex cars and trucks.
"My goal with that bill will be if kids want to go to a welding program or a mechanics program, that they would have the opportunity to pursue more along that career path," he told the Star-Tribune.
Be heard: Wyoming legislator contact information can be found here.
Share This: