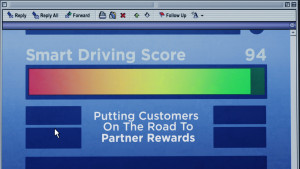 Ford, GM gathering auto insurance-related data in new telematics push
By on
Insurance | Technology
Recent CES-timed announcements by two of the Big Three indicate a greater role emphasis by vehicle manufacturers in driver and diagnostic data collection — including information relevant to insurers.
General Motors announced Jan. 4 that OnStar customers can receive a critique of their driving and, if they choose, share it with new GM partner Progressive for potential policy discounts (or increases?) akin to the insurer's Snapshot. It also said that Chevrolet drivers could also receive diagnostic data from sensors tied to OnStar, providing a high-tech "check engine light" telling them when a part of the car needs attention. (See a PC World analysis discussing these and GM's 4G LTE implementation here.)
It's unclear if this would affect the OnStar-Allstate partnership with Drive Safe & Save (which technically seems to only measure mileage instead of your actual driving ability).
More RDN coverage:

Telematics: Verizon to compete with OnStar, AAA with Verizon Vehicle
Ford President and CEO Mark Fields described a series of what the company calls "mobility experiments" at the Consumer Electronics Show on Jan. 6. (See ZDNet coverage here.)
His prepared remarks and the company's website indicate two of these — "Big Data Drive" and "Fleet Insights" — might be able to provide drivers with diagnostic data from sensors in the car. Another, "Data Driven Insurance," will test out insurance-focused data collection in London, with an eye toward giving a car owner a driver history they could carry to another vehicle or insurer.
Both companies are keeping their telematics programs voluntary. GM said they would be open to active OnStar subscribers, and Ford's are experimental right now. (Presumably on subjects that know about it, based on Fields' comments.)
"We believe customers own their data," Fields said, according to prepared remarks. "We are simply stewards of data and we commit to being trusted stewards"
"We may ask to use the data, but only with explicit opt-in and full transparency. And, if we use the data, we need to ensure that customers are receiving services or features that they find valuable."
GM will offer the OnStar driving analysis for certain 2013-15 models, with most of the 2015 model year being covered starting this summer. It said the entire 2016 fleet will carry the service. According to GM, the driving study looks at 90 days of driving — whether or not that duration would be extended for those trying to save money with Progressive is unclear. (Progressive's Snapshot gathers data every trip.)
The expanded diagnostic offering will come to certain 2016 Corvettes, Equinoxes, Silverados, Suburbans, and Tahoes, with more vehicles to come. More frequent reports on other items like tire pressure — which are already available monthly to OnStar subscribers — will be rolled out in 2016.
Collision repair and telematics
Though there are some general concerns about rates based on driving records, which we'll get to shortly, the growth in instant diagnostic information through telematics could have the greater impact on the auto body industry.
First, the obvious benefits: More sensors in more places mean there's more things to repair after a collision. Accident avoidance technology already has been shown to reduce crashes but has the potential to increase repair bills when they do happen. (For more on this topic, see these comprehensive analyses in Property Casualty 360 and Status Report.) More diagnostic telematics — assuming companies work in more technical data than whether or not the oil could use a top-off — also could lead to auto technicians having an easier time deducing what exactly needs to be fixed.
The downside: More data is also available to insurers, allowing someone at a desk in Omaha to call a vehicle in Los Angeles a total loss based on the computer feed without an auto tech even seeing it. Crashboxx, for example, claimed its DENT telematics technology would do this, noting that insurers can save $1 billion industrywide by cutting an average $325 cost associated with towing a car to a body shop only to have the damage estimated at a total-loss level there.
In addition to this potential loss in auto shop business and customer choice — a shop could potentially tell a client that their "baby" is fixable for a lower price than the telematic sensors indicate — such technology carries the potential for hassles on the vehicles actually deemed worth repairing. For example, the sensors are telling one story, while an auto technican's experience and actual eyeballs on the car tell another. Setting the record straight and convincing the insurer that more labor time is necessary could be an irritating experience for both sides.
This aggravation could be even worse when trying to explain to a high-deductible, low-repair-knowledge customer that the repair is needed. ("But my app doesn't say my axle is bent. It just says I need a new battery.")
Indirect: Driver data collection
Getting insurance based on a telematic driving record has more implications for the customer than the repairer, but we'll attempt a look at it from both perspectives here. (Also, check out this SAS white paper's excellent overview of telematics and insurance.)
Here are a few things to consider:
Most people aren't interested or are in the dark. According to an InsuranceQuotes.com study, 51 percent of people wouldn't consider a "pay-as-you-drive" form of insurance. (Technically, based on the more precise SAS definitions, the study was asking them about "pay-as-you-drive" and "pay-how-you-drive," which are different concepts.) Only 36 percent only knew what it was.
Who owns it? Can you take your driving record to another insurer? If so, would it even be useful? To retain customers and maintain a competitive edge, one insurer could refuse to share proprietary data with another. And even if they did, insurers might not even value the same data sets. Presumably, this kind of thing would be standardized and contained at some repository the way a CLUE customer claims history is used by multiple insurers, but for now, these issues are being raised.
Driving might not be as much fun. When was the last time anyone took a long-distance trip and didn't go 10 mph over the speed limit most of the time? With your speed and location being fed to the insurer, they could ding you for it. (Or maybe they don't care. If everyone is doing it, and a consistent traffic flow leads to fewer crashes, why not eliminate certain speeding in calculating a premium to undercut your competition's price.)
More conscientious drivers mean fewer crashes. Good for safety, bad for collision repair.
More sensors to fix. This was touched on in the diagnostic section.
It could ultimately be required. In the U.S., you can still discriminate on insurance pricing based on sex. (Thank you, young male drivers.) If America ever goes the route of the European Union, which recently outlawed it, insurers lose a big actuarial tool and could seek to make it up by requiring drivers to use technology like Drivewise, In-Drive, or Snapshot.
We'd have proof of how a crash occurred. Cops with a subpoena are likely going to get this information (see an example from Progressive here), and it's possible insurers would share it when reconstructing a crash between their clients to see who is responsible for more of the bill. On the plus side, if the authorities can use it to ID an insured hit-and-run driver who hit a high-deductible driver, the victim could suddenly have an influx of settlement and liability money to do collision repairs they might have otherwise avoided.
This all becomes opt-out instead of opt-in. Collecting your data becomes the default and you have to specifically tell a manufacturer you don't want them to do so. Or worse, similar to having to pay a fee to get your number unlisted, manufacturers and insurers start charging a fee for privacy. Even if you never get into a crash and drive perfectly safe, your usage data is useful for all kinds of research — both internally and to whichever third party the collector can make a buck off of selling it. (It's possible your insurer could buy it and use it to adjust your rates even if you never opted in to one of their driver tracking programs.)
GM tried to collect OnStar data from nonsubscribers already and backed off after a backlash. Computer programmers are already enjoying these kinds of data sets (You've probably seen the pop-ups asking if sharing usage and crash information is OK with you.), and as technology progresses, why wouldn't other industries?
Poorer drivers get higher rates. OK, that's appropriate, but then they end up taking high-deductible versions of coverage — which leads to repairs being skipped as the out-of-pocket price grows — or cutting it to the minimum liability. Auto body shops lose business. This was discussed by Repairer Driven News further in this piece analyzing the impact of Google getting into the insurance-comparison business.
More information:
"Telematics: How Big Data Is Transforming the Auto Insurance Industry"
SAS
Share This: