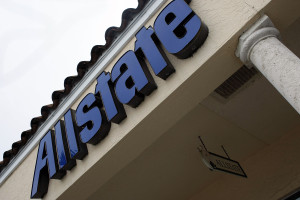 Allstate gave greater details about the Fast Mobile system in an interview with Repairer Driven News late Tuesday — including the fact that it could be used for direct payments to auto shops, too. A revised version of our coverage is below:
Allstate on Wednesday announced that customers — and auto body shops — could now get a "same-day" digital payout of auto repair claims through a new "Fast Mobile e-Payment" system.
The company called the option faster than all of its insurer competitors, and Allstate spokesman Justin Herndon said it was the first company in the U.S. to use the system, known as "Clear Xchange" and owned by Bank of America, Capital One, JPMorgan Chase, and Wells Fargo.
Clear Xchange handles the actual transaction processing, not Allstate (Allstate just cuts the "check."), which should increase the security on a customer's personal information by removing an unnecessary middleman, according to Herndon.
The process sends customers who provide either a cellphone number or email address a digital payment within in a day, which Allstate says "can be faster than all existing payment methods, including Electronic Funds Transfer."
An Allstate-provided screenshot demonstrating the program displays language that payments could be delivered between two hours and two days compared to two to five days for EFT. Herndon said the time estimates on the image, seen below, were accurate.
Early testing even saw a customer paid within a half-hour, with average times of up to six hours for Bank of America customers from Fast Mobile registration to payment and 19-20 hours for noncustomers — though Herndon stressed that testing had a very small sample size.
"When you have a claim, you want to receive your payment quickly," Matt Winter, Allstate president, said in a statement. "Fast Mobile e-Payment simplifies and accelerates the payment process. It's another good example of how Allstate is innovating on behalf of customers."
The payments could be applied to anyone who signs up to receive them that way — not just policyholders. That would include shops, car loan financiers, or third parties (another insurer's customer whose property an Allstate customer damaged, for example) to whom Allstate would make a claim payment. Shops would not need to be part of a direct repair program.
"If we can write a check for it today, we can do it by this method," Herndon said.
The service only works for "checks" with a single payee — meaning that if a car financier technically has a vested interest on the insured property, the customer can't use Fast Mobile.
Fast Mobile is offered through a partnership with Bank of America Merrill Lynch, but the payments can go to any bank's customers.
"We are proud to be one of the first banks to offer this electronic business-to-consumer payment solution," says Bank of America Merrill Lynch Head of Global Payments Ather Williams. "Allstate and their customers may benefit greatly from the speed and convenience this solution provides."
More information:
"Allstate unveils fastest claims payment in the industry"
Allstate via PR Newswire, Jan. 28, 2015
Featured image: An Allstate insurance company sign is seen outside one of its stores Jan. 17, 2008. (Joe Raedle/Getty Images News/Thinkstock file)
Share This: