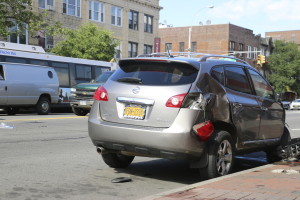 Despite arguments that your driving record or your state's consumer/auto shop-friendly legislation are responsible for your high insurance rates, the premiums are really tied to your ZIP code, Carinsurance.com found in a new study.
As the Car Connection put it Monday, it's your neighbors that are responsible for the costs. The real reason for high insurance is the risk level of the ZIP code — the likelihood that a vehicle would be stolen, vandalized, or damaged there and result in a claim. That determines your baseline rate.
This also invariably leads to poor people with good driving records getting charged more for car insurance because they live in lousy neighborhoods, as the Baltimore Sun noted Monday. It can also lead to a vicious cycle — insurance gets too high, so otherwise responsible low-income residents are priced out of it, leading to more uninsured drivers, which then raise rates for the rest of the population.
"Car insurance companies assess many factors when setting rates, and your location is chief among them," Carinsurance.com wrote.
The Consumer Federation of America also noted that lower-income people who finance a car often must buy collision and comprehensive insurance on top of the state-mandated liability. The Sun reported that the federation was critical of factors like job, education, and credit score impacting insurance cost. (Though DMV.org has pointed out that high-stress, white-collar jobs can result in higher rates too.)
Either way, these non-repair-related factors all bolster shops arguing for auto insurance reforms at state Legislatures.
More RDN insurance coverage:

4 things to consider while insuring your auto body shop
Claims and rates
However, collision claims do result in higher rates — but that seems to be linked more to the statistical likelihood that a claimant will file another one sometime rather than the repair itself, according to an insuranceQuotes.com report today citing Insurance Information Institute spokesman Mike Barry.
InsuranceQuotes.com and Quadrant Information Services calculated that the average rate would rise 41 percent after a $2,000-plus property claim. Comprehensive claims, which could require the services of a body shop, would increase rates 2 percent.
InsuranceQuotes.com also noted that the average property claim in 2013 was $3,231, and the average comprehensive filing was $1,621.
(And in case you were interested, bodily injury claims would cause a 45 percent increase and averaged $15,443 in 2013.)
In three to five years, rates start dropping back to where they were, according to Barry.
"If there are injuries involved, you almost certainly want to file a claim," Barry told Money magazine, which covered the insuranceQuotes.com study. "If it's a fender bender, you might not want to."
That sounds like less work for body shops, but it's not as bad as it sounds. Both Barry and the Money writer implied a driver should still repair the damage — just do it out-of-pocket. (Which might even be better for a shop — no middleman between you and the consumer.)
More information:
Share This: