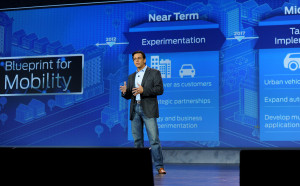 The Ford earnings call Thursday revealed a few insights about the aluminum 2015 Ford F-150, which is raising concerns in the collision repair community about readiness costs and repair times.
Here are three things Repairer Driven News took away from the call. (Special thanks to the Detroit Free Press coverage, which allowed us to identify whose voice we were hearing.)
1. Edmunds experience got attention: One of the questions from the investing community raised the widely-circulated Edmunds report which saw a pricey repair bill for fixing the aluminum truck after an editor hit it with a sledgehammer. Edmunds said it took about 20 hours to repair what would have been 10 hours for steel, according to the Santa Monica Ford dealership estimate.
"We saw the Edmunds report, and unfortunately, the experience with that, the dealer was incorrect," President and CEO Mark Fields said. "The amount of time to repair based on the standards that we've developed and also shared with the dealers, it would've been about half the time."
More RDN aluminum coverage:

Update: Ford responds to Edmunds' battered F-150

Free U.S. aluminum joining manual officially announced

Mixed-materials (think aluminum) Cadillac CT6 on sale this year
Fields said the F-150 was designed to be modular so it would be "very efficient" to repair the truck, which implies perhaps that replacing the damaged panel would have been the way to go.
An aluminum F-150 panel costs the same as a steel one, but as Edmunds associate editor Travis Langness observed in their coverage, "That's nice to hear, but what would it have cost to fix a steel panel rather than replace it?"
(And an even smarter modular design wouldn't have required the replacement of the entire taillight unit — which in Edmunds' model contained a very pricey blind spot sensor — to fix a crack. The new taillight unit cost nearly $900.)
He said Santa Monica Ford, the dealership Edmunds used, was not yet certified by Ford to work on the truck. Ford has certified more than 750 dealerships and worked with more than 1,000 independent shops.
"Unfortunately, this dealer that Edmunds went to was not one of them." Fields said.
He said the truck overall had "very competitive cost of ownership."
2. It's been in demand: The F-150 in general is a hit, and the new aluminum 2015 Ford F-150s were 5 percent of sales in December, CEO Mark Fields said Thursday.
"We are seeing very strong demand for the F-150," Fields said. "It's our fastest-turning vehicle on the lot."
Fields said dealers at the National Automobile Dealers Association convention earlier this month told him that the 2015s are leaving lots as soon as the transport trucks drop them off.
"We're bang on where we expected to be in terms of our launch," he said.
It's obviously very early in the game, but this interest among consumers so far indicates your shop had better be ready for it. Remember, the F series is speculated to be up to 80 percent of Ford's profits, according to USA Today, so Ford likely can't afford to keep an unpopular F-150 around for very long before some on Wall Street start freaking out.
3. Stay tuned: Fields said F-150 sales in general should be the best since 2004 in January, with a "material increase" in the proportion which are 2015 F-150s.
"The mix has been rich, which is good," he said.
We'll see if he's right. Ford releases its January sales data on Tuesday. Check back then for coverage and follow us on Twitter (@repairerdriven) for updates during the 10 a.m. call.
Featured image: Ford President and CEO Mark Fields gives a keynote address Jan. 6 at the Consumer Electronics Show. (Sam VarnHagen/Provided by Ford)
Share This: