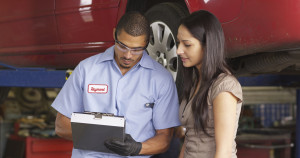 It's not you, it's me. Turns out that might actually be true with problem employees.
A hypothetical body shop is the subject of a valuable column republished in Forbes that advises owners their business' systems are likely the real reason why an employee gave a customer poor service.
"You may see something like the following:  your cashier's disorganized, doesn't have proper change, doesn't have her computer turned on at the beginning of her shift–in time to serve … the first customer who walks up to her–can't find a pen for you to sign the credit card slip," writes contributor Micah Solomon, author of "High-Tech, High-Touch Customer Service."
Instead of going ballistic or having a "witch hunt," Solomon advises the owner actually look at what they've taught the cashier to do. Perhaps her shift should start a half-hour before the shop opens so she can get her "game face" on mentally and run through a checklist — another tool he suggests — to make sure her station is prepared.
You should also encourage your staff to ask for help, Solomon writes, using the example of the Mayo Clinic, where doctors aren't viewed as inferior for seeking an answer they don't have. (It's kind of alarming to think that non-Mayo doctors were winging it like that.) For a similar example from the automotive world, recall the famous discrepancy between Japanese and American assembly lines. The Japanese encouraged workers to halt the process to point out a defect worth fixing, but American workers faced pressure to keep the line moving no matter what — the QC guy would handle it. Guess which cars were more reliable.
Solomon writes about customer service, but the same principal would seem to apply to your "back-office" crew as well. Flipping out will make you feel good, but it'll either keep them from taking desirable initiative in the future or from asking for assistance on a repair to avoid your wrath.
Besides, with the labor shortages in the collision repair industry, can you really afford to drive off employees unjustly?
And after all that, if you truly hired someone who's not up to the job and must be fired, that's probably still on you — not them, writes Solomon, who offers suggestions about hiring better customer service folks in another Forbes piece. Like this column, some of his hiring advice applies to back-office staff too.
More information:
"Want to provide better customer service? Fix your customer service systems"
Forbes, Feb. 4, 2015
Featured image: Encouraging your staff to seek help can lead to better customer service, Forbes columnist Micah Solomon writes. (viafilms/iStock/Thinkstock)
Share This: