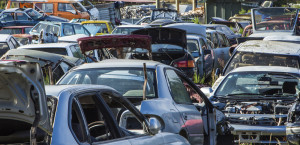 ARA sues Takata over air bags in a first for salvage industry; replacement bags possible — but inconvenient
By on
Associations | Legal
Correction note: Repairer Driven News has edited the original version Feb. 26 to correct and provide greater clarity into what options have been available to auto recyclers in the past.
The Automotive Recyclers Association last week sued Takata and automobile manufacturers over the recall of millions of vehicles with flawed air bag systems in what the salvage association's CEO said was a first for his industry.
Takata declined to comment on the case.
Even if the lawsuit isn't successful, the recyclers are at least guaranteed new air bags — though it could be a hassle to get them.
The National Highway and Transportation Safety Association said any of the more than 7 million recalled vehicles — whether road-worthy or in a salvage yard for conversion into recycled parts — affected could still be taken to a dealership for a replacement.
"Manufacturers choose how they remedy vehicles," the agency wrote in an email response. "In this case, Takata has chosen to repair the affected vehicles by replacing inflators or air bag assemblies (and not repurchase).  Salvage yards have the option as with any owner to take their cars to the dealers to have them repaired."
Takata, however, is not buying back the air bags — as General Motors did in the case of its defective ignitions (see this Automotive News coverage for details) — from the yards themselves. The NHTSA said vehicle and parts manufacturers are not required to take that kind of action in a recall.
It's also unclear if just the air bag system itself can be taken to a dealership for a replacement, something that would save recyclers a huge expense in transport costs and dealership awkwardness– though it entails its own hassle in terms of pulling the air bags. (Though it might be worth it given the cost of an air bag.)
Association CEO Michael Wilson wasn't sure, and queries to the NHTSA, Takata, and Honda — the automaker with the most vehicles affected by the recall — Friday afternoon on this point were unreturned.
Wilson said that past recalls of parts have treated automotive recyclers in a variety of ways in the past, but there's no guarantee it'll happen, and no consistency when it does.
In a follow-up email, he gave a few examples of how salvage yards and manufacturers have handled recalls on top of the GM practice discussed above:
Toyota's Tacoma recall: A few years ago, Toyota recalled the entire Tacoma truck in some cases. More than 400 members of the Automotive Recyclers of Canada bought the vehicles and stripped them down to the viable parts, getting inventory as well as ensuring the faulty Tacomas weren't driven again.
Toyota also contracted with one large salvage outfit in America to take a similar action.
Chrysler visits: Chrysler in its pre-FCA days once came out to recycling yards and switched out recalled minivan latches.
New "in-box" part shipped: Wilson said that he also found a reference that a manufacturer — he thought it was Fiat but couldn't be sure — shipped recyclers a brand-new part if they returned a recalled one.
The lawsuit alleges that Takata and the auto manufacturers misled auto recyclers who bought vehicles with Takata air bags into thinking the "now worthless" air bags were fine and could be resold, according to an association news release.
"The failure to properly disclose the defect caused the Automotive Recyclers to purchase vehicles containing the Takata airbags for amounts greater than their worth," the release states.
The complaint alleges that Takata knew about the defect since 2004.
Asked why auto manufacturers were included in the case, Wilson declined to comment as the case was under litigation.
Wilson said he didn't know if particular members notified notifying parties, such as collision repairers, who'd purchased the air bags from their recycling centers, nor did he know what had been done in the past.
Parts tracking
Part of the problem, he said, was that part numbers aren't always available. So while VIN numbers on the finished vehicle can be checked — and even that was a recent federal initiative.
"There's not the full information," he said.
This was a recent concern of collision repairers, who'd worried there was no way to tell if a replacement air bag installed after a wreck had been recalled or not. Some manufacturers using Takata recently reassured the Society of Collision Repair Specialists that all model years that could accept the air bags were included in the recall. The NHTSA told Repairer Driven News a similar thing.
Wilson said his association was taking an increased look at the issue and attempting to gain cooperation from different industries on tracking part numbers. That way, a particular component could be followed its entire life, rather than simply through the VIN numbers of the vehicles into which it is or could be installed.
Something of that magnitude would require "all stakeholders rolling up their sleeves and working together," he said.
That'd be a useful way for collision repairers and parts distributors to evaluate their inventories as well, and for any party who isn't a manufacturer to disseminate recall information to customers for an added level of safety.
Technically, only vehicle manufacturers are required — except for the unusual case of Takata, in which the actual parts maker was mandated — to notify users of an automotive part recall, according to the NHTSA.
Lawsuit detail: Contact ARA attorneys Kessler Topaz Meltzer & Check LLP at 888-299-7706, 610-667-7706, or info@ktmc.com. 
For a list of recalls, visit www.ktmc.com/takata-airbag-recall or this NHTSA October 2014 list. Vehicle owners should also check the NHTSA's VIN and other recall databases.
More information:
"Automotive Recyclers Association announces class action filed against Takata Corporation regarding airbag recall"
Automotive Recyclers Association, Feb. 9, 2015
The Automotive Recyclers Association last week sued Takata and automobile manufacturers over the recall of millions of vehicles with flawed air bag systems in what the salvage association's CEO said was a first for his industry. (GordonImages/iStock/Thinkstock)
Share This: