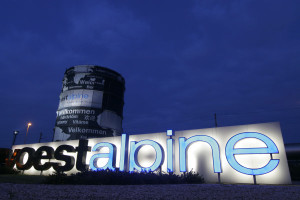 "They taught us in engineering school this was impossible." — Alois Leitner, Voestalpine AG
Voestalpine AG welder Alois Leitner has created a process for welding steel and aluminum, the Wall Street Journal reported Feb. 9, yielding what the newspaper described as "a Holy Grail for big metals and auto companies."
The technique, called cold metal transfer, uses torches at a heat that only melts the aluminum and argon gas to prevent oxidation. Zinc on the steel joins it to the aluminum and special solder, the newspaper said.
Voestalpine told the Journal the process costs double or triple the amount of just using the kinds of rivets and glue used in today's vehicles, but it wants to knock a third off the cost so it can sell it to luxury car manufacturers.
Audi was the first to approach Voestalpine about combining "materials like steel and aluminum or fiber-reinforced plastics," the company told the Journal.
There are a few thousand spot welds in a compact car alone, Department of Energy auto manufacturing researcher Zhili Feng told the newspaper.
"Every extra weld adds cost," he said. "If you could have a hybrid part, the welds have to be made with high quality and cost-effectively." Hybrid steel-aluminum parts "are something everybody is working on," said Mr. Feng. "Nobody has really figured out what is the best technology to weld aluminum to steel. Right now, it is a wide open field."
Honda has also announced it can weld steel to aluminum, but the Journal noted "its application so far has been limited." In 2012, Honda said it would use friction stir welding to connect the metals on the subframe of the 2013 Accord. In 2013, it announced it used a variety of techniques to join steel and aluminum on Acura RLX door panels.
Mazda announced back in 2005 it was the first to try combine the two, usinga friction heat process that linked the trunk lid and bolt retainer (contain your excitement) for the 2006 Mazda MX-5.
Here's a little bit more on aluminum-steel welding from ESAB.
More information:
"The Holy Grail of Welding: Steel + Aluminum"
Wall Street Journal, Feb. 9, 2015
Featured image: Voestalpine AG welder Alois Leitner has created a process for welding steel and aluminum, the Wall Street Journal reported Feb. 9, yielding what the newspaper described as "a Holy Grail for big metals and auto companies." (Provided by Voestalpine)
Share This: