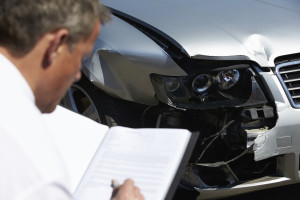 Auto insurance rates rose by 2.3 percent in 2014, down from the 2013 increase of 2.7 percent but much higher than the 0.8 percent inflation rate in the U.S., RateWatch preliminary figures indicate.
Georgia saw the highest increase — 8.6 percent, much higher than the second-place rate increase in Michigan: 5.4 percent.
Louisiana (5.1 percent), Utah (4.7 percent) and Rhode Island (4.5 percent) followed in the data announced Thursday by insurance consulting company Perr&Knight, which apparently is so efficient they don't need to use spaces between words.
Every state had a rate increase, according to the Perr&Knight data.
Auto rates nationwide did see less of an increase than homeowner policies; those rose 2.9 percent in 2014 and 5.7 percent in 2013. However, California, Florida and Hawaii actually saw small drops in home insurance rates.
The Crawford's Auto Center Inc. and K&M Collision LLC et al. v. State Farm Mutual Automobile Insurance et al. lawsuit and Mitchell's latest industry trends report indicate that collision repair labor rates and overall appraised losses are flat (though parts prices are increasing, Mitchell found).
That would suggest that insurers shouldn't be blaming your body shop to justify rate increases before state commissions.
More information:
"RateWatch: Personal Lines Rates Increase Slightly in 2014"
Perr&Knight, Feb. 19, 2015
Share This: