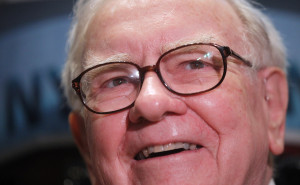 Berkshire Hathaway CEO Warren Buffett praised the growth of subsidiary Geico since its purchase in 1995 in his annual shareholder letter Saturday, noting both its savings to customers and its underwriting profits.
The company in 2013 became the second-largest auto insurer in terms of market share. Crain's Chicago Business said its dethroning (de-runner-up-ing?) of Allstate, now No. 3, came after decades of Allstate taking silver. (Read a nice column about that significance here on Forbes.)
"As a result of an aggressive advertising campaign and competitive rates, voluntary policies-in-force have increased about 39% over the past five years," Berkshire wrote in its Friday 10-K summarizing 2014 results.
Not only did Geico's underwriting business grow — it stayed profitable, according to the 10-K, unlike other insurers who feel property and casualty underwriting losses are worth it to beat competitors and obtain premium money for investment (known as "float" as it's money taken in but not immediately — or ever — paid out in a claim).
"Some insurance companies may exacerbate price competition by selling their products for a period of time at less than adequate rates. GEICO will not knowingly follow that strategy," the 10-K states.
In his letter, Buffett took a shot at property and casualty insurers in general who post a "dismal record of earning subnormal returns" because of their desire to obtain investment income at any cost.
Competitor insurers have also addressed this balancing act in discussing their 2014 revenues.
State Farm seemed more amenable to a loss leader strategy — and it's apparently paid off with the largest auto insurance market share, one much larger than Geico's.
Discussing 2014 results released Friday, State Farm spokesman Dick Luedke observed Friday that State Farm's property and casualty business had actually lost money for the last several years — with 2013 being the outlier showing a gain — but that wasn't necessarily a concern for State Farm if the company's investments did well. It could use lower premiums to court clients in the highly competitive insurance market, he said.
Allstate, on the other hand, recently implied that Esurance and Encompass losses were too high, and tougher underwriting was needed.
There's something to be said for Buffett's approach.
All of Berkshire's insurance companies posted underwriting profits and float in 2014. Geico made $1.16 billion on underwriting last year, up 2.8 percent.
State Farm's entire property and casualty business lost $939 million in 2014, and investments and other income only yielded $3.4 billion in P&C profit. The return on Geico's float — $13.6 billion float, up 8 percent — or the entire P&C section was unclear, but Berkshire's insurance investments overall made $4.36 billion.
"Looking ahead, I believe we will continue to underwrite profitably in most years," Buffett wrote. "Doing so is the daily focus of all of our insurance managers, who know that while float is valuable, its benefits can be drowned by poor underwriting results. That message is given at least lip service by all insurers; at Berkshire it is a religion."
What does this mean for your shop? Well, it means Geico is proud of how strict it's been about making a profit on underwriting instead of placing new policyholders above all else. Whether that has been driven by more conservative actuarial estimates in calculating premiums, more aggressive fraud investigation, increased scrutiny on Geico collision repairs or some other factor was unclear from the Berkshire documents.
But it probably doesn't mean arguments over repair bills will let up any time soon.
Another interesting tidbit that could affect your shop: Geico probably won't seek to use more outside claims contractors.
Berkshire doesn't say this directly in its 10-K, but it does observe Geico's "emphasis on customer satisfaction" and follows this up with "GEICO primarily uses its own claims staff to manage and settle claims."
This can cut two different ways. Outside parties handling claims might be more independent and side with repairers more than someone who works at Geico. On the other hand, an outside contractor could have even more of an incentive to put Geico's satisfaction above a policyholder's than Geico does. Geico needs to please its customers so they don't jump ship, which could lead to more discretionary wiggle room on claims handling. But an outside contractor's only real customer is Geico, and eagerness to please them with lower claim bills could lead to line-crossing behavior.
That issue was recently raised in a Minnesota investigation of AAA Auto Club Group, according to a January order by Commerce Commissioner Mark Rothman. The order found AAA agreeing to pay a fine and quit using Safelite as a claims broker to settle allegations including that Safelite was steering auto glass customers.
Safelite said it couldn't comment for insurance clients. AAA said in a statement that "We maintain the highest standards of ethics and service and expect the same from our vendor partners" and noted that no actual wrongdoing had been found.
Later today, we'll take a look at the last of the auto insurance Big 4: Progressive, which will discuss earnings at 9 a.m. on a conference call.
More information:
"To the Shareholders of Berkshire Hathaway Inc."
Berkshire Hathaway, Feb. 28, 2015
Berkshire Hathaway, Feb. 27, 2015
Featured image: Berkshire Hathaway Chairman and CEO Warren Buffett stands on the floor of the New York Stock Exchange after ringing the opening bell on Sept. 30, 2011, in New York City. (Mario Tama/Getty Images News/Thinkstock file)
Share This: