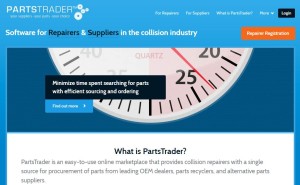 PartsTrader announced Tuesday that it had raised $30 million from a new private stock sale, and we'd thought we'd take a look at who's buying into the controversial business.
Like the majority of investors before it, the new stockholders are New Zealand companies. Parent company PartsTrader Markets Limited is based in Wellington, New Zealand, so it makes sense.
The company said the $23 million offering was oversubscribed — meaning it had more demand than supply — and so it issued another $7 million in stock.
Based on a New Zealand financial report, 1 million shares were issued, which would give a ballpark price of $30 a share.
The company has 3,270,944 shares outstanding now for a market cap of at least $98.1 million.
"We are very pleased to have received strong support from several major institutional investors during our process of raising growth capital", PartsTrader Markets Chairman Colin Bevan said in a statement. "This provides the company with a solid financial foundation, which we will utilize to execute our US business plan."
The money will be used to expand in America; invest in management and staff — which probably means more hiring; and develop and integrate PartsTrader further, the company said.
Who paid
Some of the new money has come from Todd Technologies Limited, which had been the majority shareholder in 2014 with 36.78 percent (835,319 shares), based on data from OpenCorporates. The subsidiary of New Zealand conglomerate Todd Corporation bought 150,000 more shares, according to a document filed with the New Zealand Companies Register.
Newcomers to PartsTrader included Milford Active Growth Fund, which is a New Zealand version of a money management company like Fidelity, and Accident Compensation Corporation, which is a government-founded insurance company that gives no-fault worker's compensation, worker's disability, and collision injury insurance to everyone in New Zealand.
ACC doesn't handle collision repair claims, so there's not a conflict of interest there. Nevertheless, its objective is to make money like any other investor, and so PartsTrader could face pressure to perform. It bought the largest block of the new shares, 500,000.
The Milford Fund, which bought 200,000 shares, might want even greater performance out of PartsTrader. It invests in New Zealand and Australian companies and seeks an overall return of at least 10 percent. For comparision, the Standard and Poor's ASX 200 (think the S&P 500 for Australia), has returned 8.09 percent, and the NSX 50 (sort of like the Dow for New Zealand) returned 14.26 percent for the past year, according to Yahoo Finance.
Members of the U.S. PartsTrader management team have also acquired small blocks from the new offering. Integration director Margaret Ho bought the most, 1,509 shares, followed by business development director Ken Weiss at 1,158 shares and sales director David Merrell with 1,059 shares.
Surprisingly, there doesn't seem to be any indication that CEO Rob Cooper has purchased any recently.
Other major stockholders in 2014 included New Zealand companies Gibson Sheat Trustees Ltd., which is linked to PartsTrader founders Colin and Rosemary Beven, according to a news release posted on Business.Scoop, and Grimseys Holding Ltd.
More on PartsTrader
PartsTrader does $1 billion worth of parts business a year in 48 states and has 110 employees in the U.S. It went national through its partnership in State Farm.
"PartsTrader is committed to delivering the best online parts sourcing and procurement solutions for collision repairers and parts suppliers across the US, and investing in the best people in the industry," Cooper said in a statement.  "These are the primary drivers behind the growth in discretionary use at 20% month over month."
Here's a couple of videos examining PartsTrader's impact in New Zealand:
More information:
"PartsTrader Markets Limited Raises $30MM to Drive US Growth"
PartsTrader (U.S.), March 3, 2015
Featured image: This screenshot shows the website of the U.S. PartsTrader offering. (Screenshot of www.partstrader.us.com)
Share This: