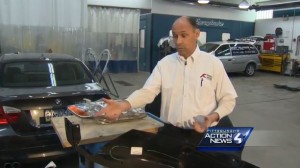 Another TV station has picked up on insurers' requirement of used and aftermarket parts, interviewing a Pennsylvania collision repairer who has raised the issue in a lawsuit as well.
WTAE featured Tim Kilkeary of Eighty Four, Pa.-based Kilkeary's Auto Body in a report this week that also raised the spectre of "steering."
The steering allegation appears strong in this case, as a customer interviewed was a repeat Kilkeary's Auto Body patron who wanted to go there again, WTAE reported.
Instead, Geico urged Adam Elias to use a "preferred provider" (presumably a direct repair program shop), according to WTAE.
"They said if you want the work to be guaranteed that's where you've got to go," Elias told the station.
WTAE said Elias was allowed to take his van to Kilkeary's after being unsatisfied with the repairs done at the other shop, and Geico covered the $4,000 cost of repairing the other repairs. (Kudos to Geico for apparently not giving Elias a hard time about the do-over at least.)
Geico wouldn't comment to WTAE.
An insurance industry group released a statement to WTAE that states: "Insurers do not have any incentive to promote the practice of using inferior or unsafe parts in auto body repair work, nor to encourage customers to utilize repair shops that do substandard work."
Kilkeary, who said he returns 90 percent of aftermarket or used parts for defects, told WTAE he fixed a fender, hood and headlight that were either aftermarket or reconditioned.
The worst offender was the fender, Kilkeary said, pointing out a hood connection with half the thickness of the OEM version.
"This is an area where an occupant could potentially be seriously injured," Kilkeary told the station. "Would you want your family or yourself driving that car with the idea that a hood could come through the windshield because the fender's put together with half the weight metal?"
Aftermarket and recycled trade groups challenged the same complaints about their parts raised in an "Anderson Cooper 360" report.
"Non-original equipment parts are as good and often, better than the OE parts they replace," the Auto Care Association said in a statement. "In fact, they are often produced by the same company, but may come in a different box.  Companies producing parts in the aftermarket often have the opportunity to correct defects in original equipment parts that are frequently only discovered once the vehicle has been on the road."
"Parts sold by professional automotive recycling facilities are recycled genuine original OEM parts that meet OEM requirements," Automotive Recyclers Association CEO Michael Wilson wrote in an open letter to the show. "They are OEM parts, designed by the OEM, and built to meet the OEM requirements for fit, finish, durability, reliability and safety. "
More information:
"Body shops say insurance companies force them to use recycled parts"
WTAE, March 4, 2015
Featured image: WTAE featured Tim Kilkeary of Eighty Four, Pa.-based Kilkeary's Auto Body in a report this week that raised a potential issue with parts required by insurers. (Screenshot of WTAE video)
Share This: