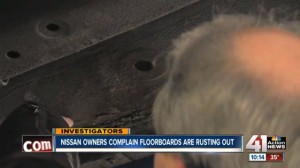 Collision repairers are back in the news again for another winter coverage angle.
This time, they're warning drivers to wash off the bottom of their vehicles to prevent salt and brine from corroding undercarriages.
The Vicksburg Post interviewed Vicksburg, Miss.-based Lee's Body Shop owner Lee Barber, who advised using an undercarriage spray wash weekly after the worst of the winter is over. He also recommended washing cars from the Gulf Coast.
Our favorite quote:
"We've had Mercedes come out of Chicago or New York and when they got it down here and raised the hood, there would be no inner wheel housing at all," Barber said.
Related RDN coverage:

Media rediscovers collision repair again; here's tips for working with reporters

How auto body shops can keep workers — and vehicles — safe from aluminum dust
A&J Paint & Body assistant manager Cody Brewer was magnanimous with Lubbock, Texas, station KCBD, advising consumers how they could avoid giving business to his Lubbock shop.
"If it gets up in your brakes and causes a breakdown, you have a brake failure which can lead to a collision," Brewer told the station. "Once it gets past your clear coat into your paint, you're going to end up in a body shop and it's going to cost you some coins."
We were curious why the galvanizing process — in which a zinc coating takes one for the team so the steel below doesn't rust — applied to the undercarriage steel wasn't enough. Columnist Joanne Will explored this and other corrosion prevention in this Toronto Globe and Mail column and found that the zinc can be chipped away by debris on the road.
Nissan
Another interesting corrosion issue raised came from KSHB's February investigation into Nissan Altimas. Consumers had complained to both the National Highway Traffic Safety Administration and the station itself that their floorboards were corroding.
Jeff Talman of Raytown, Mo., told KSHB the damage on his babied 2002 Altima was estimated at $3,200-$4,600. The rust warranty expires after five years, but Nissan offered him $1,600 — half of the cost of the cheaper estimate. Talman declined, saying he thought he could have sold the car for $6,000 without the problem he considered a defect. (Which is probably a little high, but whatever.)
"Based on the fact that this vehicle is almost 13 years old with 101,000 miles, Nissan feels the offer of 50% assistance was a fair goodwill offer to the customer," Nissan spokesman Steve Yaeger told the station.
The station's research found more than 400 similar complaints about 2002-06 Nissan Altimas to the NHTSA. The agency doesn't consider it an issue since regular inspections can tell there's a problem.
"Presently Nissan does not have any recalls or service campaigns involving floorboard rust issues on the Altima," Yaeger said, according to the station.
However, auto safety expert Bill Williams called the model-specific complaints "high," according to KSHB. He said that kind of corrosion posed a risk to passengers.
"It's a safety risk for not only carbon monoxide but also if you're in a collision, the seat that's not being supported correctly could actually move," he told the station. "Your feet could go through Flinstone style and injure somebody. There are a number of ways this could become a safety issue."
Featured image: Another interesting corrosion issue raised recently came from KSHB's investigation into Nissan Altimas. Consumers had complained to both the National Highway Traffic Safety Administration and the station itself that their floorboards were corroding. (Screenshot of KSHB video)
More information:
"Nissan owners feel road rage, express safety concerns over rust problem hiding beneath their feet"
KSHB, Feb. 9, 2015
Share This: