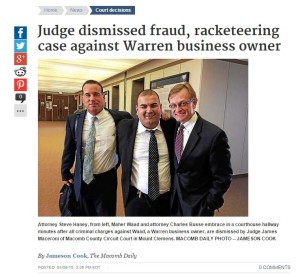 Daily: Racketeering case dismissed against Mich. collision repairer
By on
Insurance | Legal
All fraud and racketeering charges brought against an auto body shop owner were tossed Monday by a Macomb County judge who said the case "should have been dismissed" earlier, the Macomb Daily reported.
"The truth came out," Marks One Collision owner Maher Waad told the newspaper. "I believed in God that the truth would come out."
Judge James Maceroni dismissed the six counts of false pretenses and a racketeering charge, calling the evidence "simply not there," according to the newspaper.
The Daily said that Judge Dean Ausilio sent the case to Maceroni from the 37th District Court though he was concerned about the prosecution's "reliance in making charging decisions based upon an obviously flawed, self-serving investigative report prepared for (police) by an insurance company … without a full unbiased, and independent investigation."
However, he was also "stunned" by Waad's alleged business practices, according to the newspaper.
Maceroni said there was no proof Waad even knew about the activities of which his company had been accused, according to the Daily. Waad told the newspaper he's hired more managers and has been giving his business greater scrutiny since the case.
Waad's attorney said the whole case was just a civil billing dispute and details given to police by Farmers might have been retaliation for Waad's federal lawsuit alleging defamation, discrimination and steering by the company and three other insurers , the Daily reported.
Farmers said it doesn't comment on pending litigation.
More information:
"Judge dismissed fraud, racketeering case against Warren business owner"
Macob Daily, March 9, 2015
Featured image: Auto body shop owner Maher Waad is seen at center in this screenshot of the Macomb Daily's coverage of his charges being dismissed. (Screenshot of Macomb Daily website)
Share This: