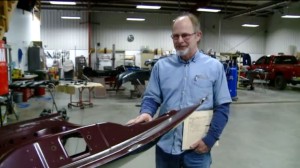 Indiana auto body industry blasts car insurers in WXIN report
By on
Insurance | Legal
An Indiana television station has also taken a look at the controversy over alleged "steering" by insurers.
WXIN also mentions the lawsuit brought by Indiana collision repairers, Indiana Autobody Association, Inc. et al v. State Farm et al, in its Wednesday coverage.
In a shift from other reports highlighting alleged substandard parts mandated by insurers, the WXIN coverage gives an example of a dispute between a plaintiff in the lawsuit and an insurer on whether to repair or replace.
Carl Thurman of Elettsville, Ind.-based Thurman's Body Shop, gave WXIN an example of a part he said he thought should be replaced. The insurer disagreed, he said, calling for it to be fixed. When he refused on safety grounds, the insurer demanded the policyholder go to another auto body shop, according to Thurman.
Ultimately, the customer opted to pick up the difference in cost to have it replaced by Thurman, according to WXIN.
"You gotta draw the line and do the right thing," he told WXIN. "… This is not an isolated case. This happens in every reputable repair shop in every state."
WXIN also interviewed Indiana Autobody Association Executive Director Tony Passwater, whose organization is the title plaintiff in the case.
"Everybody is constantly pressured not to use manufacturer's procedures, not to repair the vehicle properly, not do this, not do that, use inferior parts, and as a result, the consumer is the one that's actually harmed," he told the station.
State Farm responded to the allegations in a statement to WXIN:
"The allegations in the lawsuit are not in line with State Farm's mission to serve the needs of its customers, and our long, proud history of achievements in advancing vehicle safety. …
"Our customers choose where their vehicles are going to be repaired.  We provide information about our Select Service program while at the same time making it clear they can select which shop will do the work.
"A vibrant, profitable auto collision repair industry is in the interest of State Farm.  At the same time, we are advocates on behalf of our customers for reasonable repair costs."
More information:
"Body shops accuse insurers of 'steering' customers away"
WXIN, March 11, 2015
Featured image: Carl Thurman of Elettsville, Ind.-based Thurman's Body Shop can be seen in this screenshot of WXIN video. (Screenshot from www.Fox59.com)
Share This: