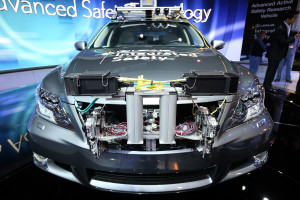 Fully self-driving cars, which might ultimately threaten the collision repair business, might burn more gas than a car with a fallible human driver, Bloomberg reported Wednesday.
Bloomberg's hypothesis relies on a recent University of Michigan study that found self-driving cars would rack up more mileage than regular cars. Hence, Bloomberg argued, more gas use.
The study by Brandon Schoettle and Michael Sivak of the Michigan Transportation Research Institute examined U.S. National Household Travel Survey data to conclude that autonomous vehicles mean fewer cars but more miles.
Schoettle and Sivak used fully autonomous vehicles — driving the whole trip themselves — though it's also been hypothesized that at least for a while, the self-driving cars would be more useful for bumper-to-bumper traffic situations and long, boring highway drives.
Americans aren't great about sharing trips, according to the researchers and Bloomberg. Eighty-four percent of the time, only one family car is in use, Schoettle and Sivak found.
This coupled with fewer cars — "the most extreme scenario" cuts household cars from 2.1 to 1.2 — means more miles, according to Michigan's news release.
This is because a car "might drop off one parent at work, return home to pick up the other, and then take the kids to school, return home, then start the return cycle," Bloomberg explained.
And each car — or car and a fifth — would increase its mileage from 11,661 to 20,406 miles a year.
"It could be that sharing the vehicle ends up increasing the mileage because of all these connecting trips," Schoettle told the news service. "The net effect is probably going to be an increase in mileage, and in general the more miles you drive the more fuel you burn."
What ends up happening is that the family ends up breaking even on mileage despite going down to 1.2 cars.
2.1 X 11,661 = 24,488.1
1.2 X 20,406 = 24,487.2
And then the car still has to return home after every trip, meaning more mileage and gas. Congratulations, you're officially a villain on "Captain Planet."
That's also good for general auto service folks, though maybe not as applicable to collision repair unless an auto body shop does that too. More mileage means more oil changes, fluids to check and more things to fix sooner.
Of course, as we've examined before, self-driving car sensors can be expensive to fix when they are damaged, which could mean that the collision repair industry will have something profitable to do even if there are fewer crashes.
Before we in the media all get too excited about the Michigan study, it's important to understand that this is a scientific model.
"The researchers say their results represent strictly an upper-bound approximation of the maximum possible effects of self-driving vehicles on reductions in household vehicle ownership, given several unknowns: sufficient gaps between trips, acceptance and adoption of autonomous vehicles and possible vehicle-sharing strategies within households," the university says in its news release.
Also, while self-driving cars might boost overall mileage, their fuel economy within that mileage could be better than with your lead foot on the pedal. Bloomberg pointed out a University of Texas study that found "shared autonomous vehicles" would use 12 percent less gas than a regular car.
Bloomberg, citing Schottle, noted that self-driving cars save more gas by not slamming on the brakes. Bloomberg also pointed out that the self-driving car could find parking spots or avoid traffic better than you could. So in the near-term, if self-driving cars are indeed activated during gridlock, you could still come out ahead on gas.
Electric cars
Well, none of this applies to me, you might think. I'll just get an electric self-driving car and then have it drive me to collect my Nobel Peace Prize.
Yes, but that car's electricity could come from environmentally unfriendly factors such as fracking or coal, according to Climate Central, which cited a University of Toronto study that found electric vehicles wouldn't fight climate change without carbon-cutting work on the energy grid itself.
"If it's charged on electricity generated using coal, it might prove as bad or worse for the climate than burning gasoline," the report states, referring readers to a map where electricity is "green" and where it's not.
"Over the years, I've looked at a number of studies that have considered electrification — replacing fossil fuels technology with an electric version of it," paper author Christopher Kennedy told Climate Central. "An electric car has to be driven in a city or a region or a state where carbon intensity is less than 600 tons."
The research found America is on average at 500 tons of carbon emissions per gigawatt-hour, according to Climate Central. Kennedy said countries should keep it at 600 or lower by 2020 to meet a goal of keeping global warming down, Climate Central said.
More information:
"Dirty Downside to Driverless Cars Revealed in Study"
Bloomberg, March 11, 2015
Driverless vehicles: Fewer cars, more miles
University of Michigan, Feb. 11, 2015
"Cleaner Power Needed to Make Electric Cars Greener"
Climate Central, March 10, 2015
"Key threshold for electricity emissions"
Nature, Feb. 25, 2015
Featured image: A Lexus LS Integrated Safety self-driving car is displayed at the Lexus booth during the 2013 International CES at the Las Vegas Convention Center on January 8, 2013 in Las Vegas. (Justin Sullivan/Getty Images/Thinkstock) 
Share This: