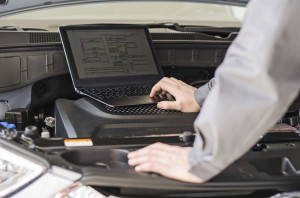 Canada's No. 1 car insurer and Volkswagen will participate in a panel on automaker-insurance partnerships during an April telematics summit — a concept that could make collision repairers uneasy at the implications.
The combination was announced Wednesday by Insurance Telematics Canada Conference organizer TU Automotive.
Volkswagen will send on-board diagnostics communication expert Robert Gruszczynski as a panelist, and Desjardines will provide usage-based insurance chief product manager Alex Veilleux.  Canadian Automated Vehicles Centre of Excellence Executive Director Barrie Kirk will also be a panelist.
"To welcome Volkswagen to Insurance Telematics Canada – the first ever automaker to comment on the Canadian UBI market – is something we are also very excited about," conference project director Jack Palmer said in a statement. "… (I)t is testament to the progress that Desjardins are making in the usage based insurance space that they are willing to join the panel session and speak about concepts so future-focussed as driverless cars and insurance."
The news release highlights the General Motors OnStar partnership with Progressive in America as an example of the shifting responsibilities of auto insurance. Find out more about that and a similar experimental initiative by Ford here.
"As the penetration of usage based insurance in Canada continues to grow, the community is asking themselves what auto insurance will look like in 2020 and beyond," the release states. "Amongst the considerations is whether partnerships between automaker and insurers can also be expected in Canada.
TU's news release said the panel will discuss the following:
"Look into the future! Discover what the insurance telematics ecosystem will look as announcements between automakers and insurers (e.g. GM-Progressive in the States) spread to Canada in the next 2-3 years. Find out the prospects for technology and telco players to shake up the landscape … "
"Today vs. The Connected World Utopia: Future proof your insurance offerings by planning for products that work in sync with connected car platforms … "
"Track the trend towards autonomous technology and get an insight into the effect that driverless cars will have upon insurance and liability of vehicles"
Why should Canadian and U.S. collision repairers be concerned about insurers and OEMs pairing up on telematics? Here's a few reasons; find others here:
Collision repair and telematics
Though there are some general concerns about rates based on driving records, which we'll get to shortly, the growth in instant diagnostic information through telematics — as Ford is examining and GM will provide for Chevrolet drivers — could have the greater impact on the auto body industry.
First, the obvious benefits: More sensors in more places mean there's more things to repair after a collision. Accident avoidance technology already has been shown to reduce crashes but has the potential to increase repair bills when they do happen. (For more on this topic, see these comprehensive analyses in Property Casualty 360 and Status Report.) More diagnostic telematics — assuming companies work in more technical data than whether or not the oil could use a top-off — also could lead to auto technicians having an easier time deducing what exactly needs to be fixed.
The downside: More data is also available to insurers, allowing someone at a desk in Omaha to call a vehicle in Los Angeles a total loss based on the computer feed without an auto tech even seeing it. Crashboxx, for example, claimed its DENT telematics technology would do this, noting that insurers can save $1 billion industrywide by cutting an average $325 cost associated with towing a car to a body shop only to have the damage estimated at a total-loss level there.
Driving record and repairers
Getting insurance based on a telematic driving record has more implications for the customer than the repairer, but we'll attempt a look at it at some factors that affect both. (Also, check out this SAS white paper's excellent overview of telematics and insurance.)
Here are a few things to consider:
More conscientious drivers mean fewer crashes. Good for safety, bad for collision repair.
We'd have proof of how a crash occurred. Cops with a subpoena are likely going to get this information (see an example from Progressive here), and it's possible insurers would share it when reconstructing a crash between their clients to see who is responsible for more of the bill. On the plus side, if the authorities can use it to ID an insured hit-and-run driver who hit a high-deductible driver, the victim could suddenly have an influx of settlement and liability money to do collision repairs they might have otherwise avoided.
Safer drivers are pushed into 'lower' rates. These end up being high-deductible, low-coverage. Auto body shops lose business, and consumers find out their insurance isn't going to cover what they thought it did. This was discussed by Repairer Driven News further in this piece analyzing the impact of Google getting into the insurance-comparison business.
Featured image: Though there are some general concerns about rates based on driving records, the growth in instant diagnostic information through telematics — as Ford is examining and GM will provide for Chevrolet drivers — could have the greater impact on the auto body industry. (DmitriMaruta/iStock/Thinkstock)
"TU-Automotive: Desjardins and Volkswagen Pair Up To Discuss the Potential of Insurer-Automaker UBI Partnerships in Canada"
Share This: