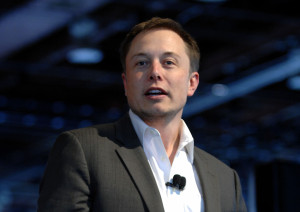 Tesla CEO Elon Musk said advances in self-driving vehicles could lead to the government outlawing humans driving their own vehicles, according to a Tuesday report in Forbes. If he's right, that's bad news for collision repair demand — but not for a couple of decades.
Musk described this safer but less interesting driving future in an interview with Nvidia CEO Jen-Hsun Huang at the GPU Technology Conference, according to the piece by contributor Robert Hof. Artificial intelligence advances will make HAL better at driving in all scenarios than Dave and Frank, Musk said.
"In the distant future, people may outlaw driven cars because it's too dangerous," Musk said, according to Hof. "You can't have a person driving a two-ton death machine."
It's still more than 20 years away by Musk's estimate before the current fleets are mothballed, and regulators still have to be sold on the idea, according to Hof. Musk also pointed out that 30-40 mph grey zone in the suburbs is problematic for autonomous cars, though he's confident it'll get cracked, Hof wrote.
That ought to at least get the current wave of collision repairers through to retirement. Plus, while the computer might be smart enough, there's still the hurdle of sensors getting obscured by weather and debris, which could still yield enough crashes to keep the industry in business (though if the cars "talk" to each other, that might not be as much of a problem). And if nothing else, there's always other types of damage– you can't AI away falling limbs, darting deer, car door dings, hailstorms and your angry ex keying your car.
After Musk's comments blew up on the Internet, he issued this tweet Wednesday: "To be clear, Tesla is strongly in favor of people being allowed to drive their cars and always will be. Hopefully, that is obvious."
Hof noted Musk also created "arguably one of the most fun-to-drive automobiles around" — possibly a reference to the 3.2-second 0.60 "Insane Mode" of the Tesla Model S P85D described here by Road & Track.
You can see a pretty funny DragTimes video of people reacting to "Insane Mode" here (contains explicit language):
More information:
"Tesla's Elon Musk Thinks Cars You Can Actually Drive Will Be Outlawed Eventually"
Robert Hof in Forbes, March 17, 2015
Featured image: Tesla CEO Elon Musk talks about the Model S electric vehicle during the press preview for the world automotive press at North American International Auto Show in Cobo Center on Jan. 12, 2010, in Detroit, Michigan.(Bryan Mitchell/Getty Images News/Thinkstock file)
Share This: