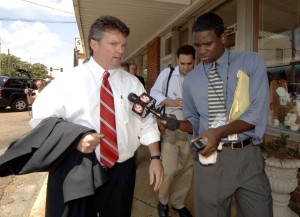 Business Journal: Miss. AG asks Holder to investigate car insurance 'steering,' parts allegations
By on
Insurance | Legal
Echoing an earlier call by a U.S. senator, Democratic Mississippi Attorney General Jim Hood has requested an investigation into alleged car insurance "steering" and parts requirements, the Mississippi Business Journal reported Thursday.
Repairer Driven News is attempting to obtain a copy of the letter.
According to the Business Journal, Hood wrote that "insurers are implementing programs which require the use of after-market parts or re-manufactured parts, without disclosing the use of such to consumers and in spite of the fact that such parts are not of the same like, kind and quality of the original equipment manufacturer. This practice risks both the safety of the consumer, as well as the integrity of any vehicle warranties that the consumer may have otherwise."
Hood also said non-direct repair program body shops had complained about being pressured to use State Farm's PartsTrader service, according to the newspaper.
"Body shops have reported to my office that they are pressured into accepting bid from Parts Trader for after-market or remanufactured part that are unsafe and far below the quality of the original equipment manufacturer," Hood wrote, according to the Business Journal.
Contacted for comment by the Business Journal, State Farm said in a statement: "Our customers choose where their vehicles are going to be repaired. We provide information about our Select Service program while at the same time making it clear they can select which shops will do the work."
The Business Journal said that Hood's letter brings up the 1963 Consent Decree, also raised by U.S. Sen. Richard Blumenthal, D-Conn., in a letter dated Feb. 13. Blumenthal asked Holder to see if the agreement between the government and insurers still applies — particularly as it relates to complaints auto shops have today about insurers.
"Consumers and auto repairers possibly remain victims of the very same misconduct insurers were directed to stop doing decades ago," wrote Blumenthal, who along with Hood was featured in a controversial "Anderson Cooper 360″ report challenging insurers for allegedly mandating shoddy parts to save money.
Mississippi case response due today; more time sought
The steering issue was raised in Capitol Body Shop, Inc. et al v. State Farm Mutual Automobile Insurance Company et al, which had been dismissed with a chance to refile a more detailed lawsuit by today. The multiple shops in the case have requested the deadline be pushed back until March 30; Geico has challenged the extension, the only insurer to have done so.
John Mosley, the owner of plaintiff Clinton Body Shop is running against Hood's capital colleague Insurance Commissioner Mike Chaney in the Republican primary. Find out more about him here and in the Business Journal's look at his campaign.
"Hood asks U.S. for probe of 'steering' of customers by insurers"
Mississippi Business Journal, March 19, 2015
Featured image: Democratic Mississippi Attorney General Jim Hood, left, talks to a news reporter as he leaves the Neshoba County Courthouse in the first day of jury selection in the trial of Edgar Ray Killen on June 13, 2005, in Philadelphia, Miss. (Marianne Todd/Getty Images/Thinkstock file)
Share This: