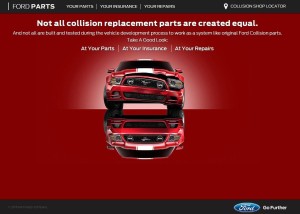 Editor's note: We updated this story Monday and Tuesday for expanded clarification from Honda and Assured.
Recent moves by Ford and Honda to stress certain auto body shops carries both risk and reward for the collision repair industry.
On Friday, Honda announced the official launch of ProFirst, which was open to any auto body shop designated as an I-CAR Gold shop or achieving the VQ or Medallion benchmarks of VeriFacts.
Ford, meanwhile, is ramping up its promotion of original equipment manufacturers parts and Ford-recommended collision repair shops with the "Take a Good Look" campaign and website.
And in this vein, OEM-partnering Assured Performance is now touting its list of recommended shops to insurers.
Automaker recommendations of which shops meet their standards could evoke "steering" concerns like some collision professionals have raised about repair program lists, whether it's an emphasis on dealerships over independents or on underpriced repair bills that make ownership costs of OEM vehicles seem cheaper. It also could strain small shops who despite being just as competent as list members as might not be able to afford the time and money of jumping through certification hoops for numerous OEMs.
On the other hand, a list of shops from an automaker might provide an alternative to controversial insurer recommendations from a voice whose interests are even more aligned with collision repair's. A manufacturer likely has a greater stake in the car's brand and performance — not to mention OEM parts revenues — than an insurer does. Such marketing could also ensure that shops are rewarded for the time and expense they sunk into preparing for more complex OEM vehicles through a highly prominent advertisement of quality.
Take a look at the different programs and decide for yourself:
Honda
To make the ProFirst cut, the shop must also take Honda-designed courses through I-CAR and have certain equipment and a Customer Service Index system. There's also a $2,700 annual fee and inspections by Axalta Coating Systems.
"No brand earns more Top Safety Pick awards than Honda," Honda parts and service assistant vice president Steve Osborne said in a statement. "It is only logical that we support safe and proper collision repair of our customers' vehicles and that we identify repair shops that are certified to possess the necessary skills, training and equipment to perform those repairs."
For the money and time, you'll make the Honda-Acura body shop locator and get all Honda and Acura service data and parts catalogs, free access to the Honda technical help line, and promotional items.
Honda is keeping it elite in certain metro areas, limiting the number of shops which can receive the designation.
"We want to make sure that there are enough shops in that area to service those cars, but not so many shops that it dilutes the ProFirst brand," Honda spokesman Gary Ledoux, who was in New Jersey for the Northeast trade show, wrote in an email Sunday.
Honda will not require Honda or Acura buyers to use ProFirst shops, though they'll of course suggest those collision repairers, according to Ledoux.
"We will be promoting the ProFirst shops to all Honda and Acura owners," he wrote. "It is their right to choose the shop they think is best for their needs."
The Honda Collision body shop locator tied to ProFirst emphasizes OEM parts, but ProFirst shops won't be required to use them, though "We always advocate for the use of Honda / Acura Genuine parts," according to Ledoux.
That will allow ProFirst shops to work for Honda or Acura owners whose insurance requires aftermarket or recycled parts, as well as satisfy DRP partner mandates or even a customer's own wishes.
Still, the existence of such information tied to the body shop locator is probably a positive for shops who have complained about insurers' requirements of aftermarket and salvage parts. On the negative side for shops who opt to join DRPs, Honda does imply that their work could be tainted by the shops' contract with insurers, though it also notes "many quality shops have DRP relationships, and they may add convenience."
Unlike recent partnerships with other manufacturers — notably, Ford on aluminum F-150 training offerings — to develop course material together, the two ProFirst classes were prepared exclusively by Honda. That was a first for I-CAR, which has its own Honda-Acura class. Read more about the classes here.
Details and applications: profirst@ahm.honda.com.
Ford
The "Take a Good Look" campaign, launched this year and discussed in this "On Target" newsletter to wholesalers and collision repairers, is meant to stress the value of original equipment manufacturer parts to customers — over perhaps what an insurer wants.
"Most people in the industry know that the right parts for any vehicle are the OEM replacement parts made by the vehicle manufacturer," Ford wrote in the newsletter. "With so many different aftermarket parts available, Ford realized that people needed to be educated about why the right parts matter."
The site's "Your Parts" section spells out what different designations of parts could mean on a consumer's estimate, noting:
Here's a list of items you don't want to see on your estimate if you want to keep your Ford a Ford:
A/M – Aftermarket / Automotive replacement parts
QRP – Quality Replacement Parts
CP – Competitive Parts
LKQ – Like Kind and Quality
Salvage
Reconditioned – Recon
Recycled
Apparently, they're excluding Ford-reconditioned parts, such as remanufactured powertrain components.
It also notes: "Some body shops will list original parts that are salvaged from a vehicle as 'OEM,' or even 'recycled OEM.' You don't want parts that might have been damaged or compromised in a collision put into your vehicle."
Ford also on that page doesn't tie their statements to the fact that some of these parts are insurer-mandated, implying that a shop is trying to pull a fast one.
Here's a Ford promotional video discussing the parts issue:
The Ford campaign doesn't bring up DRPs aside from observing on its "Your Insurance" and "Your Repairs" pages: "You don't have to use a body shop your insurance company recommends," "No one—not even your insurance company—can force you to go to a specific shop, so don't commit to any place unless you're comfortable," and "Ask the shop about their stance on using OEM parts."
It also asks customers to press insurers on whether or not the policy includes OEM parts and if a rider specifying that is available. (It's sad that you'd have to ask, particularly on a new vehicle, but never mind.)
Messages left for the Ford spokeswoman in charge of dealerships (and the contact for service and repair questions like this, according to another Ford staffer) were unreturned Friday.
Assured
An emphasis on what shop an OEM thinks you should use was also displayed recently by Assured Performance's launch Feb. 23 of the insurer-facing Advance Repair Capability shop locator.
Shops on this database, which joins Assured's Auto Body Locator for consumers, are certified by Assured and recognized by Assured's OEM partners: a handful of the major makes. Getting Assured certification grants you OEM certification for all the partners at once.
"This is critical as new vehicles are introduced, more often in the future, not every shop will have the capabilities to repair each new model vehicle even though they may be qualified to repair most," Assured wrote in the news release. "This site helps insurers to identify which shops are capable for which repairs."
As the Assured requirements don't include OEM parts, the certification won't address shop-insurer sticking points like parts and labor — merely qualifications for repairs. However, that also means it won't exclude anyone whose parts decision is taken out of their hands by an insurer or customer's wishes.
"With the mass introduction of aluminum alloy, and other advanced materials in the designs of the new vehicle models, it is critical to assist insurers with identifying the shops that have the technical ability;" Assured technical compliance Vice President Aaron Clark said in a statement. "We've already seen evidence of what can happen when an untrained and ill-equipped shop is selected."
Featured image: Ford, meanwhile, is ramping up its promotion of original equipment manufacturers parts and Ford-recommended collision repair shops with the "Take a Good Look" campaign and website. (Screenshot from www.takeagoodlook.com)
Share This: