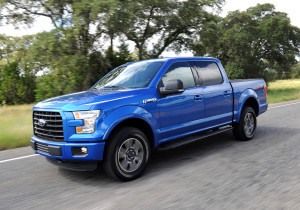 Automotive News: Year needed to adjust insurance rates for aluminum F-150
By on
Insurance | Technology
Insurance rates — right now unchanged — for the 2015 F-150 might shift in about a year as insurers obtain enough data to accurately take into account aluminum collision repair, Automotive News reported Monday.
Right now, insurers charge what they did for the 2014 model year because there's no good data sets out there, the publication said. Ford didn't even reach full production capacity until about a week ago.
About 72,000 2015 F-150s have shipped so far, according to the publication's Data Center.
Say what you will about insurers, they don't like anecdotal decisions (would that politicians felt the same); hence a year at least of the same premiums until a robust data set is obtained, according to Automotive News.
Consumer Reports found insurance is only 10 percent of the five-year cost of ownership, and so whatever the F-150s rates ultimately become shouldn't deter consumers, Automotive News concluded.
But it's good that insurers aren't simply taking Ford's word that the costs will hold steady. Collision repairers are going to want to recoup costs of obtaining the aluminum equipment and expertise necessary to fix the car, something that Automotive News hinted at here: "Ford is confident that insurance premiums for the new pickup will be similar to those for the steel model, even though some parts costs are higher, aluminum repair techs require special training and special repair equipment is needed."
It provided Consumer Reports data that found less than $200 difference between fixing a front door on the 2015 and 2014 Crew XLT. (Editor's note: An earlier version of this story cited incorrect Automotive News information about fender price differences; Automotive News has since corrected its story, and we've removed the erroneous reference.)
Automotive News also quoted State Farm spokesman Dick Luedke, who said there was "no significant change" in premiums between the aluminum 2012 Audi A6, 2004, Jaguar XJ and 2013 Range Rover than the previous steel model year. Presumably, that means it wasn't significantly adjusted after insurers compiled a year of data.
Resale value
Some of these points were supported by a Bloomberg March 12 article reporting that TrueCar estimated the resale value of the 2015 F-150 (a four-wheel drive SuperCrew XLT) would be 58 percent of purchase price after three years. The 2015 Toyota Tundra would still be No. 1, worth 63 percent after three years, according to TruCar.
The 2014 F-150 would only be worth 52 percent of sticker price in 2017, Bloomberg reported, citing an interview with TruCar ALG industry insights Vice President Eric Lyman.
Lyman said the move to aluminum Jaguars set the precedent for that analysis, according to Bloomberg.
"We are giving credit for the aluminum construction in the fuel efficiency we're seeing," Lyman told Bloomberg.  "We are not putting in a negative adjustment for concerns around repair costs or durability associated with aluminum."
But it's still early in the game, and Lyman gave Bloomberg the same caveat as Automotive News received on insurance.
"The jury is still out with regards to what the final tally will be for fleet operators and owners of the F-150," Lyman told Bloomberg. "All reports indicate that yes, there will be some higher costs. If that's going to be offset with greater efficiency in the vehicle, it is ultimately something we'll have to see once the vehicle is in a real-world scenario."
More information:
"Insurance rates on aluminum F-150 hold for now"
Automotive News, March 23, 2015
"Fuel Economy Helps Boost Resale Value of Ford's F-150"
Bloomberg, March 12, 2015
Featured image: The 2015 Ford F-150 drives Oct. 1 in San Antonio, Texas. (Sam VarnHagen/Provided by Ford)
Share This: