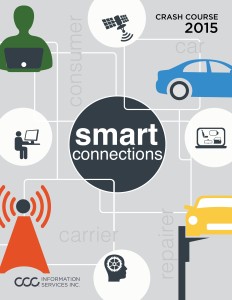 Original manufacturer parts as a percentage of repair cost grew slightly in 2014 as did the total cost of the entire parts price tag, reflecting consumers buying newer vehicles with more complicated components, CCC said in its annual report released Thursday.
But while that's a positive sign for collision repairers, it doesn't mean non-OEM parts are going away, according to CCC
"Worth noting however is that non-OE share of overall part spend is still higher than mid-2000's before the vehicle fleet aged significantly during the recession," the collision repair data company wrote in the report.
Another interesting parts trend in CCC's data indicates that "Optional-OEM" components seem to have been gaining ground at the expense of reconditioned parts as a total percentage of repair part cost.
Optional-OE components come from an OEM-designated program providing what are technically OEM parts but whose status can range from blemished, reconditioned with the backing of the OEM (unlike other third-party refurbished parts), or surplus.
Of course, the combined proportional cost of both of these appears to have peaked in 2009 at less than 10 percent of the repair parts bill, with aftermarket and recycled parts still make up the majority of the non-OEM spending.
"Additionally, aftermarket share of spend continued to grow in 2014, as did the share of appraisals that included at least one aftermarket part," CCC wrote.
It's also important to note that the percentage of parts cost is different than the percentage of parts used in a repair. One high-ticket OEM item, such as the infamous Ford F-150 sensor taillight described by Edmunds, could skew the OEM part cost proportion up even if the number of aftermarket parts remained the same.
Pricey cameras and sensors were 0.59 percent of the repair parts cost in 2014, up from 0.39 percent in 2010.
"And while one-half a percent may not seem like much, the net result is over $6 per claim additional cost, which will only grow as the number of sensors grows and the cost of these parts continues to increase rise, which they have at an average rate of 5% annually over the last five years," CCC wrote. Where automakers choose to place these sensors will also potentially drive up replacement."
For comparison's sake, inflation averaged 2 percent over the last five years and was 1.6 percent last year.
Labor
Average labor rates grew mildly last year, some subcategories exceeding that 1.6 percent inflation, others failing to do so.
Paint and materials rates gained the most, growing 1.8 percent to close at $27.12 an hour, (though this might indicate a shift to charging for the actual items rather than an artificial hourly rate). Next up was frame labor, at $53.34, up 1.7 percent, followed by mechanical labor rising 1.5 percent to $78.21. Body and paint labor grew the least, both up 1.3 percent to $46.70 and $46.62, respectively.
Only paint and materials rates outpaced inflation in average growth over the past five years, at 1.9 percent compared to the national 2 percent. Mechanical labor rates rose the second-largest amount, 1.4 percent. The other labor categories grew at either 1.1 or 1.2 percent in average price per hour.
CCC also noted that the proportion of paint and non-paint labor in the repair stayed at 43 percent, as it more or less has for the last decade and a half.
Also accompanying this report was this slick graphic we thought we'd share:
Continue to check Repairer Driven News for updates, and check out our past coverage of Mitchell insights here and here.
More information:
Crash Course 2015 page
CCC, March 2015
Share This: