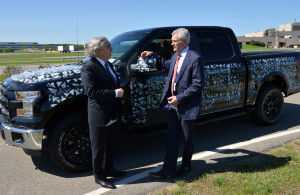 Millions in U.S., U.K. government loans announced for aluminum, carbon-fiber car production
By on
Announcements | Technology
When it rains, it pours.
The same day as Jaguar announced it would spend nearly $617.9 million on aluminum automotive production at an English plant, the British and American governments announced hundreds of millions in loans for aluminum and carbon-fiber vehicle components.
As we noted with Jaguar and with our Megatrends coverage, lightweighting isn't going away. Automakers in the U.S. have two numbers on their mind: 54.5 fleet mpg by 2025. Improving the efficiency of the powertrain and making the vehicle as light as possible without making it ride funny or sacrificing safety are the two major ways that'll happen.
And so, that means your auto body shop needs to determine what it'll do to train and gear up for aluminum, more complicated high-strength steels — and someday possibly carbon fiber and the dark horse of magnesium. And what it will do to recoup those costs.
Some good advice for determining if you should spend thousands of dollars on education and equipment to repair aluminum vehicles was presented in this webinar by the Auto Body Repair Network (see our coverage here), and it would certainly apply to whatever materials are shaking things up in the future and now.
$259M for Alcoa
The Department of Energy said Thursday it would commit $259 million to Alcoa to help its Alcoa, Tenn., factory produce aluminum for automotive lightweighting.
The Alcoa loan was the first under the government's revamped Advanced Technology Vehicles Manufacturing loan program, according to the Energy Department.
"Alcoa's innovative, high-strength aluminum solutions are leading the light weighting revolution now happening in the automotive industry," Alcoa CEO Klaus Kleinfeld said in a statement. "Alcoa is pleased to be part of the government's program to encourage a greater shift to aluminum intensive vehicles that are safer, lighter and more fuel-efficient."
The plant will use the money to expand its aluminum sheet capacity to further supply the auto industry, adding up to 200 jobs too. Alcoa was one of the suppliers for the Ford F-150 aluminum (so was competitor Novelis), according to the New York Times, and Bloomberg said Alcoa's F-150 metal came from the Tennessee plant getting the loan.
"This is good news for Alcoa and Tennessee," U.S. Sen. Lamar Alexander, R-Tenn., said in a statement. "Today, more than one-third of Tennessee manufacturing jobs are auto related, and investment in advanced manufacturing is an important part of how our state will continue to attract good-paying jobs."
The loan is still at the preliminary stage; Alcoa and the government will continue to work to finalize it before Treasury writes a check, but presumably that shouldn't be too difficult for the manufacturing titan. It's not exactly Solyndra — which was also funded by the program, according to Bloomberg.
Energy Department lending Executive Director Peter Davidson told Bloomberg that the program's loan program has done better many banks, with losses of less than three percent. Bloomberg said the agency reported last year that it's actually ahead $30 million, with interest of $810 million and losses of $780 million.
Europe: More than $20M in loans, grants
The United Kingdom government announced Thursday that hundreds of millions of dollars worth of loans and grants would be offered to 20 companies for advanced materials, including more than $20 million for four businesses with lightweighting projects applicable to the automotive manufacturing process.
"Manufacturing is seeing a resurgence across the UK," Business Minister Matthew Hancock said in a statement.
"From the world-leading 3D printing in Coventry to the next generation of aerospace components in Gloucestershire, Britain is standing tall in the world once again.
"Strong supply chains are at the root of this success and these new funds will keep Britain competitive."
These Advanced Manufacturing Supply Chain Initiative offers, subject to various conditions like the U.S. loan, included:
Impression Technologies will receive about $970,000 in a grant and another nearly $2.09 million loan for a $8.05 million project involving building "high-strength, complex aluminium panels" that can be used for automobile manufacturing as well as other industries, according to the government's news release. PAB Coventry is also participating in the project.
Dymag will be awarded a $4.92 million grant and a $5.66 million loan for manufacturing affordable mass volumes of carbon fiber automotive wheels. The $16.69 million project also involves the National Composites Centre and M Wright and Son.
Sigma Precision Components UK will obtain a $450,000 loan and $1.04 million grant to improve carbon-fiber aerospace and automotive drive shafts.
Carbon-fiber company Sigmatex will get a $360,000 loan and a $5.66 million grant for a $10.58 million project the government said would "improve the UK's capability in design, development and manufacture of lightweight automotive components and structures."
Tata Steel, which is tied through its parent conglomerate to Jaguar Land Rover and also produces the Tata make of vehicles in India, will get a $6.85 million grant for a $26.22 project to create a 3-D printing supply chain with the help of multiple partners.
"The automotive industry is achieving huge advances in creating more efficient cars," Sigmatex CEO said in a statement Friday. "However there is also a significant potential to make cars lighter by the use of carbon fibre. This innovative project aims to develop ways to reduce the cost and upscale the incorporation of composites in cars, so that such materials can be used in a wider range of vehicles. With the support from OEMs this is a real opportunity to create a UK supply chain that is able and capable to meet the future demands of this important and growing industry."
More information:
Share This: