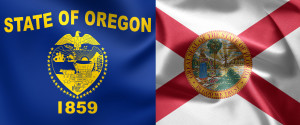 Auto insurers lose as Oregon body shop's antitrust case transferred to Fla.
By on
Insurance | Legal
An attempt by two Oregon insurers to prevent a collision repairers' antitrust case against them from being sent to join similar lawsuits in Florida failed Wednesday.
The Judicial Panel on Multidistrict Litigation, which decides whether to group similar "MDL" cases nationwide to cut down on redundancy, ruled Wednesday against Oregon Mutual and Grange in Leif's Auto Collision Centers v. State Farm et al. The case will now go to the Middle District of Florida before Judge Gregory Presnell, though Oregon law will apply whenever it differs from Florida law.
The case has 66 defendants, including the nation's largest auto insurers, had already been transferred to Florida in November 2014. However, Oregon Mutual and Grange said they never received notice of that decision so it could file their opposition and the move was stayed.
Leif's Auto Collision, which is based in Tigard, Ore., but has other locations in the Portland metropolitan area and southwest of it on Oregon 99W, supported the move.
The lawsuit makes many of the same allegations of Florida's A&E v. 21st Century: Insurers are colluding to drive down collision repair prices using State Farm's artificially deflated data.
Oregon Mutual and Grange made a few arguments about why they shouldn't be sent to Florida. One of the more humorous: We didn't do it.
"The objecting defendants' arguments concerning their lack of involvement in the alleged conduct also are not an appropriate basis for denying transfer," states the order, signed by Chairwoman Sarah Vance. "These arguments are directed more to the merits of plaintiff's claims, than to Section 1407's requirement that the subject action share common questions of fact with the MDL actions. Such an assessment of the merits is beyond the Panel's authority."
The insurers also said that they weren't named in any of the other MDL cases and were going to win the lawsuit anyway with a summary judgement (which also seems to fall in the "nice try" category).
But the panel wasn't satisfied with either of these as it has ruled frequently that that any case can be sent to an MDL when "actions arise from a common factual core" and motions that would end a case don't preclude it from being transferred.
"Indeed, transfer of actions with imminent dispositive motions is particularly appropriate in this litigation, where the transferee court already has ruled on dispositive motions and thus is familiar with the factual and legal issues likely to be presented," Vance wrote.
Finally, the insurers made the case that it's a burden for small Oregon insurers to fly more than 2,700 miles to argue a case in Florida. The panel was "sympathetic to the objectors' concerns about inconvenience," but unswayed.
"The Panel often has held that, while it might inconvenience some parties, transfer of a particular action often is necessary to further
the expeditious resolution of the litigation taken as a whole," Vance wrote. "… Moreover, the Panel considered similar objections arising from the involvement of regional parties and state-specific issues in the initial transfer order and determined that centralization would lead to the just and efficient resolution of all actions, to the overall benefit of the parties and the judiciary."
Grange had also sought to be split off and be remanded back to Oregon, but that too failed.
Most cases have ended up in Florida, which means what happens in A&E will be crucial to all the shops' cases. Read the most recent development here. Only one lawsuit considered by the panel, Tennessee's Price v. Progressive, was left where it was — at the body shops' request.
Featured image: An Oregon lawsuit by a body shop chain has been moved to Florida. [chelovek (Ore.) and Ruskpp (Fla.)/iStock/Thinkstock]
Share This: