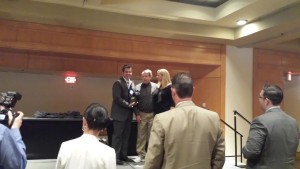 The Society of Collision Repair Specialists on Wednesday honored two recent acts and three lifetimes of service to collision repair — including giving out only the fourth lifetime membership in its history.
Sports & Imports Collision owner Gene Hamilton, who had already won the SCRS industry and lifetime achievement awards, completed the Triple Crown with the Lifetime Honorary Membership.
Former SCRS Chairman Barry Dorn — recognized as well Wednesday– observed that only three lifetime membership had been given out in the past by the more than 30-year-old organization.
Sports & Imports general manager Michelle Coombs, speaking on behalf of her father, said he would probably tell the audience that the industry has given him more than he's given it.
Dorn won the National Lifetime Achievement Award, and SCRS Executive Director Aaron Schulenburg said the honor showed that one person could make a difference. Schulenburg also noted that Dorn served as a contributing creator to some of the most beneficial and meaningful resources to the industry including the database task force, the Database Enhancement Gateway (DEG), SCRS' Guide to Complete Repair Planning, The Repairer Driven Education series at the SEMA show and this very news source, Repairer Driven News.
The recognition was one of the highlights of his life, Dorn said.
"I sincerely appreciate it," he said.
Dorn said Friday he was caught off guard by the announcement — and he's even on the awards committee.
"I wanted to thank all of my mentors over the years that have helped me become who I am and guide me down a path that I couldn't venture down without their help," he said in a statement Friday. ""People like Lou Dilisio, Jeff Hendler, March Taylor, Toby Chess and Gary Wano. Men who helped me understand that I can't do what I do for SCRS for my own personal gain but I do what do for the betterment of the industry and at the will of our membership.
"My wife Jordan and my kids to deal with my frequent travel and hectic schedule along with the numerous phone calls at night and during weekends. My co-workers at Dorn's who make it possible for me to be gone and do what I do to help the industry. My mother, who I lost last year. She forged me into who I am. She taught me to stand up for what was right, work hard at whatever I do, to be honorable, humble and to never give up.
"Lastly, I want to thank Aaron Schulenburg and the boards both present and past. All of you make it possible for me to learn what I do, each day. I am truly blessed to know and work with all of you and I can't thank you enough for all that you do for this industry. All of you are like my brothers and special to me in many ways."
Bob Jones took the Regional Lifetime Achievement Award, and he thanked his brother who kept the shop running while he was out working for the collision repair industry.
"I'll cherish this industry forever," Jones said. "… I love this industry. It's been my life."
Georgia Collision Industry Association Executive Director Howard Batchelor received the Collision Achievement Award for his detailed research into paint and materials taxes — and double taxation — across the country.
The Nonindividual Award went to I-CAR for the Repairability Technical Support portal launched last year.
The awards were presented ahead of the Collision Industry Conference in Atlanta, Ga. — Hamilton and Batchelor's home state.
Featured image: Former Society of Collision Repair Specialists Chairman Barry Dorn, left, poses with SCRS Lifetime Member Gene Hamilton and Hamilton's daughter, Michelle Coombs on Wednesday at a luncheon ahead of the Collision Industry Conference in Atlanta. (John Huetter/Repairer Driven News)
Share This: