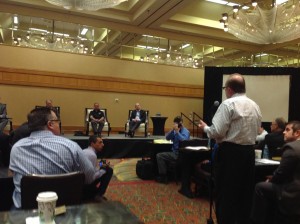 Editor's Note: This is Part 1 of a series on topics discussed at a lengthy Society of Collision Repair Specialists Repairer Roundtable on Wednesday. Part 2 will discuss cleanliness and shop safety.
Precision in adherence to OEM directives will become even more vital in the future as materials continue to advance — and shops who can't or won't meet that challenge could face serious penalties in reputation and liability.
That sobering conclusion became apparent following a lengthy Society of Collision Repair Specialists Repairer Roundtable on Wednesday, ahead of the Collision Industry Conference in Atlanta.
Panelists before the roughly 70-strong audience included I-CAR industry technical support manager Steve Marks; Ken Boylan, research and specifications manager for Chief Automotive Technologies; and Reliable Automotive Equipment President Dave Gruskos.
Preserving crash-worthiness
One of the very crucial adjustments some shops need to make in their approach to vehicle repair is what a job well done actually means. With the precise, interconnected design of modern vehicle safety elements OEM engineers have designed, something that looks "good as new" might not crash safe as new.
"Forget pre-accident, it's crash-worthiness," Boylan said. And achieving that (remember, the first time took an army of engineers, computers, factory workers and robots to get right) is a "tall order."
"Sloppiness just doesn't make it," Marks said.
"We have a huge challenge," he said. "I'm sure we're up to it. … We've got our work cut out for us."
Even a shop who has done everything right might still be unaware of a potential best practice.
"We're a little bit behind in the United States versus Europe," Boylan said.
In Europe, technicians test spot-welds microscopically, not just pull them apart, he said. He gave an example of a group of a dozen welds that passed the latter — only one of which passed the microscope.
It would likely affect airbag timing to make an error in a spot weld, Boylan said.
European repairers are expected to achieve homologation, according to Boylan, which means duplicating a weld up to a manufacturer's standard every time.
Another repair misstep can be seen by the naked eye. Mercedes has flow-form rivets that compress on both sides instead of creating a "mushroom" shape, according to Gruskos. If you do the job correctly, a Mercedes logo on the rivet remains intact.
Given this level of precision and the type of materials being used — including this kind of flow-form rivet becoming more popular — Gruskos said he didn't know how you couldn't use a new OEM part.
Rivets themselves are becoming a greater part of collision repair, as OEMs don't want heat applied to high-strength steel and aluminum.
"Right now, we're working with 40 different rivets," he said. He said picking the right rivet will equal paint mixing in terms of complexity.
As Boylan said, it's not just collision "theory" anymore. It is possible, through simulations, physics, and an examination in the shop to know how a crash transfers energy throughout a vehicle — and you'd better be aware of this to do a repair.
It won't always be obvious, either. It's possible for a front impact to produce damage to a rocker panel on the other side of the car, or force the back of a vehicle 6-9 mm out of level through a new load path designed by the manufacturer.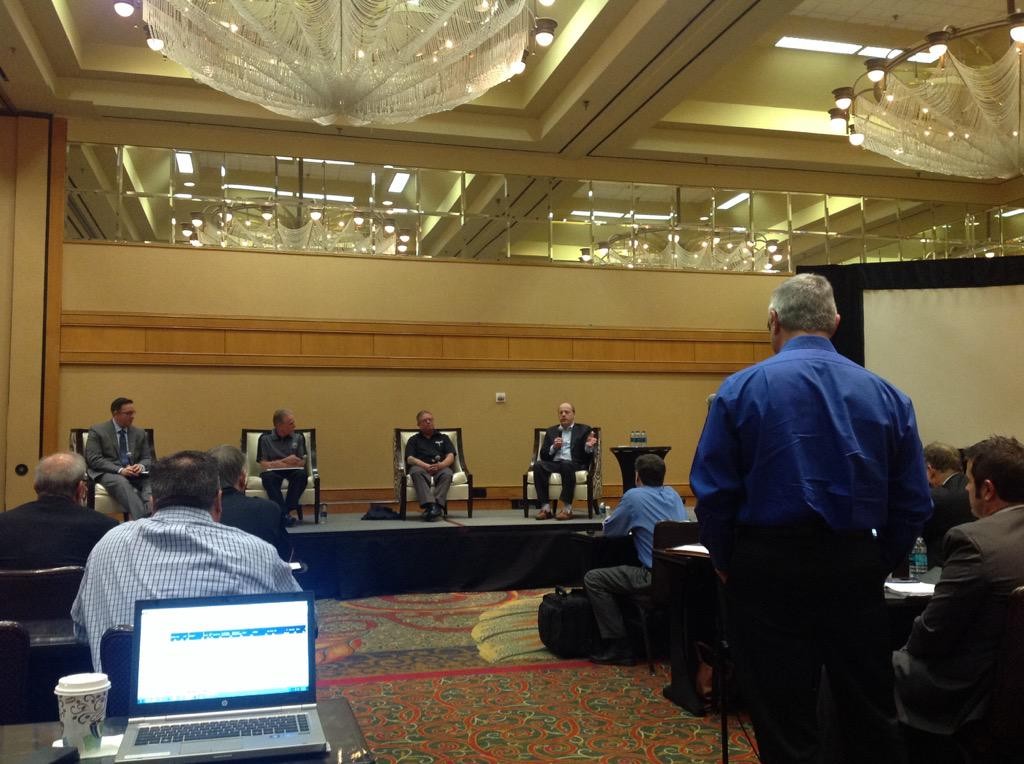 Follow the OEM
As the panelists indicated here, learning and following OEM procedures will be crucial (and should have been done anyway) to keep your customers as safe in the repaired car as they'd have been in the dealership original.
Boylan gave the example of a $40,000 repair on an $80,000 vehicle that a shop had to buy back after sectioning it incorrectly.
So if you don't know how to do something, "I tell people don't do it."
This OEM specificity was dramatically exemplified in an exchange between the panel and audience member Mark Allen, Audi collision programs and workshop equipment specialist.
Boylan made a reference to heating aluminum to a narrow 400- to 500-degree range to pull it.
Allen quickly headed to the mic and said he felt his "heart drop" at the idea.
"It's not acceptable for Audi," he said.
While it might work for military-grade aluminum, "you don't do that" with aerospace aluminum and shouldn't do it on an Audi either, Allen said.
Check with Audi before doing a repair, he stressed, and Marks echoed that trying to fix anything without checking with an OEM "should never be done."
Boylan clarified that his point was a general observation, supported by I-CAR about aluminum — it wasn't meant to refer to any particular model. Some baseline knowledge is necessary to understand the metallurgical and engineering foundation for OEM-recommended repairs — and to fill in the gaps when that's not available.SCRS Executive Director Aaron Schulenburg closed that debate by highlighting the need for repairers to verify vehicle-specific procedures.
"That is the best generalization," he said.
What's new
It's going to be easy to screw up a repair if you treat new materials and designs like old mild-steel bodies. You can't drill through the "tremendous hard, paper-thin steel" being used, he said. It must be punched through.
Think it's just European luxury models? Think again. Schulenburg asked about current mainstream vehicles with new technologies impacting collision repair — excluding the Ford F-150.
"There are so many now," Boylan said.
He gave a few examples of what exists or is soon to exist on commonplace cars and what that means for your shop.
Laser welds — which "look like the perfect spot to cut something" but most certainly aren't. Not only that, but they are incredibly precise.
"Folks, we haven't seen anything like that," Boylan said.
A-pillars: Boylan said he'd seen an article about a new type of A-pillar with folded metal that expands to twice its size in a crash.
Nanosteel, which is "totally different" and doesn't need to be heated to create.
"They are on the market," Boylan said of these innovations. Technology, he said, was ahead of collision repair skill right now.
Welding mixed materials will largely be the province of the OEM at first, and repair will likely entail a mix of adhesive and rivets.
And repair in the traditional sense might not even be the correct term. Boylan observed that the coming 7000 series of aluminum "duplicates high-strength steel," making it virtually impossible to manipulate.
"You're not going to do any repair," he said. A damaged 7000 aluminum part would have to be replaced.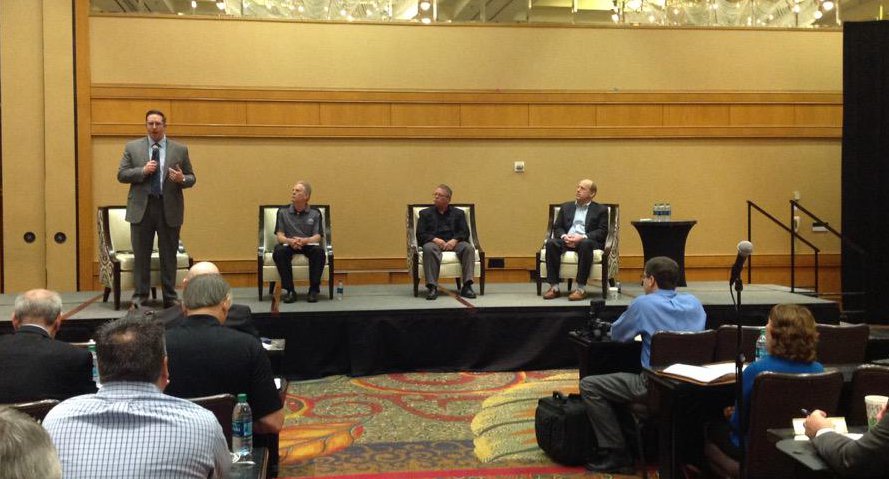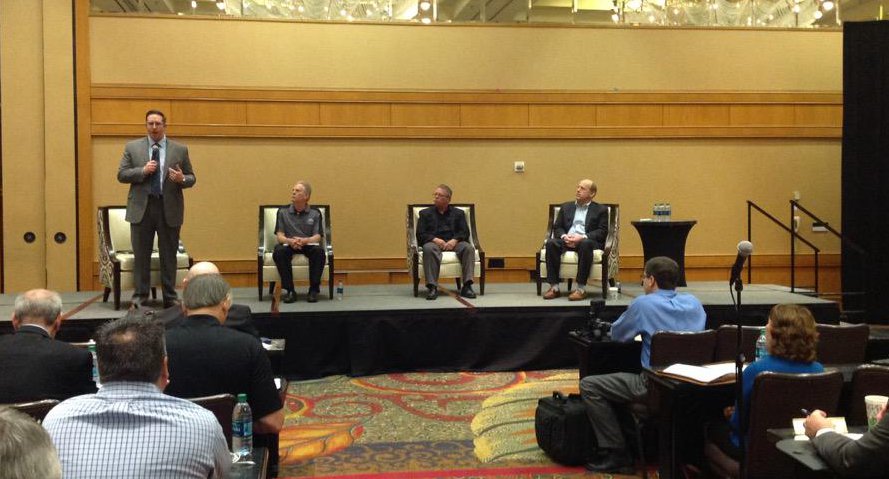 Certification and training
Given this stress on OEM procedures and growing differences between bodies-in-white, Schulenburg asked if it was even realistic for a non-certified shop to work on a vehicle.
"They have to get the procedures from the OE," Gruskos said. You could make some repairs without OEM certification, he said, but not without the OEM manual.
But anyone who isn't certified shouldn't be doing structural work on newer vehicles, he said, and Schulenburg agreed the number of vehicles to which that applies is growing.
"This is mainstream," Gruskos said. "Everything we're talking about is going to be an everyday repair."
But there's a catch. Sometimes, a manufacturer doesn't provide repair best practices. And that's where entities like I-CAR and repairer expertise with the materials involved apply.
R Jones Collision 1 owner Bob Jones argued any vehicle where the OEM hasn't issued repair procedures should be a "total loss."
"We're at risk," he said, rather than the manufacturer.
Jordan Hendler, executive director of the Washington Metropolitan Auto Body Association, asked what could be done to keep those not present from doing a sub-par repair, and the spectre of government regulation was raised.
Gruskos observed it probably would wind up taking "incredible litigation" and "horrible" problems for consumers to really fix it, giving the example of extremes like asbestos in brakes to really change the industry.
It's sadly not too difficult to see a worse-case scenario where a shop (or an insurer, if it incentivized or pressured cutting corners) fails to follow OEM procedures and contributes to a grisly crash by lowering the structural integrity of a vehicle. Think about all the political, legal and media attention Takata and GM have faced over the past year.
Owner Boyd Dingman of Dingman's Collision Center even threw out the idea of stretching a warranty to a second owner, so insurers and collision repairers would be on the hook to ensure the car was truly still crash-worthy.
All of this really should drive home the analogy that collision repairer is becoming much more like surgery — and like surgery, requiring greater levels of study and specialization.
"Our industry is no longer a trade," SCRS outgoing Chairman Ron Reichen said.
Images
R Jones Collision 1 owner Bob Jones argued Wednesday before a Repairer Roundtable that any vehicle where the OEM hasn't issued repair procedures should be a "total loss." (John Huetter/Repairer Driven News)
Mark Allen of Audi waits to address the SCRS Repairer Roundtable on Wednesday in Atlanta. (John Huetter/Repairer Driven News)
A Repairer Roundtable before a roughly 70-plus audience included, starting with second from left, I-CAR industry technical support manager Steve Marks; Ken Boylan, research and specifications manager for Chief Automotive Technologies; and Reliable Automotive Equipment President Dave Gruskos. SCRS Executive Director Aaron Schulenburg, far left, moderated. (John Huetter/Repairer Driven News)
Share This: