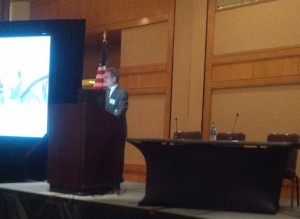 Two-thirds of collision industry shops have no continuing education requirement, which could put them and their customers far behind when it comes to advances in vehicle and shop technology, I-CAR CEO John Van Alstyne said earlier this month.
At the Atlanta Collision Industry Conference on April 8, Van Alstyne presented I-CAR research that found of the 35,000 shops in the country, only 12,000 required such training — just 34 percent of the industry.
"We're working to get towards that 'every'" where 100 percent of shops are training, Van Alstyne said.
Also alarming is the lack of welding training in shops today as reported by Van Alstyne. Granted, self-piercing rivets and adhesives are becoming more prevalent in collision repair, but there's still plenty of welding to do — and new techniques to learn as OEMs use more aluminum and high-strength steel.
Nearly 70 percent of technicians who weld now have no I-CAR training on basic welding certification, 94 percent lack an aluminum welding credential and 98 percent lack certification on advanced structural steel, Van Alstyne said. Granted, some of the technicians might have graduated from a tech school with the skills fresh in their minds, learned them correctly on the job or been certified through another organization, but that likely won't wipe out the entire knowledge gap.
Worrisome too is that the 17,500 shops I-CAR identified in direct repair programs is larger than those requiring training — 5,500 collision repairers potentially exposed to the increased vehicle volume of a DRP who don't make their workforce improve their skills.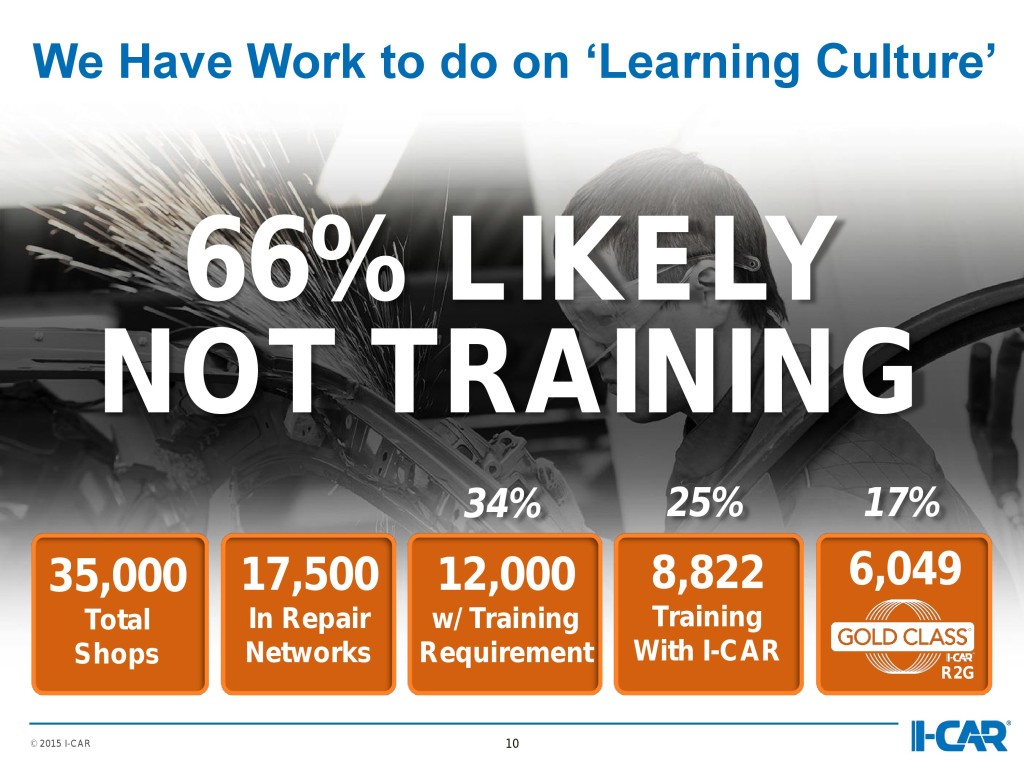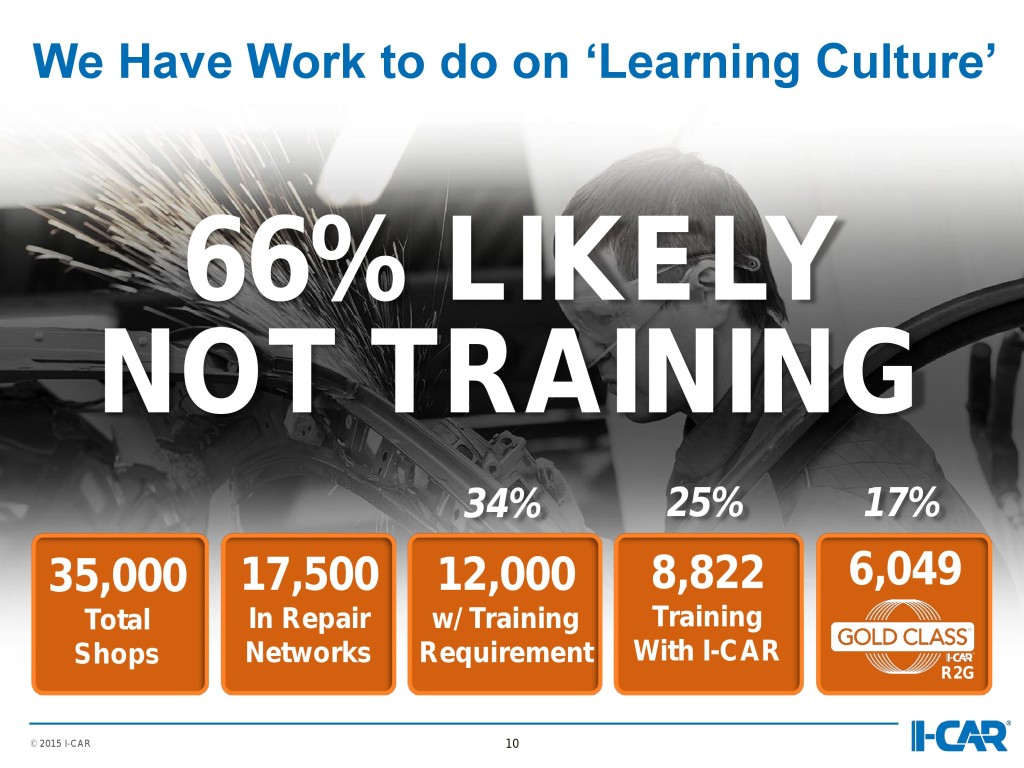 Meanwhile, Van Alystne said, OEMs release about 75 major vehicle changes a year. A "learning culture" is a necessity, he said.
And despite the hype over preparing for the Ford's 2015 aluminum truck, the "F-150 is just one vehicle," Van Alstyne noted. It's the tip of the iceberg, he said.
The government's new fuel economy standard of 54.5 mpg by 2025 has driven much of the change and will likely produce more, as fleets still aren't improving gas mileage fast enough to hit 2016 and 2025 goals, according to Van Alstyne.
In the past, CAFE standards had improved across automakers by about 0.8 mpg a year, according to Van Alstyne, citing research by Dr. Lawrence Burns. By 2013, fleets needed to grow by 1.2 mpg to reach the 2016 benchmark, and they'll have to advance by 1.6 mpg a year to make the 2025 target, Van Alsytne said.
But there are signs shops are starting to wake up to the need to keep current in vehicle changes and repair best practices, and I-CAR itself has "strategically shifted" to pushing out more information instead of being a passive resource, according to Van Alstyne.
I-CAR's initiatives included the launch of the Repairability Technical Support Portal, which launched last year and commanded a large increase in visitors to I-CAR's website.
"Apparently, we're filling a need," Van Alstyne said.
Last year, there were 3,213 Gold Class shops, up 3.9 percent from 2013, and 2,836 Road to Gold repair businesses — up 25 percent.
In 2010, the only third party — whether OEM or insurer — requiring or encouraging training was Allstate.
"Today, there's many more," Van Alstyne said.
The F-150 seems to have encouraged repairers to seek training, he said, and last year, 12,000 people took a F-150 course offered by I-CAR.
"That's a big deal," Van Alystne said.
I-CAR is also evolving to meet customers' preferences for courses. Last year, 8,822 businesses and 59,460 students trained on 82 I-CAR live courses, 87 online courses and 17 virtual ones.
Demand is reaching the 50-50 live-online proportion, following a trend of (not surprisingly, given technological changes happening) skyrocketing online demand. The mix was 56-44 in favor of live in 2014, up from 98-2 in 2009. But I-CAR is adding classes, not subtracting them, even though the proportion is changing, Van Alstyne said.
But though more shops are seeking I-CAR education, Van Alstyne noted that some are only sending a minimum number of students.
"One guy … trained well is not sufficient," Van Alstyne said.
Images
I-CAR CEO John Van Alstyne speaks at the Collision Industry Conference in Atlanta earlier this month. (John Huetter/Repairer Driven News)
This bold slide from I-CAR CEO John Van Alstyne was presented at the Collision Industry Conference in Atlanta on April 8. (Provided by I-CAR)
Share This: