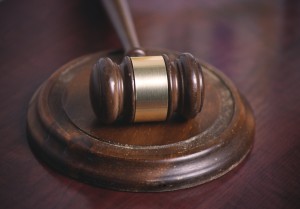 New Ind. auto body lawsuit: 'Market rate' differed from what only shop in town charged
By on
Insurance | Legal
An adapted lawsuit filed by Indiana collision repairers against auto insurers points out the discrepancy between a "market rate" allowed by insurers and what all of the shops in a particular town charged.
That's among the many new details the shops and Indiana Autobody Association provide in a lawsuit against some of the nation's largest underwriters that seeks to satisfy Florida judges' demands for more information. The version of Indiana Autobody Association et al v. State Farm et al that was dismissed by Middle District of Florida Judge Gregory Presnell was 37 pages; the new one is 100.
To avoid legal repetition, a federal judicial panel has given this and about two dozen other states' lawsuits by collision repairers to Presnell, though each states' own laws will apply to the decisions if they differ from Florida's. Magistrate Judge Thomas Smith has been tasked with reviewing the cases and making recommendations to Presnell.
The amended lawsuit follows a template used in revised Florida and Mississippi cases brought by shops, but it adapts the information to fit Indiana law and provide juicy Hoosier State-specific allegations.
A State Farm spokesman, reached for comment Friday afternoon, said that as he hadn't reviewed the new filing, he could only provide the company's earlier statement. An excerpt follows:
The allegations in the lawsuit are not i­n line with State Farm's mission to serv­e the needs of its customers, and our l­ong, proud history of achievements in ad­vancing vehicle safety. Here is a link ­to State Farm's safety history: GoodNeighbors.com­
State Farm is a defendant along with doz­ens of other insurers in the litigation ­relating to issues that have been raised­ by some auto body repair facilities.
Our customers choose where their vehicle­s are going to be repaired. We provide ­information about our Select Service pro­gram while at the same time making it c­lear they can select which shop will do ­the work.
A vibrant, profitable auto collision rep­air industry is in the interest of State­ Farm. At the same time, we are advocat­es on behalf of our customers for reaso­nable repair costs. We believe repairer­ profitability and quality auto repairs ­that are reasonably priced can both be a­chieved.
State Farm has excellent working relatio­nships with thousands of body shops acro­ss the country, and that they are servin­g millions of our customers who consiste­ntly indicate their satisfaction with o­ur handling of their claims.
Disputed rate logic
Like the Florida and Mississippi case, the Indiana lawsuit points out how wide an area a single "market rate" — calculated by State Farm with allegedly suspect methods — seems to apply, despite differences in population, too.
2012 rates
Jon's Body Shop (Lafayette, Ind.; population 70,373): $50/hour for body/refinish, $27 paint/materials
Brothers Body & Paint (Martinsville, 11,855): $48/$27
Menton Body Shop (Bloomington, 82,575): $52/$34
Martin's Body Shop (New Salisbury*): $48/$32
Dan T. Grata Body Shop (Fort Wayne, 256,496) : $50/$32
State Farm: $46/$30
*New Salisbury isn't actually incorporated, and so an accurate count is trickier. The lawsuit gives its 2012 population as 4,104, but that seems to be referring to the ZIP code, and the year for the estimate is unclear. The Census Bureau estimated New Salisbury proper's population at 613 in 2010 and 639 in 2013; the ZIP code was estimated at 3,735 in 2010 and 4,265 in 2013. The ZIP code is probably more accurate — the apparent boom in the rural area means you can consider that all part of the community served by the shop. Long digression for the sake of precision aside, you get the plaintiffs' point: A shop in a small community and a shop in Fort Wayne are being treated by State Farm as deserving the same rate that doesn't match what the shops say the rate on the ground is.
The lawsuit argues this gets even sillier with examples like Thermion Body Shop in Elletsville, Ind. (population 6,402 in 2013, the last year the census gives data) and Martin's Body Shop , which are both the only shops in their town and currently charge $52/hour for body and refinish and $50/hour, respectively. But State Farm will only pay $46/hour, according to the lawsuit, calling that the market rate for a community in which the shops are the market. A paint and materials rate wasn't given for Thermion, but Martin's Body now charges $34, and the insurers sued will only pay $30, according to the lawsuit.
There's also the case for Morgan County, which houses Brothers Body's town of Martinsville. Brothers Body currently charges $52/hour for body/refinish (no current paint/materials rate was given), and its only competitor in Martinsville, Weida's Collision, charges $48/hour and $32/hour. Wagner's Collision, which is in Morgan County, charges $50/hour and $35/hour.  The insurers only pay $46/hour and $30/hour for the various types of work, definitely lower than any shop in the market is charging for body and refinish work and lower than what at least two of the three shops in the market charge for paint and materials.
Similar arguments were made in the Florida and Mississippi cases, but none had accounted for seemingly every shop in the area, as in the Morgan County example, or provided a case of a town with a different market rate than what the only shop charged.
The case also gives allegations of customers being "steered," sudden disparaging of a shop who had just left a direct repair program, and failure to disclose problems with network shops.
Coincidence?
The lawsuit also observed how quickly a bunch of insurers who don't do rate surveys mimicked what amounts State Farm was willing to pay.
That might support the Sherman Antitrust Act claims, which Presnell has said require more than a vague "this looks fishy" coincidence (though coincidence is admissible) or businesses independently following suit to stay competitive ("lawful parallel conduct," the Supreme Court calls it).
The lawsuit gives example of state and national insurers seemingly admitting they follow State Farm's rates, which would mean they know them. Since State Farm tightly protects its data from public disclosure, competitors must be getting it directly from the insurer itself, the lawsuit concludes.
It tracks State Farm and its fellow defendants from 2008, when State Farm would pay $48/hour and $26/hour rates for body/refinish and paint/materials, respectively, through a series of cuts matched immediately or within 60 days by some combination of its competitors.
2008: $48/$26
End of 2008/beginning of 2009: $44/$28
End of 2009: $46/$30
Mid-2013: $48/$30
Early 2013: $46/$30
"This uniformity of action, essentially simultaneously, bespeaks not only foreknowledge by the Defendants of planned changes, agreement to and conformity with those changes, but also contradict actual market conditions," the lawsuit states, also observing that no plaintiff lowered their rates during that time.
Objection
The Indiana case is notable too because it appears to be the first time plaintiffs objected to a dismissal recommendation. Granted, the move didn't work, but dissecting the attempt and the judge's rationale for why it was unsuccessful could lead to a successful argument against dismissing initial versions of state lawsuits down the line.
A successful objection to dismissal could help collision repairers' case by not forcing them to reveal as much to insurers, though Presnell and Smith have so far demanded more details than the states' lawsuits in hand provided.
Indiana Autobody Director Tony Passwater indicated in mid-March that the early stages of a case can just be jockeying for position. The plaintiffs don't want to tip their hand with too many specifics. Insurers motion to dismiss in what is typically "just always the first step of defense" in a case, he said.
The shops disagreed with Smith that a claim of quantum meruit, which refers to receiving an item or service for which you haven't paid, was improper. In Indiana, you can't sue someone for quantum meruit if you have a real contract with them — only an implied one — and you must expect payment.
Despite the shops saying they don't have contracts with the insurers, Smith read the references to direct repair programs in the lawsuit to imply that at least some of them do.
The shops had argued that they never actually said they had contracts with insurers despite the language Smith referenced, and said the defendants had to prove that under the law, according to Presnell. But he agreed with Smith that the language about DRPs "with each individual Plaintiff" implied contracts. So more precision in the initial lawsuit might pay off for this argument.
In the new Mississippi argument, the lawsuit does detail which shops in the lawsuit have DRPs and with whom. The new Indiana one doesn't provide that (nor does the new Florida lawsuit), but argues, as in the other two cases:
"Whether or not an insurer sponsors a formal direct repair program is irrelevant. Equally irrelevant is whether or not a body shop has associated with any DRPs. The Defendant insurers collectively and through exertion of their combined market share power, enforce against non-DRP Plaintiffs, non-compliant DRP Plaintiffs and other body shops as many 'concessions' as they possibly can, either explicitly or by de facto substitute."
The shops also argue that DRPs themselves aren't contracts.
"They do not contain essential legal elements of an enforceable contract, most notably consideration as DRPs promise no performance of anything by the sponsoring insurer and offer nothing of value to a body shop," the Indiana case states. "All purported benefits and concessions flow from a body shop to the sponsoring insurer which undertakes no obligations of any kind in return."
We'll see if those arguments work with the next wave of motions to dismiss or if specifics along the lines of Mississippi's case are still needed.
Smith also felt that since the shops themselves pointed out that insurers had refused to pay for certain items, the repairers couldn't have had the legal expectation of payment required under quantum meruit. See our discussion of the Mississippi case for more on this paradoxical point.
Presnell observed that the shops did say that they had an expectation of payments, and that's all that is needed.
"But the sums at issue in the Plaintiffs' quantum meruit claims are not the amounts that they have already received from the Defendants," Presnell wrote. "Rather, their quantum meruit claim is limited to any sums that, in fairness, they should have been paid, but were not. It is not enough for the Plaintiffs to demonstrate that they expected some payment, because they received some payment. They must demonstrate that they expected more."
The insurers refusal to pay the amount allegedly actually required for the repair (for example, if an insurer balked at paying for feather, prime and block even though the estimating databases agree that is a separate line item) and the shops' knowledge that they wouldn't means you can't use quantum meruit as grounds, according to Presnell.
"Accepting as true the facts alleged here by the Plaintiffs – essentially that they agreed to perform repairs at certain prices, and that they knew that the Defendants had always refused to pay more than those prices – the Plaintiffs could not, under any level of reasonableness, have expected to be paid more than what they received," he wrote.
Smith also said the shops hadn't shown that the defendants received a benefit, a point raised by insurers, nor did they try and counter it in their objections, according to Presnell. Because of that, the insurers automatically won that round.
Still, there does seem to be a common-sense argument in shops' favor of a benefit given to an insurer, though whether or not that satisfies Indiana law is another question:
Taking a pay cut to fix an insured car correctly = Policyholder's claim satisfied as policy requires; more money and more competitive rates for insurer = Benefit to insurer.
Featured image: An adapted lawsuit filed by Indiana collision repairers against auto insurers points out the discrepancy between a "market rate" allowed by insurers and what all of the shops in a particular town charged. (Photos.com/Thinkstock)
Share This: