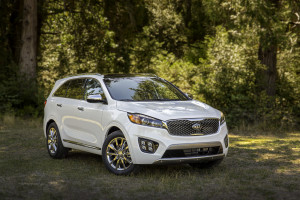 The aluminum F-150, whose SuperCrew recently posted a five-star overall crash rating from the NHTSA, has achieved five stars with all cab configurations, Ford announced last week.
Also last week, Kia announced that the 2016 model year of its popular Sorento — which is more than half high-strength steel — snagged five stars overall from the government as well.
Ford achieving five stars overall for every style of F-150 should close the door on the view that automotive aluminum can't perform like steel.
"A bad rating for the new model would have been horrendous for Ford, which invested millions of dollars to retool two plants to make the truck with an aluminum body," the Detroit Free Press said in discussing the SuperCrew rating. "And it would have given ammunition to the skeptics who still aren't convinced aluminum can perform as well as steel."
Automotive News said the SuperCab is generally about a quarter of F-150 sales, and the regular cab is 5 percent. Edmunds reported that Ford said earlier this month that so far 83 percent of this model year's buyers opted for SuperCrews. (This might be more a function of availability rather than demand — Ford had been a plant short while a Kansas City-area factory readied to make the aluminum F-150s.)
Ford attributes the rating to items like two-stage airbags as well as the design of the high-strength steel frame and aluminum body that collision repairers have been expensively preparing to fix.
Kia Sorento
The Sorento doesn't sell quite to the level of the F-Series, but at 102,520 sold last year, the crossover SUV isn't exactly a concept car.
And so, collision repairers should take note of what Kia partially credits for its five-star overall crash test rating: a lot of high-strength steel and glue.
Kia in 2014 said the 2016 Sorento will be 53 percent advanced high-strength steel, 115 percent more than the 2015 model year, and it will have 14 percent more torsional rigidity.
The vehicle will be "the most robust and durable Sorento ever," Kia says in a news release, pointing out also "liberal application of industrial strength adhesives," laser and large-diameter welding and dual-seal lip joints.
"NHTSA's recent 5-star rating of the 2016 Sorento is a testament to Kia's commitment to safety.  The Sorento is all-new for 2016 and is Kia's most capable CUV ever, yet still offers customers the tremendous value Kia is known for," Kia product planning Vice President Orth Hedrick said in a statement. "Meant for customers with active lifestyles, Sorento is the perfect getaway vehicle for adventurers and families on the go, and they can feel confident knowing their vehicle scored a 5-star NHTSA rating – the highest rating achievable from NHTSA."
Here's the 2016 Sorento taking a small-overlap crash in an Insurance Institute for Highway Safety video. The IIHS overall gave it a "Good" rating:
More information:
"2015 FORD F-150 EARNS 5-STAR TOP GOVERNMENT CRASH RATINGS FOR ALL CAB CONFIGURATIONS AND CRASH TESTS"
Ford, April 22, 2015
"2016 KIA SORENTO RECEIVES NHTSA 5-STAR SAFETY RATING"
Kia, April 24, 2015
"2015 Ford F-150 Buyers Prefer SuperCrew Models, Says Ford"
Edmunds, April 17, 2015
"Ford F-150 regular cab, SuperCab join SuperCrew with 5-star safety ratings"
Automotive News, April 22, 2015
Share This: