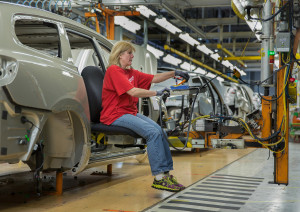 A long piece in the Allentown, Pa., Morning Call posted Saturday provides an intensive look at aftermarket parts, alerting readers of the large state newspaper and online to potential issues of those components.
The article by "The Watchdog" columnist Paul Muschick features Lynn Township, Pa., couple Scott and Jill Stopay, whose "nearly brand-new" leased Toyota Scion was hit by a Nationwide driver, according to the newspaper.
But despite the car's newness and lease, the insurer wouldn't replace their damaged front bumper coverage with an original equipment manufacturer part, Muschick wrote. Nationwide wanted an aftermarket cover.
Scott Stopay told Muschick that he tried to get Nationwide to change its mind, but a supervisor for the compay told him the part was fine.
"For you, it's fine," Stopay told the columnist. "It's not fine for me because it's not like it was before the accident."
Nationwide cited customer privacy and wouldn't discuss the issue with the columnist, but it did say it approves "quality replacement parts from a variety of sources that support high-quality repairs for customers' vehicles."
In an unintentionally amusing line, Muschick sums up more of the insurer's side: "Defective alternative parts are guaranteed for as long as the customer owns or leases the vehicle." Nationwide also told him owners can pay the different for OEM parts.
Stopay's repairer, Biery's Port Bodyworks owner Vince Smith, told Muschick requiring an aftermarket was like replacing a stolen Rolex with an imitation.
Smith did support aftermarket parts if an insurer isn't paying — presumably meaning that it was the customer's choice to save their own money, not a choice forced by insurer on a policyholder — or if the car is older, Muschick wrote. The repairer acknowledged that if a customer had aftermarket parts as part of their policy, there was no choice, but argued to the columnist it's unfair to force a party a policyholder damaged to the same terms.
The Stopays ultimately had Smith fix the bumper cover instead of installing the aftermarket part.
Certified Automotive Parts Association Executive Director Jack Gillis told the columnist that drivers are happy to use generics if it's their money, but if it's the insurer's, they want OEM parts.
"In a crash repair, there is a sense of entitlement," Gillis told Muschick.
(That's a little mind-boggling. Of course there's a sense of entitlement — there's a contract involved! You've been paying premiums for months or years to cover damage you cause to your vehicle or someone else's. It's not a look-a-gift-horse-in-the-mouth situation. You bought the horse.)
Gillis also discussed the aftermarket's testing of aftermarket parts, including crash simulations, and told Muschick that 25 percent of aftermarket parts are certified.
Certified aftermarket parts usage has increased recently for insurers, Mitchell data and this report show, but if an insurer or customer isn't picky about doing so, that's a potentially 75 percent chance the part isn't up to snuff.
"The use of high-quality alternative parts can help contain both crash repair costs as well as insurance premiums," Gillis told Muschick. "It's just like going to your doctor and deciding to use generic prescription drugs."
(Well, it's not; generic drugs are regulated by the Food and Drug Administration. There's nobody really checking on aftermarket parts, which is the reason for his organization's existence.)
Muschick also pokes a little into the actual safety issue, citing 2010 Insurance Institute for Highway Safety crash-tests of aftermarket bumpers.
A CAPA bumper was on par with a Dodge bumper, but two other generic bumpers didn't do so well, according to Muschick.
"That's not a good thing from a safety standpoint," IIHS president Adrian Lund said in a statement then. "Aftermarket bumpers need to perform exactly the same as original bumpers in a crash. Even small changes in design can skew airbag sensors and alter vehicle damage patterns."
In that report, the IIHS also said "fenders, quarter panels, door skins, bumper covers, and the like" were "cosmetic parts" and were "irrelevant to safety because the parts themselves serve no safety or structural function."
However, its evidence for this is old — the last example given was in 2000. That fails to take into account a decade of vehicle engineering, lightweighting and safety findings.
Smith argued to Muschick that newer cars are more sophisticated, and one non-OEM outlier could affect an airbag system.
One example of that was displayed in Ford's research found in a 2010 Consumer Reports article, though it described findings for structural parts only: an aftermarket bumper beam and structural radiator support, both parts which Ford knew could affect airbag timing.
What's also troubling about that study is that the aftermarket parts didn't match the light, strong material of the OEM versions.
Ford's radiator support was magnesium, and its bumper beam was a single piece of ultra-high-strength steel. The aftermarket support was "molded plastic with a sheet-metal rib pop-riveted to it," according to Consumer Reports, and the bumper beam was two pieces of mild steel welded together. There is a major difference in strength and weight between the OEM and aftermarket materials.
Now, in this case, Ford picked the parts — it wasn't an insurer or consumer choice. But consumers, repairers and insurers should probably beware that the increased replacement of mild steel with higher-strength, thinner metals makes it more likely that a part which looks the same really isn't the same. Even if a part is truly cosmetic, there's no way to argue that installing a version made out of a different material than the OEM's would return the vehicle to pre-accident condition.
More information:
"After an accident, know whether you're getting aftermarket parts"
Morning Call, April 25, 2015
"Tests show aftermarket replacement parts can present safety risk"
Consumer Reports, July 22, 2010
"Aftermarket bumpers meeting new standard perform well in crashes"
Insurance Institute for Highway Safety Status Report, Nov. 3, 2010
Featured image: General Motors assembly team member LeAnn Franke uses the "Ergo Chair" to access a 2014 Chevrolet Traverse for assembly operations Wednesday, May 7, 2014 at GM's Lansing Delta Township Assembly Plant in Lansing, Mich. (John F. Martin for Chevrolet/© Copyright General Motors file)
Share This: