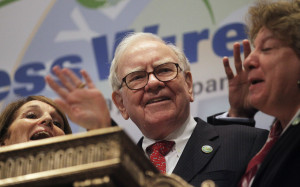 If GEICO questions your auto body shop's increased rates, you've got a good counterargument — from GEICO itself.
"In the first quarter of 2015, (GEICO's) pre-tax underwriting gain was $160 million, a decline of $193 million compared to the first quarter of 2014," GEICO parent Berkshire Hathaway wrote in its 10-Q filed Friday. "In the first quarter of 2015, we experienced increases in claims frequencies and severities in several of our major coverages and our ratio of losses and loss adjustment expenses incurred to premiums earned (the 'loss ratio') increased to 80.1%, compared to 75.8% in 2014. As a result, we are implementing premium rate increases as needed."
So there you go. Higher expenses justify charging more; it's not just the "cost of doing business." You can't argue with the "Oracle of Omaha" himself, Berkshire CEO Warren Buffett, who signed off on the 10-Q.
Despite the competitive auto insurance market, Buffett has said that GEICO won't follow the "I take a loss but make it up in volume" mindset of competitors whom he said slash premiums too deeply with the goal of luring customers.
The 10-Q says GEICO saw losses and expenses grow $615 million, 16.6 percent, in January-March compared to the same time last year.
Property damage and collision coverage rose 3-4 percent in the quarter from 2014, and claim severity rose 4-5 percent for collision and physical damage claims, according to Berkshire.
"Underwriting expenses in the first quarter of 2015 were $909 million, an increase of $79 million (9.5%) over 2014," Berkshire said in the 10-Q. "The increase was primarily attributable to costs incurred to generate the increase in policies-in-force and to maintain service for existing policyholders."
The "costs incurred to generate the increase" might refer to advertising and other promotions to get customers.
But don't worry about GEICO. They're still up $160 million for the quarter on underwriting alone — though last year, their pretax profit was $353 million. Berkshire itself made $5.16 billion after taxes for shareholders, up from $4.71 billion last quarter.
Van Tuyl
The 10-Q also has a few more details about the cost of Berkshire's purchase of the Van Tuyl Group, a major auto dealership chain. According to the document, Berkshire paid $4.11 billion for Van Tuyl, and it's already paying off.
Van Tuyl, now called Berkshire Hathaway Automotive, among with other companies helped contribute to service and retailing revenues rising $1.2 billion, or 35 percent, to $4.5 billion, the 10-Q said.
Part of that $4.11 billion bought what was estimated at $1.03 billion in property, plant and equipment. Most of that is probably real estate, but some of it would include whatever was inside of the Van Tuyl auto shops.
Another interesting tidbit posted by 24/7 Wall Street, taken from what it said was a Janney report:
"Mr. Buffett does not plan to try to cross-sell GEICO products at his newly acquired auto dealership chain. He simply doesn't think it works well and could potentially increase GEICO's acquisition costs (if he had to incentivize car salesman)."
Buffett raises a good point on the salesman cost. Plus, that kind of vertical integration could also draw controversy similar to the Allstate-Sterling combination.
More information:
Berkshire Hathaway, May 1, 2015
Featured image: Berkshire Hathaway Chairman and CEO Warren Buffett smiles at the New York Stock Exchange before ringing the opening bell on Sept. 30, 2011, in New York City. (Mario Tama/Getty Images News/Thinkstock file)
Share This: