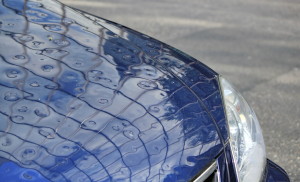 Exec: Nationwide tech brings new precision to hail damage estimating, won't remove room for debate
By on
Insurance | Technology
Despite increased precision, Nationwide's new hail estimating technology won't remove a pair of on-site human eyes or rely purely on the computer's opinion to calculate comprehensive damage, an executive confirmed Tuesday.
That means that despite the system's output, customers and repairers can still argue with adjusters over whether or not that ding was already there or how extensive a fix is needed, according to Nationwide material damage Associate Vice President Patrick Burnett.
"That's not a different conversation than what we have today," he said.
The new Automated Mobile Hail Estimating system is a trailer-sized device pulled to an area with widespread hail damage, and policyholders drive battered vehicles through it like at a car wash.
"Ultra, ultra-high-end resolution" cameras quickly photograph the car, truck or SUV with a high level of precision, and the software inside can determine dent size and splatter pattern, according to Burnett.
"The actual scanning process takes minutes, and the back-end printouts are available in less than 10 minutes significantly reducing the amount of time and resources necessary to finalize a complete hail estimate," Nationwide said in a news release.
But what about the dent from projectiles from a nearby golf course, or some other old damage not covered by comprehensive? Burnett said "the system is sophisticated enough" to figure out what's new and what isn't — but it won't operate in a vacuum.
Nationwide personnel with experience evaluating hail claims move the car through the device and calibrate it, and such staffers make their own "professional and technical assessments," he said.
"We still have an eye," he said.
And some guy at a desk at the insurer's Ohio headquarters won't be making the determination based on images from the ground in Texas, no matter how good the photos are, according to Burnett. The boots on the ground who have actually seen the vehicle will provide the human second opinion to the computer's output, despite the company's plan to link it to its estimating system for efficiency, he said.
Nationwide said that data "can be preserved and compared to any future claim," which would seem to also have some fraud-prevention  and even scientific or actuarial research applications.
The technology has already been tested after hailstorms in the northern and eastern parts of the country, according to Burnett.
"We ran them(the trailers) for almost the entire duration of the storm," he said.
Nationwide spokeswoman Elizabeth Stelzer said customers were partial to the new system, which is optional.
"The response has just been amazing," she said. "… It's so much faster than previous deployment."
This wouldn't address the bottleneck of all the shops in the area being overwhelmed with hail claims, but at least the estimating process' bottleneck could be dispensed with more quickly, according to Burnett.
The technology only applies to hail. "This wouldn't help you with some other type of storm," Burnett said.
Only two of the units exist, and Burnett couldn't say if more were on the way. So though Nationwide is planning to offer the technology aross the country, that doesn't mean you'll necessarily see it after your hailstorm.
"You may not move it across the country for 50 plans," Burnett said.
Burnett didn't disclose the developer, except to say: "It's a very big player in the hail space."
More information:
"Nationwide Uses New Technology to Speed Up Automobile Hail and Dent Repair"
Nationwide, April 23, 2015
Nationwide's new Automated Mobile Hail Estimating system is a trailer-sized device pulled to an area with widespread hail damage, and policyholders drive battered vehicles through it like at a car wash. (Elenarts/iStock/Thinkstock)
Share This: