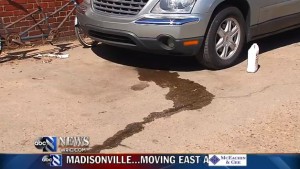 A Richmond, Va., television station told drivers to "read the fine print" and realize that insurers won't always put new parts on your vehicle during a collision repair in a broadcast aired Monday and posted Tuesday.
"You probably assume they're ordering new parts," anchor Juan Conde says.
Terrance Blackburn and wife Essence Miles' Chrysler Pacifica crossover suffered serious front-end damage after a collision in Florida in January 2014, according to the WRIC 8News Investigates report helmed by Kerri O'Brien. The car is older — its model year is unclear, but Chrysler hasn't made the vehicle since the 2008 model year, according to Automotive.com.
Progressive agreed the other driver was at-fault, took the car to a Florida repairer and told Blackburn that it would have a lifetime warranty on parts, according to the station.
"Since that accident, it hasn't been right, at all," Blackburn says on the newscast.
After checking their paperwork on the deal, they realized that a recycled part had been used, and brought the vehicle to local Virginia mechanic Gary Thaxton of Chapman's Certfied Auto, who found water pump and radiator leaks, WRIC reports.
The water pump was new, but the radiator was used, according to O'Brien's report. (If you look closely at the estimate at about the 1:33 mark, it seems other non-OEM parts were as well.)
"Can't tell that's the problem, but the radiator is leaking." Thaxton says.
The new repair bill would be $1149.75, which Progressive won't pay, saying the worn seal on the water pump and wear and tear after the repair caused the damage, according to WRIC. (So much for the parts lifetime warranty; although perhaps Blackburn misunderstood a work guarantee for a parts guarantee.)
The couple's comments are ironic, and probably reflect the views of a lot of consumers.
"If I knew that there were recycled parts going in there, I wouldn't even agree to anything," Blackburn says.
"I was actually shocked because, you know, Progressive is a pretty big insurance company," Miles says.
Paxton was generally complimentary to recycled parts on the broadcast: "It's a good way to save money and still have a good-quality part," he says.
But if you're planning on keeping the car more than three years, "spend the money, put the good stuff in it," he says.
More information:
"8News Investigates: Is your auto insurer skimping on repair jobs?"
WRIC, May 12, 2015
Featured image: This image taken from WRIC footage shows a couple's Chrysler Pacifica in which the water pump and radiator, installed in a Florida collision repair, leak. (Screenshot of WRIC video on www.wric.com)
Share This: