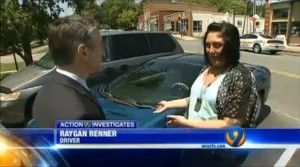 The Independent Garage Owners of North Carolina's legislative attempt to license collision repairers and auto mechanics reportedly is in study group purgatory, but the effort could get momentum thanks to recent publicity from a Charlotte news station.
The North Carolina licensing bill, Senate Bill 454, was partly written by the auto body group. The WSOC 9 Investigates report posted Tuesday focuses on the mechanical side of the legislation, but arguments in the broadcast would apply to collision repair as well.
IGONC Executive Director Bob Pulverenti told Repairer Driven News earlier this month that the bill — which he has said would raise the value of collision repair in the state — had been sent to a Senate study committee by a bill opponent, where it will likely languish until the end of the session in 2016.
However, the existence of the bill was a win for the association, and it actually had better luck than Pulverenti had anticipated in an earlier interview, when a companion bill didn't even exist in the House. House Bill 606, referenced in the broadcast, had since been introduced and was sent to the House Committee on Regulatory Reform on May 13.
Anchor Blair Miller notes in the broadcast that the bill comes as "vehicle become more high-tech and computerized."
"You go everywhere in your vehicle," driver Raygan Renner says on the broadcast,."Why is it OK for someone to just work on it without being certified in anything?  … Or to open a shop without even knowing what they're doing?"
Reporter Jason Stoogenke also points out that cosmetologists and photographers need to be licensed, but not mechanics.
He interviews bill sponsor Sen. Tommy Tucker, a Republican, who says opposition was "more than I thought." Stoogenke says some legislators view the bill as "just another fee grab by the state. … More red tape."
Tucker said he thought the state auto dealers' association was also opposing it; the group did not respond to a WSOC request for comment.
Pulverenti observed in our April 1 article that the big hurdle for repairers was getting the bill's language approved by the Legislature as legally kosher. That gave shops something tangible to show to lawmakers instead of just giving them a vague you-guys-should-do-this concept.
"We're not going to give up," Pulverenti said in early May.
Be heard: North Carolina legislator contact information can be found here.
More information:
"9 Investigates: Some say auto mechanics should need license"
WSOC, May 13, 2015
Featured image: The Independent Garage Owners of North Carolina' legislative attempt to license collision repairers and auto mechanics reportedly is in study group purgatory, but the effort could get momentum thanks to recent publicity from a Charlotte news station. (Screenshot of WSOC video from www.WSOCTV.com)
Share This: