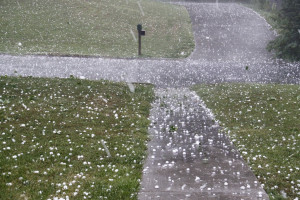 Risk Point on Thursday announced a new estimating model that could eventually lead to claim payouts to dealerships for inventory hail damage being slashed.
The company, which insurers auto dealership fleets, said that insurers' existing hail damage estimating guide is more than a decade old and fails to take into account advances in paintless dent repair, which it says can fix 90 percent of hail damage.
"PDR has become extremely common in the past decade, and with improvements in PDR processes and a large increase in the number of PDR vendors, the actual cost to repair a vehicle has dropped substantially," Risk Point said in a news release.
Using the old model overpaid hail claims by $250 million in 2014, nearly twice as much in some cases as Risk Point says.
"We are changing something that has become entrenched in the automotive insurance industry, and which until now, no one has taken the initiative to correct,"  CEO Bryan Wilburn said in a statement. "This is a 'back to basics' approach in which an insured should not profit from a loss beyond the fair and equitable adjustment of their claim."
Risk Point said it did extensive research on PDR costs with the help of some national PDR companies.
"The result is that PDR vendors will continue to be paid current marketplace rates for actual repair costs, while overpayments to dealers will be eliminated," the company said in the news release. "To ensure dealers are able to obtain repairs at the new matrix cost levels, Risk Point has partnered with a number of national vendors that possess the requisite capabilities and commitment to service to perform and guarantee their work within the new payout structure."
That sounds a lot like a PDR direct repair program, a concept which some auto body shops would argue hasn't worked out too well for the larger collision repair industry.
"Our goal has been to always lead the industry with innovative techniques and processes that provide superior service, fairly priced products, and timely claims payments," Wilburn said in a statement. "While we expected some pushback with this new model, so far no one has argued that the actual repair amount is incorrect, and we believe that eventually other insurance providers will adopt it.  Change of this magnitude is never easy, but our goal is to eliminate overpayments and return a measure of price stability to the industry."
Risk Point's probably right that other insurers will follow suit; according to lawsuits by body shops against insurers, underwriters are very good at matching each other's prices. (Whether that's coincidence or collusion will be up to the court.)
As if an insurer arguing that somebody shouldn't profit "beyond the fair and equitable adjustment" wasn't enough irony, Risk Point seems to be replacing what it says was one obsolete set of hail estimating guidelines with what could soon be another one.
Lightweighting is moving full steam ahead, and closures are an attractive target for shedding weight by switching to materials which paradoxically end up being stronger and more difficult to fix.
This also leads to remove-and-replace looking more like the way to "fix" damaged surfaces, cutting into PDR business.
But even for the surfaces which aren't replaced, fleet insurers might not experience as much savings as Risk Point thinks.
Ducker Worldwide has estimated that aluminum alone will be be 85 percent of hoods, 46 percent of doors and 30 percent of roofs by 2025, and PDR provider Dent Wizard told Car & Driver that the metal — if it even can be repaired — results in a 25 percent PDR upcharge. So there go some savings. And high-strength steel, magnesium and carbon fiber surfaces will be in the mix too.
Now granted, all of these materials are stronger than mild steel, which could reduce hail damage and make some of this discussion moot. But it seems like while Risk Point is correct that the majority of hail damage in Ducker's year 2025 aren't going to be repaired the way they were in 2005, it's probably not going to be fixed the same way as in Risk Point's 2015 model.
More information:
"Risk Point Goes 'Back To Basics' To Eliminate $250 Million Insurance Industry Problem"
Risk Point via PR Newswire, May 14, 2015
Featured image: Hail causes about $1 billion in damage to crops and property, NOAA said in 2010. (Linda Waterhouse/iStock/Thinkstock)
Share This: