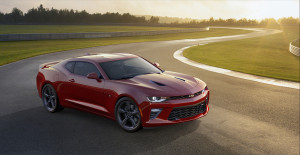 The Chevrolet Camaro muscle car has lost at least 200 pounds of fat.
General Motors announced a lighter, stiffer version of the iconic vehicle on Saturday, boasting that the 2016 model's body-in-white mass dropped by 133 pounds, and rigidity increased 28 percent.
Among the major changes included an aluminum instrument panel frame 9.2 pounds lighter than its steel predecessor and aluminum and holed steel rear suspension links that shaved off another 26 pounds.
"With the lighter, stiffer architecture and more powerful engines, the Gen Six Camaro SS delivers better lap times than the fifth-generation's track-focused Camaro 1LE package," GM said in a news release.
Overall, the car has lost 200 pounds — more with some packages, according to GM
"The driving experience is significantly different," Chevrolet lead development engineer Aaron Link said in a statement. "Immediately, you will notice how much lighter and more nimble the Camaro feels. That feeling increases when you drive the Camaro harder – it brakes more powerfully, dives into corners quicker, and accelerates faster than ever."
GM also pointed out that all 2016 Camaros will have a "more pronounced, sculpted roof panel that improves the structural rigidity of the roof."
Perhaps more interesting for collision repairers: "The roof is assembled using laser brazing, eliminating the need for 'ditch channel' seams and cover trim, giving the car a sleeker appearance while saving half a kilogram compared to traditional spot welding."
GM didn't respond to a request Monday morning for more information about other collision repair-centric materials changes. However, it has said the car was based on the "Alpha" platform, which the Society of Automotive Engineers' Automotive Engineering magazine and Edmunds have said was used on the ATS and CTS Cadillacs.
The 2015 ATS boasts of a safety cage (a marketing term for the body-in-white) with "ultra-high-strength steel alloys and other highly advanced materials," and GM Authority observed back in 2013 that the revamped 2014 CTS uses a lot of structural adhesive, aluminum and high-strength steel.
"Alpha provided a strong foundation, but more than 70 percent of the components are unique to the Gen 6 Camaro, including exterior and interior dimensions, an all-new interior, front and rear suspension, and powertrain components," GM global product development Executive Vice President Mark Reuss said in a statement.
So, basically, the entire car?
Reuss did hint at some lightweighting to Automotive Engineering, though he didn't say much else.
"But how do you do that and take the next step and take mass out of the car without ruining the value equation?" he told the magazine. "Well, the only exterior panel that's aluminum on this car is the hood. But look underneath it and see all the things we did, piece by piece. The lightening holes in the steel rear suspension links show our philosophy."
More information:
Share This: