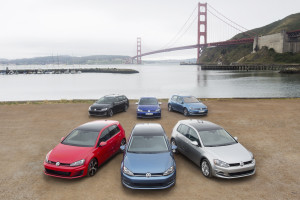 The seventh-generation Volkswagen Golf has caused 45 percent fewer third-party injuries than a control sample of its predecessor and competitors in the United Kingdom, Thatcham Research announced this month — and the auto-braking system offered for the Golf family likely was the cause.
"When we saw figures based on an initial small sample, we were surprised, as they exceeded our own performance testing," Thatcham safety director Matthew Avery said in a statement. "However the figures held up, even after almost doubling the sample group and has therefore given us a glimpse of what safety on UK roads could look like in the future."
Thatcham ultimately looked at a year of insurance data for more than 7,000 Golfs.
All but the cheapest version of the Golf VII — Europe's version of the 2015 Golf — have auto-emergency braking, or AEB. The technology doesn't seem to have been included for U.S. 2015 Golfs yet, though drivers will be able to get frontal collision alerts for an extra cost and a standard system to halt the car after you do hit something.
Stacked up against its Mark VI predecessor and the European Audi A3, Toyota Auris, Ford Fiesta and Peugeot 208 for a control group, the Golf had 45 percent fewer third-party injury claims.
"AEB is now available on around 25 per cent of new cars and is standard fit on more than one in ten," Avery said in a statement. "Because AEB comes as standard on all but the entry level Golf, insurers reward the likelihood of lower claims rates by giving it a lower insurance grouping – up to 5 groups below an equivalent vehicle. This could mean a lower first year insurance premium, and year on year savings if no claim is made."
Avery also noted that three-fourths of all collisions across the Atlantic happen at low speeds, usually at less than 25 mph. AEB can prevent a 15 mph or slower crash, and mitigate one up to 25 mph.
Thatcham said the performance is "even more impressive" since the Bosch high-tech radar automatic braking studied was already obsolete.
"The pace of development is such that the auto-braking performance on this year's Volkswagen Passat is already proving to have moved on," Thatcham said in a news release.
The Passat's Bosch camera-radar AEB system can detect pedestrians, and tests show it might be able to avoid all accidents under 25 mph.
"If the performance of these latest generation AEB systems translates to the real world as expected, then it stands to reason that we should see third party personal injury claims continuing to fall across the board, particularly when this latest generation system is installed on the Golf VII from later this year," Avery said in a statement.
Fewer crashes at low speeds cuts into a collision repairer's bread and butter, but there are indications that at least what crashes do happen will be pricier because of the cost of the technology. Still, things could get leaner — particularly for European repairers.
In the U.S., Transportation Secretary Anthony Foxx has proposed making automatic braking systems recommended in the New Car Assessment Program's five-star rating metric and customer checklist but not required. But in 2016, European cars won't be able to get a Euro NCAP five-star safety rating without it coming standard, according to the Telegraph.
38 percent fewer rear-ending crashes
The Euro NCAP and Australian NCAP found a similar result about a week earlier in a "Accident Analysis & Prevention" paper: Low-speed AEB cuts rear-ending in general by 38 percent.
"These findings strongly support our decision to make AEB technology a key discriminator in the safety rating of new vehicles," Euro NCAP Secretary General Michiel van Ratingen said in a statement.
The agencies defined "low speed" as between 18.6 mph and 31.1 mph.
"Previous studies have predicted significant expected benefits of AEB technology in low speed rear-end crashes but, so far, there has been little evidence that they really work," the agencies said in a news release.
The data came from Australia and five nations in Europe.
"The meta-analysis approach used in this analysis is a unique academic contribution to the evaluation of vehicle safety technologies internationally and proved to be reliable with robust findings," Anders Lie of the Swedish Transport Administration said in a statement. "Clearly, at this level of effectiveness, low speed AEB is potentially an important active safety technology and widespread fitment through the vehicle fleet should be encouraged in the interest of improved vehicle safety."
The agencies reported no difference between AEB performance in "urban" (less than 37.1 mph) and "rural" speed limits (everything else), though it's unclear what that exactly means.
More information:
Share This: