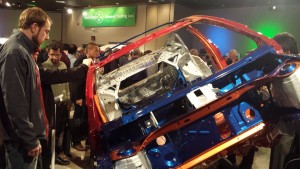 Though it wasn't as forthcoming as the other automakers on display, FCA did release some specs and a color-coded body-in-white diagram of the high-strength-steel-intensive 2015 Chrysler 200 last week at the 2015 Great Designs in Steel conference.
The Chrysler 200 uses only 26 percent mild steel in its body-in-white. That steel generally maxes out somewhere between 210 and 300 megapascals, depending on whom you ask. (Chrysler didn't specify strengths in the information provided.)
The bare-bones high-strength steel range (roughly 300-550 MPa) was used for another 27 percent of the body-in-white, and advanced high-strength steels, which are about 550-780 MPa, made up 30 percent of the structure. Ultra-high-strength steels, considered typically to be anything above 780 MPa, were only 1 percent of the structure, but hot-stamped steel — which gets into the 1,000 MPa and above range was 9 percent of the vehicle.
For comparison, there was only an average of about 13.8 percent high-strength or stronger steel in an entire vehicle in 2007, according to Ducker Worldwide data.
The following diagrams show where the various steels are used. Press-hardened steel, which refers to the hot-stamped steel, can be found on the A-pillar and door ring, the B-pillar, and roof header, while advanced high-strength steel is also visible on the roof rail, B-pillar and rocker panels. The colors transfer to the physical color-coded body-in-white on display at the event.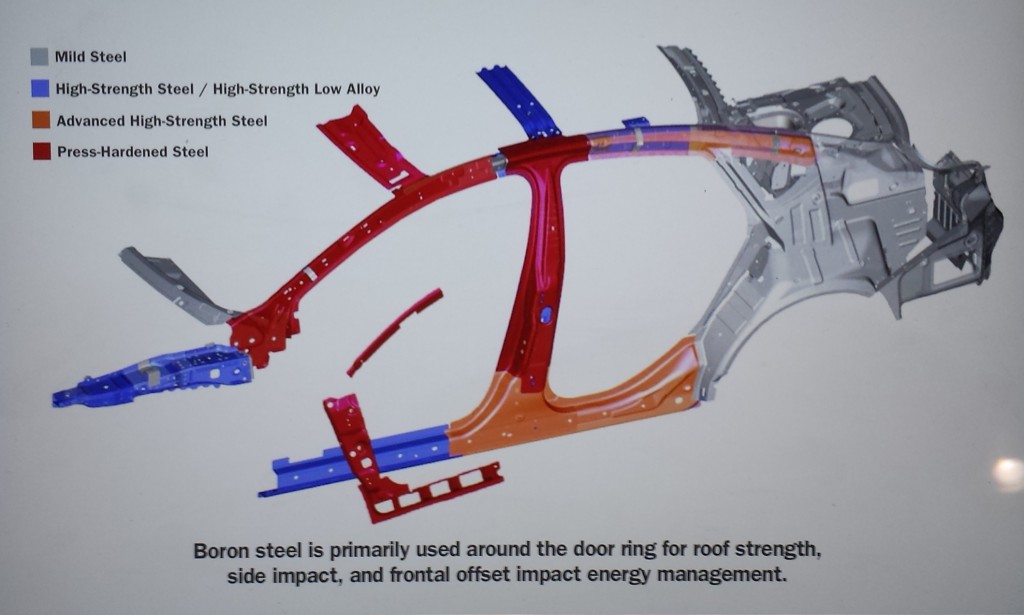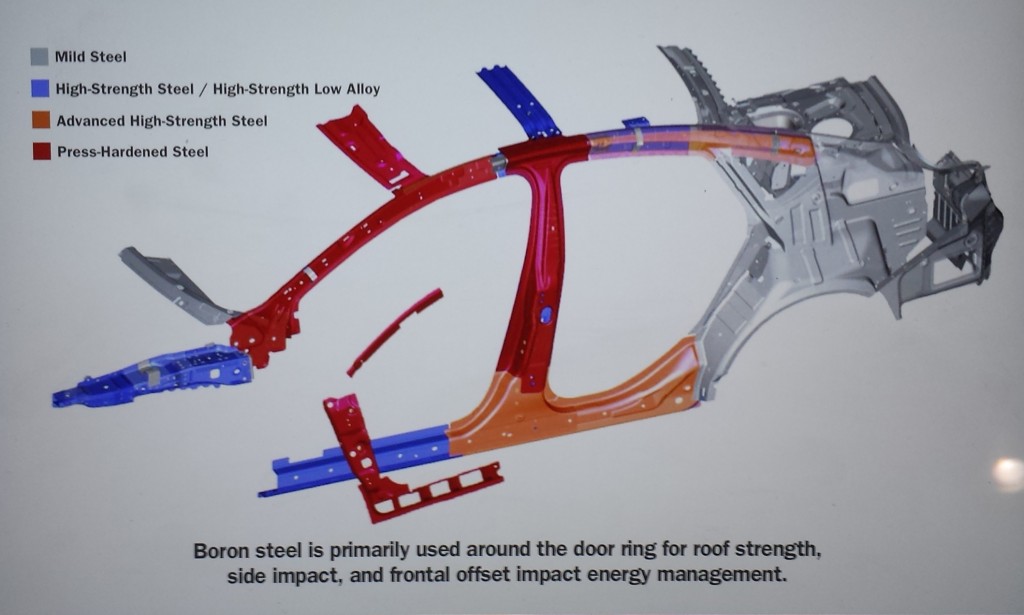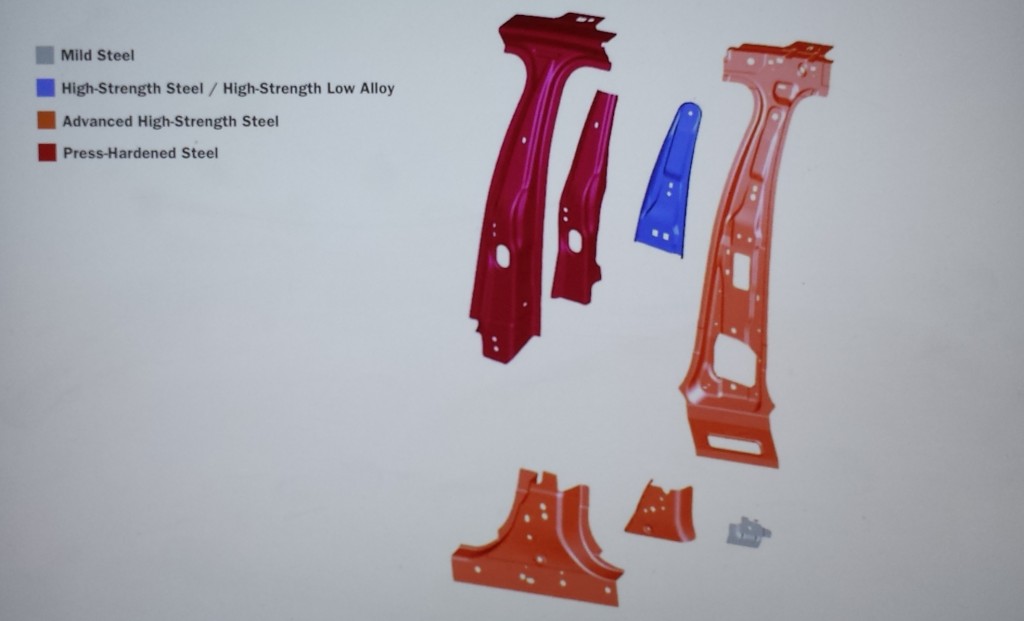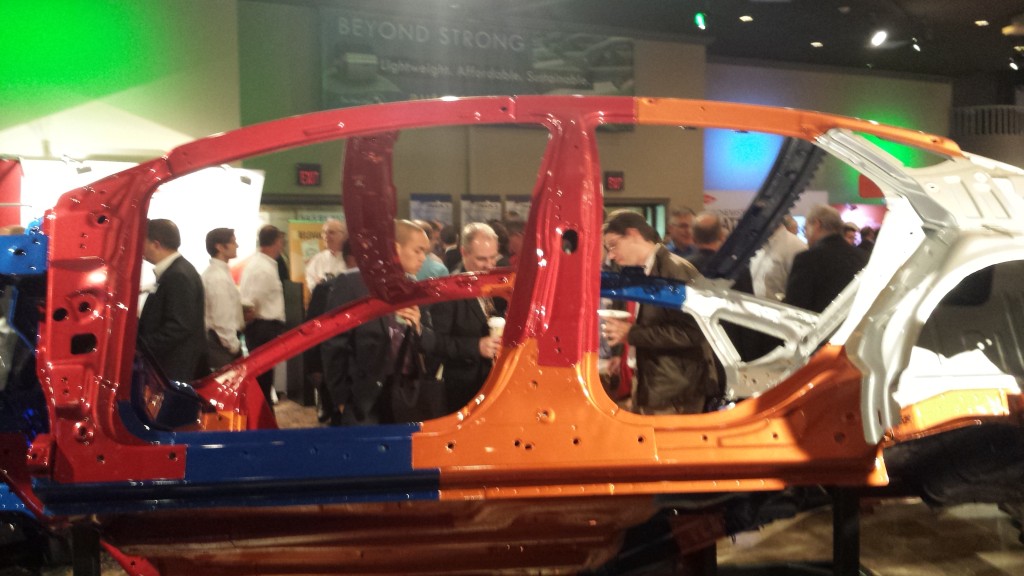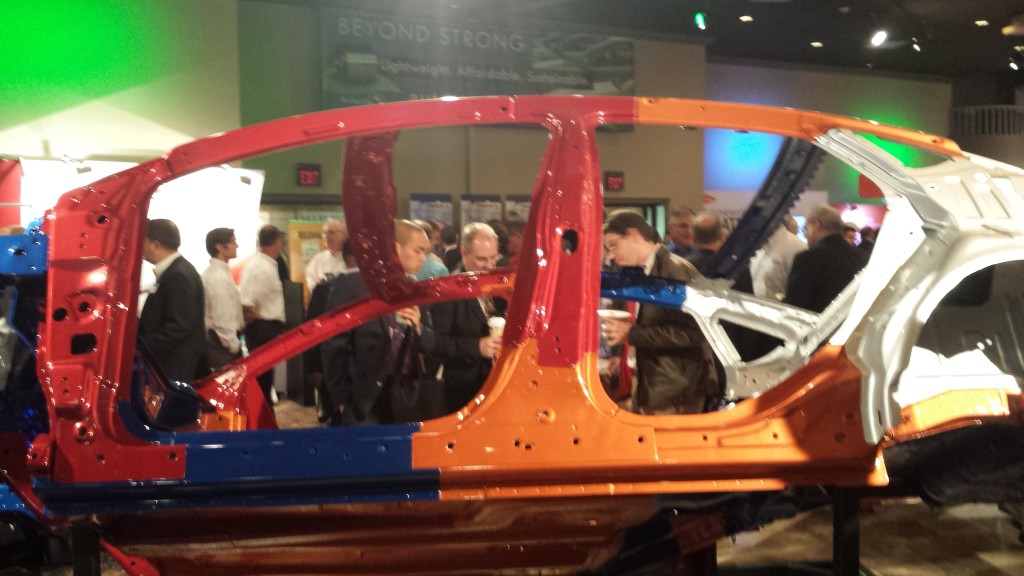 Interestingly enough, though the stronger steels tend to help lightweight a vehicle, the 2015 Chrysler 200 has a slightly higher curb weight than the previous model year, according to Edmunds.(It gets 36 mpg, and Chrysler credits that to the powertrain, not the materials.)
However, the 2015 200 did receive a five-star overall National Highway Traffic Safety Administration rating and is an Insurance Institute for Highway Safety Top Safety Pick+ with optional crash prevention equipment. The 2014 model didn't fare as well. Those benefits are likely because of the tougher steels used in its design.
Images:
High-strength and stronger steels are shown in color on this body-in-white of a 2015 Chrysler 200. (John Huetter/Repairer Driven News)
Though it wasn't as forthcoming as the other automakers on display, FCA did release some specs and a color-coded body-in-white diagram of the high-strength-steel-intensive 2015 Chrysler 200 last week at the 2015 Great Designs in Steel conference. (Provided by FCA)
The B-pillar composition of the 2015 Chrysler 200. (Provided by FCA)
Share This: