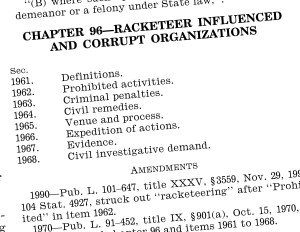 Pa., N.C. auto body shops, car insurers battle over motion to dismiss RICO case
By on
Insurance | Legal
Pennsylvania and North Carolina auto body shops and car insurers are dueling in court filings over a class-action RICO case filed against the top underwriters in the country.
The case, Crawford's Auto Center Inc. and K&M Collision LLC et al v. State Farm Mutual Automobile Insurance et al, alleges that various combinations of Allstate, Farmers, GEICO, Liberty Mutual, Nationwide, Progressive and State Farm and estimating databases Audatex, CCC, and Mitchell worked together to drive down costs in the collision repair industry.
American Family, Travelers and USAA are also listed in the case as "Conspirator Insurers" who've allegedly done similar actions.
Lead counsel Steven Bloch of Bailey & Glasser explained earlier this year that while the three estimate providers and three "conspirator insurers" were discussed in the case, they weren't defendants. So if his clients won, those six wouldn't be liable. (Though it would of course be bad PR.) But Bloch at the time didn't rule out including them as the case progressed and new evidence was uncovered.
The assistance allegedly given the insurers by Audatex, CCC and Mitchell is detailed in the lawsuit's Racketeer Influenced and Corrupt Organizations Act enterprise allegations, but there aren't any details about American Family, Travelers and USAA there.
Bloch explained that those three insurers were included as they use similar pricing tactics as the seven defendant insurers — meaning that body shops have no free-market recourse for avoiding those practices.
"There's no other choice for the collision repair facilities to seek out," he said.
Hard bargain or distorted market?
The big point of contention in this case, based on the documents filed in April and May, seems to be the propriety of the insurers refusing to pay anything but the rates they've allegedly gimmicked with the estimating databases' help.
The shops in their April 24 argument against dismissing the case allege that the distorted marketplace forces shops to accept artificially deflated labor rates — allegedly misrepresented as the true market rates.
Defendants Insurers would like nothing more than to have Plaintiff and the proposed Classes "decline the work". That way, Defendant Insurers could steer more repairs to their DRP facilities, where they can impose – by agreement – their cost control measures. The problem though, is that collision repair facilities must sell their repairs to insurers, which cover and pay for between approximately 75% and 90% of all automotive damage repairs annually, and Defendant Insurers (and the 3 other conspirator insurers identified in the Complaint) account for approximately 70% of that figure. Thus, the collision repair facilities do not have a choice as to whether to participate in the sale of their repair services to Defendant Insurers. Rather, they face a Hobson's choice: Sell into a rigged market or do not sell at all – and go out of business.
The collision repairers gave Exhibits E and F as examples of the discrepancies.
And "charging the customer the difference is not realistic," the shops wrote, pointing out that District Judge Gregory Presnell has even said as much to an insurer attorney at a hearing:
Judge Presnell: Yeah, but I think their point is that if they don't lower their price to State Farm's price, they won't have any business to deal with.
Mr. Fenton: That's – well, they can charge their customer for the difference, Your Honor.
Judge Presnell: Well, but realistically, that's not the way this market works.
In addition, the shops argued they are are unable to review how the rates were derived and see if the insurers were accurate in calling them prevailing.
Plaintiffs allege that each Defendant Insurer (and Conspirator) concealed from Plaintiffs and the members of the Classes the fraudulent conduct establishing artificial prevailing rates for insured repairs and suppressing compensation for those repairs, and further that each Defendant Insurer (and Conspirator) prevented Plaintiffs and the members of the Classes from knowing or discovering the methods by which the artificial prevailing rates for insured repairs were established and by which compensation for those repairs was suppressed. The efforts to conceal the aforementioned were designed to avoid detection. Plaintiffs did not know, nor could reasonably have known, that they sustained injuries caused by Defendant Insurers' respective uniform policies, patterns and practices, and the facts necessary to establish Plaintiffs' claims were intentionally concealed from Plaintiffs for the purpose of obtaining delay on the Plaintiffs' part in filing a complaint predicate on the claims.
Insurers are arguing that they're simply businesses who drive a hard bargain looking out for their best interests. You don't like what we're willing to pay, don't take our business. Here's what State Farm wrote as a May 13 rebuttal in favor of dismissal.
"Plaintiffs' varying and contradictory reasons for accepting the compensation offered (they were "coerced" by market forces into doing so, they were "extorted" into to doing so by a purported fear of economic reprisals, and they believed Defendants' purported misrepresentations regarding the "prevailing rates" underscore that Plaintiffs' decisions to accept the offered compensation were business decisions made in light of their business needs and market conditions, and were not based upon any purported belief in the alleged misrepresentations as to how the amounts were determined and whether they were in accordance with "prevailing rates."
Or as Allstate, Progressive, and some other insurers put it in their May 13 rebuttal, quoting another case:
If Plaintiffs go out of business, it is not because they face a "Hobson's Choice," it is because they cannot (or choose not to) meet the prices other shops are willing to do the work for. That is not RICO injury: federal law does not exist to protect Plaintiffs from "[t]he Darwinian working of competition."
But the shops also point out that the insurers are middlemen in most auto collision business — about 70 percent of the national market share — which makes it hard to turn business away.
"Market concentration has steadily increased in recent years, and control of the national market for auto insurance in the United States increasingly rests with these largest insurers," their attorneys wrote in the response.
DRP shops
They also implicate in the lawsuit State Farm's direct repair program shops — though they're not named as defendants — alleging that they enabled the insurers' business practices "even, assuming that Select Service facilities did so solely because they deemed participating in the program fundamental to their economic survival, and/or because they were intimidated or coerced to do so."
State Farm defended its DRP shops in its response.
"Here, State Farm's DRPs simply are alleged to have entered into contracts with State Farm to accept compensation based upon prevailing rates in their local markets. They are not alleged to have carried out predicate acts of racketeering."
It also pointed out that in case law cited by the collision repairers that a doctor apparently likened to a DRP in that example "'had some participation in directing the enterprise' in multiple ways, 'performed a number of tasks that enabled the enterprise to meet its goals,' and 'was not only directly involved in th[e] enterprise, but . . . was essential to its existence.'"
Allstate and Progressive (and others) defended the information providers in their rebuttal.
"Here, no well-pleaded facts show that Defendants and the Information Providers joined together to accomplish anything other than their own business affairs," their attorneys wrote. "Not only is there no criminal 'enterprise' separate and apart from Defendants' customer-supplier business relationship with the Information Providers, but the 'common purpose' essential to finding an association-in-fact enterprise cannot exist where, as here, the alleged participants are each pursuing their own self-interested goals, not those of the 'enterprise.'"
State affiliates
Another dispute involved whether or not the dozens of state branches of the insurers counted as part of their parent companies for the purposes of RICO enterprises.
"First, notwithstanding that there are approximately 80 companies named as defendants in this action, they are all affiliates of the 7 Defendant Insurers," the collision repairers' attorneys wrote. "Thus, in reality, there are 7 defendants in this case."
But State Farm (and its various affiliates) argued that separate offenses must be shown for all of the 85 defendants, not just their parent companies.
"Plaintiffs' assertion that lumping is permissible where the Defendants are affiliated corporate entities is not supported by the out-of-circuit case law they cite," State Farm attorneys wrote in the rebuttal. "That case law in fact confirms that Plaintiffs must allege facts specific to each named Defendant."
MDL
The case is one of many from different states placed before the Middle District of Florida and Presnell in a massive multidistrict litigation (MDL), the flagship of which is A&E v. 21st Century within Florida itself.
Bloch wouldn't reveal if he'd been in contact with any other plantiff attorneys in the MDL cases, citing case strategy. But he said that the activity in cases like A&E didn't really have implications for Crawford's.
"Our case is a standalone case," Bloch said. He said the insurers recognized it as such too.
The A&E case makes other civil allegations, but not RICO violations. Asked about the decision to file a RICO case, Bloch said it made the most sense given the evidence his side had found.
"We've been investigating this industry for a long time," he said.
The plaintiffs are seeking to make the class action involving body shops affected by the defendants since Jan. 1, 2006. Bloch wouldn't reveal the significance — if any — of the date, citing case strategy.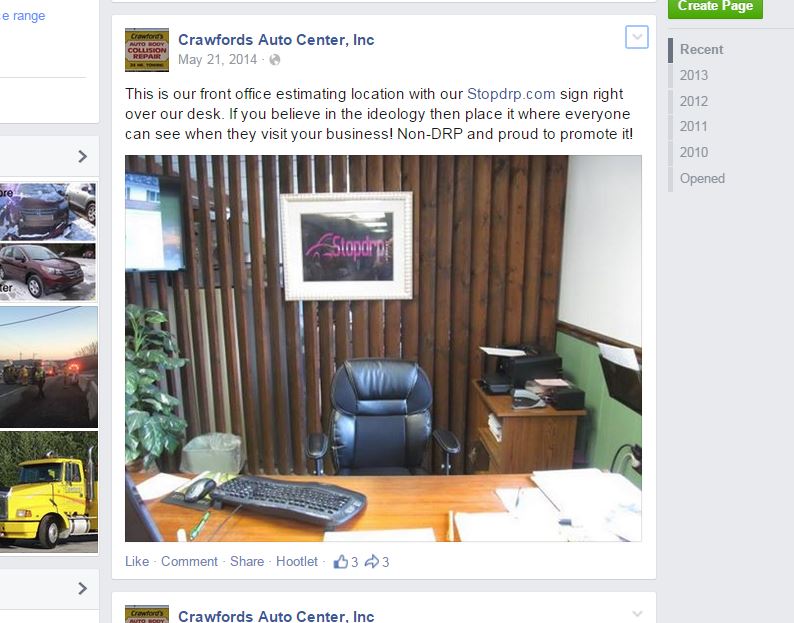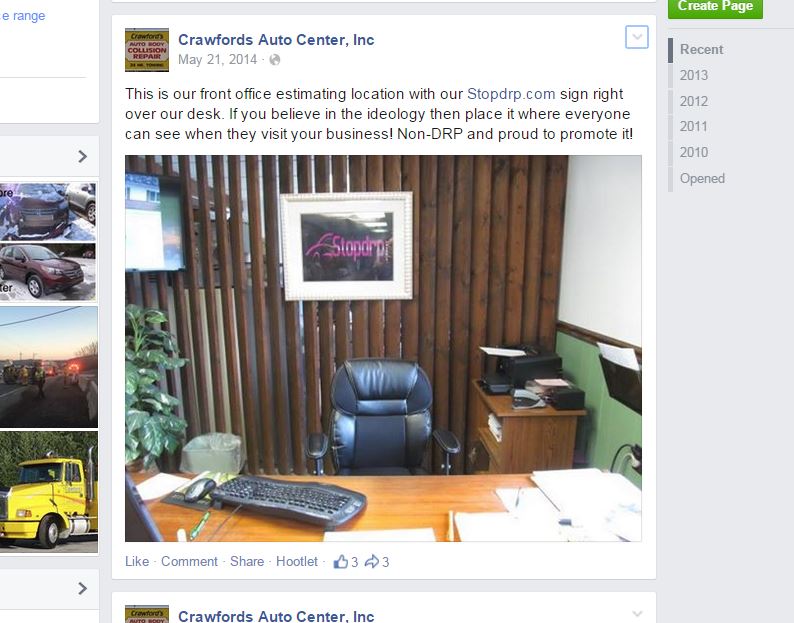 More on the case
As we touched on above, the Crawford lawsuit accuses the defendants of several tactics to keep costs down at body shops expense, including:
Paint and materials
The insurers' alleged use of an depressed hourly rate for "paint and materials" instead of just itemizing those supplies is one point of contention.
"As a result, Defendant Insurers and Conspirator Insurers have refused to accept paint materials calculators or invoicing as a method for compensating repair facilities for 'paint and materials', notwithstanding the fact that the industry recognizes that their prevailing rate of 'dollar per paint hour' is not as accurate," the lawsuit states.
In fact, using itemized paint and materials would only raise the cost by about $100 a repair, according to the lawsuit.
Rate information sharing
The complaint says the insurers share rate information — despite body shops having been warned by an insurer about doing the same thing — assisted by Audatex, CCC and Mitchell, who allow insurers to manipulate repair estimate data in their favor. The lawsuit notes that insurers are much more lucrative customers for the estimators, which allegedly gives an incentive to cater to the property and casualty firms over collision repair clients:
"Accordingly, in practice, the information providers are simply not the independent authority of repair standards and costs, but rather, the fulcrum enabling the Defendant insurers to suppress compensation to the repair facilities."
In their response to the motion to dismiss, the shops also argued that the databases are stacked and fail to properly weigh data from non-DRP shops which tend to have more repairer-friendly rates than those charged insurers by DRP businesses.
"This repair data, however, is heavily biased because it is predicated on repairs by the Defendant Insurers' (and other insurers') direct repair facilities; it does not properly incorporate data from repair facilities, like Plaintiffs and the members of the respective classes, that are not on the Defendant Insurers' (or other insurers') direct repair programs," the shops' attorneys wrote in the April response. "Thus, although this data is promulgated as representative of industry prevailing rates, it is, in fact, a feedback loop of the fixed rates that the insurers set with their respective direct repair facilities, which have been 'laundered' through the so-called independent information providers."
State Farm
State Farm's huge clout means it influences the industry, the lawsuit implies.
"State Farm is the fulcrum among the Defendant Insurers and Conspirator Insurers in establishing and maintaining, among other things, labor rates and 'paint and materials' reimbursement rates, which further reinforces the suppression of repair compensation," the suit states.
Methods to affect these rates include State Farm's prevailing labor rate equation, which uses a bizarre median calculation involving staff size instead of a common-sense mean or median price equation. This point was also raised in A&E.
"State Farm is also intentionally skewing the results to the lower reported rates, rendering the survey invalid under any statistical methodology, because the higher reported rates are not taken into account in determining the prevailing rate," the lawsuit states.
If that didn't work, State Farm also mandates in its direct repair programs that it must get the same rate as whatever insurer the body shop charges the least, according to the lawsuit.
Ignoring/misusing the estimate databases
If getting allegedly preferential treatment wasn't enough of a break, the suit also accuses the insurers of completely ignoring Audatex, CCC and Mitchell when it suits them. However, it implies that "scrubber" programs from the estimators might be a means of doing so.
(If true, this would mean that the estimators are offering the means of ignoring their own facts. It'd be like Eratosthenes calculating the size of the round earth but showing you how to fudge his data to make it flat.)
"The egregiousness of Defendant Insurers' and Conspirator Insurers' conduct is evident from a review of the Information Provider Guides, which detail the permutations of the procedures that may be necessary in the judgment of the repair professionals – and frequently are necessary as the Information Providers state, but which Defendant Insurers and Conspirator simply refuse to compensate – or compensate sufficiently," the lawsuit states.
This and other manipulation is done to force non-DRP shops to meet rates more in the range of the DRPs, according to the lawsuit.
Images:
The segment on the RICO law is shown from Title 18 of the United States Code. (Provided by Government Printing Office)
This screenshot from Crawford's Auto Center's Facebook page shows an anti-direct repair program sign at the business, which is suing insurers. (Screenshot from www.facebook.com)
Share This: