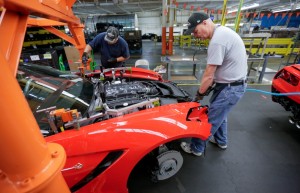 General Motors announced Thursday it would spend $439 million on a new 450,000-square-foot paint shop for the Chevrolet Corvette, a move which seems mostly aimed at efficiency but which also might help a little with the process and cost of painting carbon-fiber surfaces
The new paint shop will have a footprint nearly half the size of the entire current plant and receive "substantial technology upgrades," GM said in a news release.
The work will take two years, GM expects, but it won't disrupt the Corvette production schedule.
GM's $439 million will buy new robots and tooling as well as "state-of-the-art environmental and efficiency enhancements."
Efficient baking ovens will prolong the process and yield "exceptional paint finish," and new FANUC robots equipped with Versa-bell 3 electrostatic applicators will yield an "extremely smooth service."
Carbon-fiber composites are a pain to paint, according to a fascinating 2014 piece in Today's Motor Vehicles and as a few of you have probably noted in your own shops.
"Carbon fiber is closer to a fabric than it is to the metal panels automakers are accustomed to painting," the magazine stated. "Imagine how many coats of paint it would take to make a sweater as smooth as a piece of sheet metal, and you get an idea of the scope of the challenge."
The magazine also discussed the expense of providing that paint:
"Between the roughness of the surface and the conductivity challenges, carbon fiber is not only more expensive than steel, it requires repetitive manual finishing, adding manpower costs to the equation. That kind of hand work is possible with low-volume, expensive sports cars, but it's too time consuming and costly for plants producing 100,000 or more vehicles per year."
So anything that reduces that challenge could make wider adoption of the light, strong substance more attractive. Barring that, the greater efficiency would help GM save some money on its semi-mass production of the car. Corvettes doubled in U.S. sales last year to 34,839 units, according to GoodCarBadCar.
On the efficiency front, the FANUC robots also can save 25 percent of paint material; LED lighting saves energy and aids inspection, and dry scrubber booth technology equipped with limestone handling capacity, which can cut waste and "sludge water," according to GM
"With this major technology investment, we can continue to exceed the expectations of sports car buyers for years to come," GM North America manufacturing manager Arvin Jones said in a statement. "These types of investments are evidence that the customer is at the center of every decision we make."
More information:
"Chevrolet Corvette Plant Gets $439 Million in Upgrades"
General Motors, May 21, 2015
"Painting carbon fiber: A time-consuming, labor-intensive task"
Today's Motor Vehicles, July 22, 2014
Featured image: An employee at General Motors' Bowling Green, Ky., Corvette plant installs a front fender bracket on a 2014 Corvette Stingray on June 27, 2013. (AJ Mast for Chevrolet/© General Motors file)
Share This: