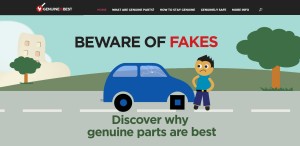 A new website launched Monday promotes new or manufacturer-recommended OEM parts to Australian consumers, the Federal Chamber of Automotive Industries announced.
The group, Australia's version of the Alliance of Automotive Manufacturers, touted the "Genuine Is Best" site as a way to "ensure consumers know what genuine parts are, how to get them and the importance of good quality repairs."
"The Genuine Is Best website equips Australians with the information they need to help ensure they have genuine parts fitted to their car so that it drives, functions and protects them exactly the way it was intended to by the car maker," chamber Chief Executive Tony Weber said in a statement.
It supports only parts made or recommended by an OEM (probably the Australian equivalent of official Opt-OE programs) and offers this humorous video with "Jack" and "Jill." (One highlight involves the non-OEM parts on Jack's car sending it into the repairer who installed them.)
The site offers tips for deducing what kinds of parts will be or are being used in your repair based on estimates and policies and makes the case against non-OEM parts.
"Non-genuine parts such as parallel, imitation, salvaged, counterfeit and aftermarket parts are often fitted to cars during repairs as a cheap alternative to genuine parts," it states.
"Some insurance companies may say that using non-genuine parts allows them to offer lower prices on their policies, but any small savings could be lost thanks to the non-genuine parts devaluing the overall price of your car and increasing the bill for future repairs because they don't provide adequate structural integrity in an accident."
By the way, here's a fun fact about the "savings" your customers received from non-OEM parts on American policies, right from the insurers themselves:
"The insurance premium reflecting vehicle damage coverages may increase by about 4.2 percent more per insured car," a 2013 Property Casualty Insurers Association of America special report states. "This translates into a 2.6 percent increase in the combined liability and physical damage premium per insured car if non-OEM parts could no longer be used. On average, this means about $24 added to the overall premium per insured car each year."
$24 a year. (And they actually bolded that amount.) We're guessing you spend more than that a year buying Coca-Cola Classic instead of Walmart's Sam's Cola, Bayer over Walgreens generic aspirin, or any other name-brand item over cheaper off-brand variants at a retailer.
The site also contains a page of videos showing the kind of engineering that goes into a vehicle and arguments for why you should use only "genuine" parts. Here's one from Subaru likening them to a fake, time-losing IWC Schaffhausen watch owned by Subaru Australia technician Sam Hill.
More information:
Federal Chamber of Automotive Industries, June 1, 2015
Share This: